An Interior Department official has been accused of trying to disband a fish research division specifically because its research is politically incorrect.
The research division, the Fisheries Resources Branch, had repeatedly found good evidence that the salmon of the Klamath River in the northwest were not suffering significantly from the presence of the dams on that river, contradicting the accepted wisdom that the dams had to be removed in order for these species to survive. The Interior official, Jason Phillips, along with the Fish and Wildlife Service (FWS), did not like these results, and decided that scientific work that "proved others wrong" was unacceptable and had to be squelched. From the actual complaint [pdf]:

In the past, Mr. Phillips had complained that Reclamation science was causing "problems," often citing a study conducted by the Fisheries Resources Branch on the abundance of endangered suckers in Lake Ewauna. Lake Ewauna is an area of poor water quality previously thought to be a "dead zone" for fish moving downstream from the primary populations located in Upper Klamath Lake. However, using sound scientific methods, the Fisheries Resources Branch found a stable population of sucker in Lake Ewauna, with many more endangered fish than most expected. This finding caused the U.S. Fish & Wildlife Service (FWS) to re-evaluate this area in its recovery strategy. Apparently, this caused the FWS to complain to Mr. Phillips who apparently perceived this new scientific work as "proving others wrong." [emphasis mine]
And this:
During the November 30, 2012 meeting, Mr. Phillips provided another example of Fisheries Resources Branch science that was causing him "problems" – development of a life-cycle model of threatened coho salmon. Preliminary results generated by the model suggest mainstream Klamath River flows (i.e. Reclamation-controlled flows) were less important for coho salmon survival and recovery than tributary flows (i.e. non-Reclamation controlled flows). Since the National Oceanic & Atmospheric Administration (NOAA) Fisheries had raised concerns regarding this model, Mr. Phillips stated that he did not intend to allow the model to be published, be "shelved" and not used by Reclamation on its decision making process. Mr. Phillips further stated that he was eliminating the Fisheries Resources Branch so that this kind of work would no longer cause problems for NOAA Fisheries. [emphasis mine]
As a result, Phillips announced [pdf] that he was going to disband the division, reassigning its scientists to other work or eliminating their positions entirely.
To Phillips, the "problems" were that Fish and Wildlife wants to tear down a lot of dams, and the research of these scientists showed that there is no reason to do so. Rather than adjust their plans to these facts, Phillips and FWS instead preferred to shove the results down the memory hole, forgotten and ignored, and then destroy the careers of the scientists who did the work. At no point did Phillips actually question the quality of the research itself, only the results themselves.
The sad part of this story is that it is not surprising. For the past twenty years the research fields of climate and environment have been ruled by doctrine and ideology. No result can contradict the accepted consensus that human technology is destroying the environment, and if you dare to say different your future as a scientist will disappear. This story is just another example of this tyranny.
The good thing here is that the scientists are fighting back, using policies that Barack Obama himself instituted. We shall see if those policies mean anything as this case goes forward.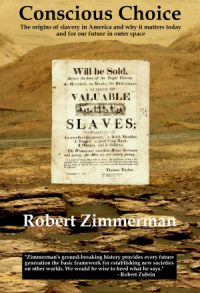 From the press release: In this ground-breaking new history of early America, historian Robert Zimmerman not only exposes the lie behind The New York Times 1619 Project that falsely claims slavery is central to the history of the United States, he also provides profound lessons about the nature of human societies, lessons important for Americans today as well as for all future settlers on Mars and elsewhere in space.
Conscious Choice: The origins of slavery in America and why it matters today and for our future in outer space
, is a riveting page-turning story that documents how slavery slowly became pervasive in the southern British colonies of North America, colonies founded by a people and culture that not only did not allow slavery but in every way were hostile to the practice.
Conscious Choice
does more however. In telling the tragic history of the Virginia colony and the rise of slavery there, Zimmerman lays out the proper path for creating healthy societies in places like the Moon and Mars.
"Zimmerman's ground-breaking history provides every future generation the basic framework for establishing new societies on other worlds. We would be wise to heed what he says." —Robert Zubrin, founder of founder of the Mars Society.
Available everywhere for $3.99 (before discount) at Amazon, Barnes & Noble, and all ebook vendors, or direct from the ebook publisher, ebookit. And if you buy it from ebookit you don't support the big tech companies and I get a bigger cut much sooner.