If you want to waste about about 25 minutes of your life, you can listen to the speech that Vice President Mike Pence gave today at the Kennedy Space Center here, beginning at the 49:30 minute mark.
My advice is that you don't do it. Pence said nothing. He handed out a lot of empty promises and cliches, without any specifics or details of any kind. He confirmed for me what I have suspected of Pence for several years, that despite the fact that he lives and breathes a conservative and honorable personal life, as a politician he is a hack.
He made a big deal about the recreation of the National Space Council, which he now leads. However, as this article by Eric Berger properly noted the people who seem to be exerting the most influence on that council, on Trump, and on Pence are from the big space companies that have spent more than a decade and a half spending about $40 billion trying to build a big rocket (SLS) to fly a single unmanned test flight of the Orion capsule.
My pessimism here might be misplaced. We still do not know who will be on this space council. Furthermore, the Trump administration has been very good at doing a lot of public relations and soft stroking of its opponents in order to put them off guard prior to hitting them hard, where it hurts. This might be what Pence was doing here.
Nonetheless, the lack of any substance in Pence's remarks makes me fear that he will be easily influenced by the big players who simply want the federal cash cow to continue sending them money, whether or not they ever build anything.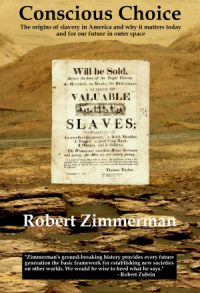 Now available in hardback and paperback as well as ebook!
From the press release: In this ground-breaking new history of early America, historian Robert Zimmerman not only exposes the lie behind The New York Times 1619 Project that falsely claims slavery is central to the history of the United States, he also provides profound lessons about the nature of human societies, lessons important for Americans today as well as for all future settlers on Mars and elsewhere in space.
Conscious Choice: The origins of slavery in America and why it matters today and for our future in outer space
, is a riveting page-turning story that documents how slavery slowly became pervasive in the southern British colonies of North America, colonies founded by a people and culture that not only did not allow slavery but in every way were hostile to the practice.
Conscious Choice
does more however. In telling the tragic history of the Virginia colony and the rise of slavery there, Zimmerman lays out the proper path for creating healthy societies in places like the Moon and Mars.
"Zimmerman's ground-breaking history provides every future generation the basic framework for establishing new societies on other worlds. We would be wise to heed what he says." —Robert Zubrin, founder of founder of the Mars Society.
All editions are available at Amazon, Barnes & Noble, and all book vendors, with the ebook priced at $5.99 before discount. The ebook can also be purchased direct from my ebook publisher, ebookit, in which case you don't support the big tech companies and I get a bigger cut much sooner.
Autographed printed copies are also available at discount directly from me (hardback $24.95; paperback $14.95; Shipping cost for either: $5.00). Just email me at zimmerman @ nasw dot org.