If you happen to be one of the many Democrat voters who limits his or her reading to such media sources as the New York Times or Wired, you might believe without doubt that Pete Buttigieg (pronounced BOOT-i-edge), the mayor of South Bend, Indiana, is not only most qualified Democratic politician running for President, he is also John Kennedy reborn, able to lead the nation into a bipartisan paradise of smart liberal polices beneficial to all!
First there is this June 18, 2018 article in the New York Times:
Far from being just the out-gay mayor of a scrappy rebounding Rust Belt city, Mr. Buttigieg is a singular politician: a Democrat in a Republican stronghold; a high school valedictorian who graduated Phi Beta Kappa from Harvard and who also attended Oxford as a Rhodes scholar; a political comer who, after winning election at 29, quickly set about reversing an economic decline in this northern Indiana city, where the last Studebaker rolled off a South Bend assembly line in 1963; a Navy veteran who, in 2014, took an unusual leave-of-absence from his civic day job to serve a tour of duty in Afghanistan.

He is also one of a handful of Democrats that, in a New Yorker article, were cited by President Barack Obama as the future of the Democratic Party, an anointing whose potential ramped up this spring when, with an eye on the 2020 race, Mr. Buttigieg's own political action committee began supporting legislative races in Georgia, Arizona, Michigan, Colorado and Ohio.
This more recent April 11, 2019 article in Wired is equally ebullient.
Buttigieg brought data, flow charts, and McKinsey-esque analysis to city government—as well as a bit of philosophical humanism. Since he became mayor seven years ago, unemployment in the city has fallen, from 13 percent in 2010 to 3.2 percent last fall—below the national rate—and South Bend has seen its first significant population increase in half a century. (Unemployment has since ticked back up, to 4.3 percent.)

The country itself was in recovery from the Great Recession during those years, but Buttigieg undertook specific changes that pushed South Bend up the hill.
Pete Buttigieg however is none of the things these puff pieces say he is. Both articles are the worst and most despicable form of journalism. They tell you nothing really about this Democratic Party candidate, but attempt — for partisan political reasons — to make that Democrat appear to be the second coming of Jesus.
Let's take a real look at Pete Buttigieg, based on what he claims he wishes to do should he win the Democratic presidential candidacy and then win election. We will find that he is not unlike Andrew Yang, another Democratic Party fascist who thinks he knows best for everyone, and thus should be given the power to rule our lives, down to the most trivial matters. And woe to us should we have the temerity to disagree with his totalitarian demands.

First, Buttigieg wants to establish some sort of program asking young people to serve at least one year doing "national service."
By national service, he means a year of military service or mandatory civilian service, i.e. helping this government agency or that. But what does he mean by "if not legally obligatory"?

Perhaps it is nothing more than this: Buttigieg is indeed considering a program of forced service, but wants plausible deniability, a way to back off in the heat of an election campaign . . . when moms and dads are voting.

Later, on MSNBC's Monday Joe, he again urged a "look at national service," and added, "It can be voluntary, but at the very least let's create more opportunities for more people to have a service year after high school, because that builds community. [emphasis mine]
This sounds like a variation on Kennedy's Peace Corp, or Clinton's AmeriCorp, both of which were voluntary. Both also ended up doing less service for the nation than providing good liberal propaganda for Democratic Party politicians. Buttigieg's proposal takes this one step farther, by making the nation's youth an army of government workers, enlisted to aid the government in whatever programs he decides the government should impose on the American citizenry.
Does this make him a fascist? Maybe. Maybe not. Alarm bells however always go off in my brain whenever a politician begins to push a program that asks young people to do "service" for the benefit of government. At a minimum such programs act to indoctrinate those young people. In the worst case, such programs too often devolve into becoming obligatory, imposed by force. Buttigieg might sincerely have the best of intentions, but we all know where that leads. He is clearly favoring a policy here that conveys power to government.
Those alarm bells get louder when one notes that Buttigieg's also supports a host of other fascist Democratic Party agendas. He supports Ocasio-Cortez's New Green Deal, a bigoted and communist fantasy that would bankrupt the nation and turn it into Venezuela. On the subject of gun control, he supports universal background checks, which means he likes the idea of the government keeping track of what you do, and using that data to decide whether you can or cannot do something. Think about that for awhile.
In this context he also supports the idea of denying people their right to own guns based not on some legal framework but on a vague determination of mental health made by the government. To him, almost any kind of gun control is "compatible with the second amendment," a position which eliminates that amendment entirely.
Buttigieg also supports a "single-payer" health system, which in plain language means he supports nationalizing our health system, turning it into socialized medicine run by the government.
Are you beginning to see a pattern? There's more. Did you know that Buttigieg's father, a professor at the University of Notre Dame, was an avowed Marxist who worked aggressively to inject that philosophy into American society. And while Pete Buttigieg has been vague about whether he supports Marxism, he isn't vague about his dislike of capitalism.
Pete Buttigieg said in an MSNBC interview on March 20 that he considers himself a capitalist but that the system needs changes. "The biggest problem with capitalism right now is the way it's become intertwined with power and is eroding our democracy," Buttigieg said, noting the influence of big businesses in government.
From experience I have learned that anytime a politician says that capitalism needs to be "fixed," he or she is really saying that they require the right and the power to run my life for me. Sure sounds like a fascist to me.
Buttigieg's desire for power is also revealed by his demand that Donald Trump be impeached. Buttigieg doesn't cite any violation of the law or the Constitution to justify such action, merely saying that Trump "deserves impeachment," and that Trump should be removed in order "to get Republicans to abandon this kind of deal with the devil they made."
In other words, the voters legally elected someone Buttigieg dislikes, and thus because he doesn't like Trump it is right and proper for the Democrats to remove him from power. Kind of makes elections irrelevant, doesn't it? Vote for whoever you like, as long as it is a Democrat that Buttigieg approves of!
Finally, let's take a look at how Pete Buttigieg defines freedom:
We've allowed our conservative friends to get a monopoly on the idea of freedom. Now, they care about freedom, but they care about a very specific kind of freedom. Freedom from. Freedom from regulation. As though government were the only thing that can make us unfree. But that's not true, is it? We know that your neighbor can make you unfree. Your cable company can make you unfree. If they're telling you who you ought to marry, your county clerk can make you unfree. You're not free if you're afraid to start a small business because leaving your job would mean losing your healthcare. [emphasis in original]
So, your neighbor and cable company can make you unfree? Let's get the government in there to make sure that can't happen! Let's impose our will on anyone who might threaten us with different ideas or business choices we don't like! And if some damn Christian doesn't want to endorse gay marriage, let's use the power of government to destroy them for daring to follow their own moral choices!
Pete Buttigieg is no different from all the other Democratic Party politicians running for president. He wants power, and he wants it so he can silence all those who dare to disagree with him. Almost all the Democratic politicians running for president are saying the same things, pushing for more government power and control. These politicians, from Buttigieg to Yang to Biden to Harris to Warren, have taken what they think is the pulse of the Democratic Party electorate, and have decided that electorate wants a fascist leader able to impose their will on everyone else. Every single of them is is trying to convince that electorate that they are the right person for the job.
I pray that their sense of that Democratic Party electorate is badly wrong. I pray that decent Democrats will look at these oppressive policies and reject the politicians advocating them.
Because if they don't, we are in for some very very terrible times. Lord help us if the nation votes any of these people into power, As Senator Lindsey Graham (R-South Carolina) said during the Kavanaugh hearings in talking about the Democratic Party, "Boy, you all want power, God I hope you never get it."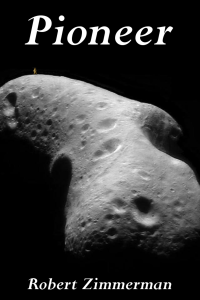 From the press release: From the moment he is handed a possibility of making the first alien contact, Saunders Maxwell decides he will do it, even if doing so takes him through hell and back.
Unfortunately, that is exactly where that journey takes him. The vision that Zimmerman paints of vibrant human colonies on the Moon, Mars, the asteroids, and beyond, indomitably fighting the harsh lifeless environment of space to build new societies, captures perfectly the emerging space race we see today. He also captures in Pioneer the heart of the human spirit, willing to push forward no matter the odds, no matter the cost. It is that spirit that will make the exploration of the heavens possible, forever, into the never-ending future. Available everywhere for $3.99 (before discount) at
amazon
,
Barnes & Noble
, all ebook vendors, or direct from the ebook publisher,
ebookit
. And if you buy it from
ebookit
you don't support the big tech companies and I get a bigger cut much sooner.