A report issued today illustrates once again to me that those running our space program in both Congress and the Obama administration have a profound lack of common sense or basic intelligence:
The NASA Advisory Council (NAC) – a body that provides the NASA Administrator with counsel and advice on programs and issues of importance to the Agency – has insisted a human exploration plan, or at least a destination, should be selected as soon as possible.
This request specifically applies to the Space Launch System (SLS), the heavy-lift rocket mandated by Congress that will use the Orion capsule. SLS is also the same rocket system that is costing the taxpayers $3 billion per year, and is expected to cost between $18 to $60 billion total by the time it flies its first operational mission in about nine years. The advisory council also noted that
While the vehicle hardware development is now moving forward at full speed, specific destinations – or a roadmap – is still lacking from NASA's exploration plan.
It took nine different committees plus a central committee formed from the original nine committees to come to this Earth-shattering conclusion.
To put it in plain English, Congress and the Obama administration have committed billions of taxpayer dollars to the construction of a rocket and manned capsule without ever putting much thought into the specific mission they want to send that rocket and capsule on.

The council also recognized that this lack of a specific plan could make it difficult in future years to obtain funds for SLS.
Surprise, surprise! To me, this is just more evidence that SLS is nothing more than a pork-laden jobs program that will get us nowhere. The sooner Congress wakes up and eliminates it so that the money can be used more intelligently both at NASA as well as to reduce the deficit, the better.
Sadly, I don't have much hope that the Congress we have now will do this. If anything, these spendthrifts (from both parties) are more likely to lay on the pork, wasting money and making sure that NASA's make-work projects continue, even when the projects have no purpose or goal.
This report also provides us further evidence that the Obama administration really has no interest in space exploration. Obama might have mouthed the right words in the past, talking about sending humans to Mars or the asteroids, but the truth is that everything he has actually done has indicated a profound disinterest in space. Though I applaud his administration's efforts to have private enterprise rather than the government build our rockets and manned spaceships, the result of Obama's efforts so far has been generally very negative for the American space effort. He allowed the shuttle program to end. He is now cutting back on the planetary and astronomy programs at NASA. And he has made little effort to give NASA any clear direction or goals.
This sad conclusion is only compounded by the fearful possibility that our present Congress might try to fill this vacuum with some micro-managing of their own. The thought horrifies.
Thus, the American space program truly does hang by a thread. If the private companies can get their vehicles off the ground this year successfully, they might finally be in a political position to push NASA out of the way and get a true aerospace industry started. Then, the foolish short-minded plans of politicians will become less harmful or important.
If, however, the first flights of SpaceX or Orbital Sciences should fail, Congress might then step in and demand that NASA do it all. And if that happens, I would expect no Americans to fly in space on one of our own rockets for many decades to come.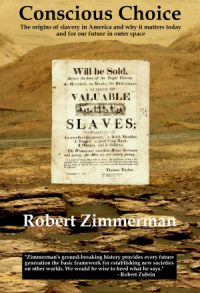 Now available in hardback and paperback as well as ebook!
From the press release: In this ground-breaking new history of early America, historian Robert Zimmerman not only exposes the lie behind The New York Times 1619 Project that falsely claims slavery is central to the history of the United States, he also provides profound lessons about the nature of human societies, lessons important for Americans today as well as for all future settlers on Mars and elsewhere in space.
Conscious Choice: The origins of slavery in America and why it matters today and for our future in outer space
, is a riveting page-turning story that documents how slavery slowly became pervasive in the southern British colonies of North America, colonies founded by a people and culture that not only did not allow slavery but in every way were hostile to the practice.
Conscious Choice
does more however. In telling the tragic history of the Virginia colony and the rise of slavery there, Zimmerman lays out the proper path for creating healthy societies in places like the Moon and Mars.
"Zimmerman's ground-breaking history provides every future generation the basic framework for establishing new societies on other worlds. We would be wise to heed what he says." —Robert Zubrin, founder of founder of the Mars Society.
All editions are available at Amazon, Barnes & Noble, and all book vendors, with the ebook priced at $5.99 before discount. The ebook can also be purchased direct from my ebook publisher, ebookit, in which case you don't support the big tech companies and I get a bigger cut much sooner.
Autographed printed copies are also available at discount directly from me (hardback $24.95; paperback $14.95; Shipping cost for either: $5.00). Just email me at zimmerman @ nasw dot org.