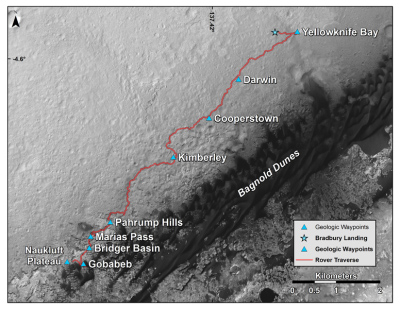 The Curiosity science team recently released a new Mars Reconnaissance Orbiter image, showing Curiosity's overall route since its landing on Mars in August 2012. I have posted a reduced version on the right.
Similarly, on the Curiosity website you can view this more detailed map of its traverse route. This map is updated regularly as Curiosity continues its climb up Mount Sharp.
Neither of these maps is to me very satisfying or useful, however. Neither shows the overall location of Curiosity within Gale Crater. Nor do they give one a sense of how far it is has come on its climb up the mountain. In fact, it is very unclear how close the rover actually is to the peak from either image.
Thus, I decided to do a little research to get some better context of Curiosity's position and its overall journey.

The image below of Gale Crater is a reduced and annotated version of a NASA image available here. The landing ellipse that Curiosity was targeted at is indicated by the red circle. It is north of Mt Sharp inside the rim of Gale Crater. I have added the rover's approximate route in white since its landing to show its present location relative to the entire crater.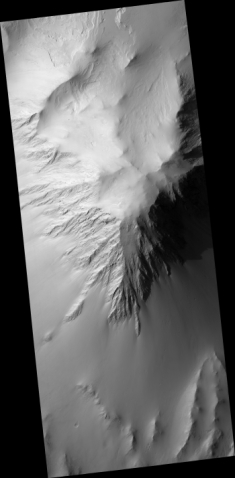 How far however has Curiosity come in its mission to climb Mount Sharp? Well, the mountain itself is quite spread out, and in fact fills much of the crater. For example, this Mars Reconnaissance Orbiter image, reduced and shown on the left, shows the central peak, but that is only a tiny area on the larger image above. To give you an idea how tiny, the yellow box indicates the area of the central peak that is imaged on the left. It is instantly apparent that Curiosity has barely begun its journey up the mountain's slopes in its four years of roving, and is still a gigantic distance from that central peak.
As for elevation, the central peak is estimated to be about 5,500 meters or 18,000 feet high. The detailed traverse map shows contour lines with the elevation numbers set to show the needed distance to reach the peak. Right now Curiosity is still 4,424 meters or 14,514 feet below the peak. It has gained about 1,100 meters or 3,500 feet, but there is long way to go to get to the top.
Finally, the computer image below, released shortly before the rover landed, gives the best sense of the journey so far, and how much more has to be accomplished. The view of this image is from the north, looking south.

I have indicated in red the approximate path Curiosity has traveled in the four years since landing. From this we can see that Curiosity has barely entered the lower foothills of Mount Sharp, and even when it gets higher it will have to traverse a lot of territory to get to the central peak, the high point farther to the south and to the upper left. I expect that they will switchback to the left, aiming for that relatively smooth slope.
I hope the rover can last for many more years. Based on the time it has taken to get this far, doing magnificent science along the way, it will probably be a decade before it gets reasonably close to the top of the mountain.
Readers!
In order to remain completely independent and honest in my writing, I accept no sponsorships from big space companies or any political organizations. Nor do I depend on ads.
Instead, I rely entirely on the generosity of readers to keep Behind the Black running. You can either make a one time donation for whatever amount you wish, or you sign up for a monthly subscription ranging from $2 to $15 through Paypal, or $3 to $50 through Patreon, or any amount through Zelle.
The best method to donate or subscribe is by using Zelle through your internet bank account, since it charges no fees to you or I. You will need to give my name and email address (found at the bottom of the "About" page). What you donate is what I get.
To use Patreon, go to my website there and pick one of five monthly subscription amounts, or by making a one-time donation.

For PayPal click one of the following buttons:

If these electronic payment methods don't work for you, you can support Behind The Black directly by sending your donation by check, payable to Robert Zimmerman, to


Behind The Black
c/o Robert Zimmerman
P.O.Box 1262
Cortaro, AZ 85652