An announcement from Aaron Jenkin, creator and producer the video game proposal, Pioneer 2140CC, based on my science fiction novel Pioneer:
————————————————————
To everyone here on Behind the Black,
We covered a lot of topics in our Kickstarter update, but I wanted to give a special thanks to you all for following us on our journey, for your helpful feedback, and for your support on Kickstarter. This isn't the outcome we had hoped for, but we're hopeful it's not the end of the road in our effort to expand on the world envisioned by Mr. Zimmerman in his fast-paced, 1983 sci-fi novel Pioneer.
In the meantime, please enjoy this wallpaper featuring characters from the game and book. From left to right: Saunders Maxwell, Jane Barlow, Becky Lightman, Michael Addiono, Alex Barlow, Morgan Callahan, and Harry Nickerson.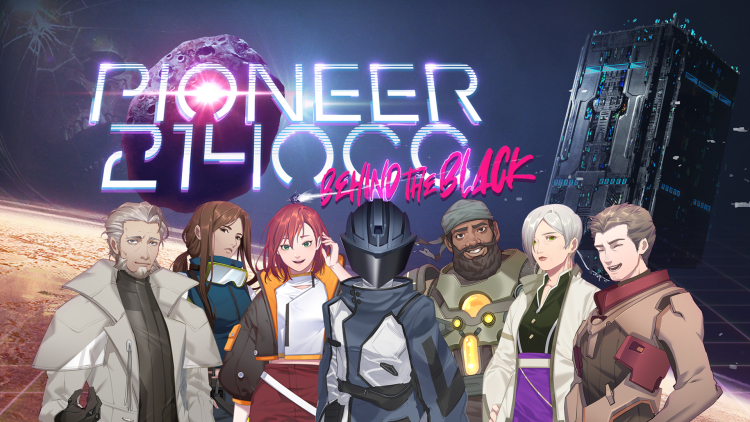 Click for full resolution.
I'd also like to thank Mr. Zimmerman for taking a chance on us and this project. He's built up a distinguished career and it would have been easy to brush us off. But instead he welcomed us and did everything he could to help us succeed. We really appreciate that. Hopefully one day soon we can meet face-to-face for a hike or cave trip and talk about the adventure!
One problem we faced that we mentioned before was related to other people's fear of being blacklisted. I can imagine that's something a lot of you here would like to hear more about, and it's something that I'd like to talk about, so we'll have to get into that one day.
As far as moving forward is concerned… I'm a Creative Director, but I lost my main client at the end of the year due to a merger. That ended up being a good thing at the time because I was able to focus more on Pioneer. But now with the Kickstarter not panning out, I need to pick up new work. My plan is to fall back on one of my strong skills, video editing. I'm thinking that will leave me more time to devote to whatever comes next with Pioneer. If you need a video editor, please get in touch!
Thanks again for your support, and thanks for being such a great community!
Aaron
———————————————————
From my perspective, this outcome is incredibly sad, especially because of the blackballing of Aaron and the project behind the scenes because of my politics. I have no idea if the project failed because of this blacklisting, but it certainly acted as a dead weight. Some of it was vicious. Some was simply fear, holding no animus to Aaron, the book, or my politics. Such people simply did not wish to help promote the game or participate in making it because they feared the consequences to themselves if it was learned they had worked on a project by someone with conservative values.
That such fear permeates our culture now so deeply bodes ill for the future. Very ill indeed.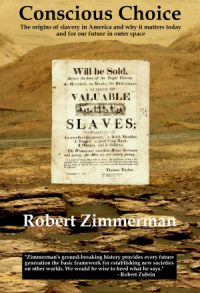 Now available in hardback and paperback as well as ebook!
From the press release: In this ground-breaking new history of early America, historian Robert Zimmerman not only exposes the lie behind The New York Times 1619 Project that falsely claims slavery is central to the history of the United States, he also provides profound lessons about the nature of human societies, lessons important for Americans today as well as for all future settlers on Mars and elsewhere in space.
Conscious Choice: The origins of slavery in America and why it matters today and for our future in outer space
, is a riveting page-turning story that documents how slavery slowly became pervasive in the southern British colonies of North America, colonies founded by a people and culture that not only did not allow slavery but in every way were hostile to the practice.
Conscious Choice
does more however. In telling the tragic history of the Virginia colony and the rise of slavery there, Zimmerman lays out the proper path for creating healthy societies in places like the Moon and Mars.
"Zimmerman's ground-breaking history provides every future generation the basic framework for establishing new societies on other worlds. We would be wise to heed what he says." —Robert Zubrin, founder of founder of the Mars Society.
All editions are available at Amazon, Barnes & Noble, and all book vendors, with the ebook priced at $5.99 before discount. The ebook can also be purchased direct from my ebook publisher, ebookit, in which case you don't support the big tech companies and I get a bigger cut much sooner.
Autographed printed copies are also available at discount directly from me (hardback $24.95; paperback $14.95; Shipping cost for either: $5.00). Just email me at zimmerman @ nasw dot org.