Richard Kerr of Science is attending the annual Lunar and Planetary Science Conference in Texas, and has written a short article describing the reaction of planetary scientists to the meteorite fossil paper by NASA scientist Richard Hoover. Their reaction, hostile and disinterested, isn't pretty. These two quotes will give you the flavor:
Whether they have closely examined the paper by astrobiologist Richard Hoover of NASA's Marshall Space Flight Center or only heard about it in the hallways, the reaction is the same: not again.
Rather than taking a look themselves, researchers have other things in mind. One leading scientist half-jokingly suggested hanging Hoover in effigy in the conference center lobby.

Is this how modern scientists deal with new results? Isn't it the hallmark of science to keep an open mind, and only reject something when it is proven false? How can these so-called scientists reject Hoover's work out of hand, without even reading it?
As I have said, I have serious doubts about the meteorite fossil story. However, for scientists to dismiss it without a reasoned explanation is worse than stupid. It would have been far better for these scientists to describe their valid criticisms of Hoover's work in detail, rather than simply dismiss his work in such a shallow-minded and empty-headed manner.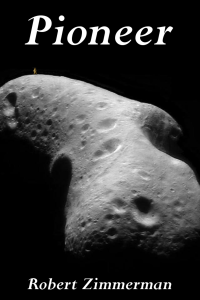 From the press release: From the moment he is handed a possibility of making the first alien contact, Saunders Maxwell decides he will do it, even if doing so takes him through hell and back.
Unfortunately, that is exactly where that journey takes him. The vision that Zimmerman paints of vibrant human colonies on the Moon, Mars, the asteroids, and beyond, indomitably fighting the harsh lifeless environment of space to build new societies, captures perfectly the emerging space race we see today. He also captures in Pioneer the heart of the human spirit, willing to push forward no matter the odds, no matter the cost. It is that spirit that will make the exploration of the heavens possible, forever, into the never-ending future. Available everywhere for $3.99 (before discount) at
amazon
,
Barnes & Noble
, all ebook vendors, or direct from the ebook publisher,
ebookit
. And if you buy it from
ebookit
you don't support the big tech companies and I get a bigger cut much sooner.