Please consider donating to Behind the Black, by giving either a one-time contribution or a regular subscription, as outlined in the tip jar to the right or below. Your support will allow me to continue covering science and culture as I have for the past twenty years, independent and free from any outside influence.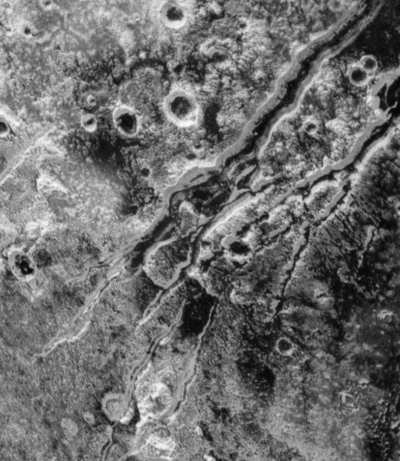 Cool image time! In scrolling through the new raw images downloaded from New Horizons today I came across an image, one of several, that showed what clearly appeared to be meandering canyons carved by flowing liquid.
To show it here, I have cropped it and reduced its size somewhat, highlighting the most interesting features. As you can see, the largest canyon not only appears to have a dark floor, it cuts right through an older crater. Smaller canyons do the same thing. In addition, many of the craters seem to be ponded with the same dark material that floors the canyons, while some of the smaller canyons show tributaries that come together, just like rivers. Are these flows of liquid nitrogen?
I eagerly await the conclusions of the scientists, who are probably only slightly less baffled by these features as I am.
Be sure and check out the full image, as well as the other raw images. The data continue to come in from New Horizons, but the science team is no longer under the same kind of public pressure to make announcements or hold press conferences. There are gems hidden there that are worth looking at, even if they are not as yet accompanied by any scientific analysis.