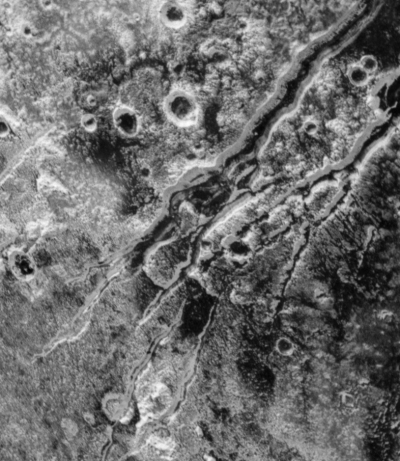 Cool image time! In scrolling through the new raw images downloaded from New Horizons today I came across an image, one of several, that showed what clearly appeared to be meandering canyons carved by flowing liquid.
To show it here, I have cropped it and reduced its size somewhat, highlighting the most interesting features. As you can see, the largest canyon not only appears to have a dark floor, it cuts right through an older crater. Smaller canyons do the same thing. In addition, many of the craters seem to be ponded with the same dark material that floors the canyons, while some of the smaller canyons show tributaries that come together, just like rivers. Are these flows of liquid nitrogen?
I eagerly await the conclusions of the scientists, who are probably only slightly less baffled by these features as I am.
Be sure and check out the full image, as well as the other raw images. The data continue to come in from New Horizons, but the science team is no longer under the same kind of public pressure to make announcements or hold press conferences. There are gems hidden there that are worth looking at, even if they are not as yet accompanied by any scientific analysis.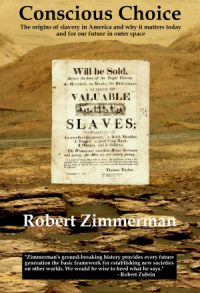 Now available in hardback and paperback as well as ebook!
From the press release: In this ground-breaking new history of early America, historian Robert Zimmerman not only exposes the lie behind The New York Times 1619 Project that falsely claims slavery is central to the history of the United States, he also provides profound lessons about the nature of human societies, lessons important for Americans today as well as for all future settlers on Mars and elsewhere in space.
Conscious Choice: The origins of slavery in America and why it matters today and for our future in outer space
, is a riveting page-turning story that documents how slavery slowly became pervasive in the southern British colonies of North America, colonies founded by a people and culture that not only did not allow slavery but in every way were hostile to the practice.
Conscious Choice
does more however. In telling the tragic history of the Virginia colony and the rise of slavery there, Zimmerman lays out the proper path for creating healthy societies in places like the Moon and Mars.
"Zimmerman's ground-breaking history provides every future generation the basic framework for establishing new societies on other worlds. We would be wise to heed what he says." —Robert Zubrin, founder of founder of the Mars Society.
All editions available at Amazon, Barnes & Noble, and all book vendors. The ebook can be purchased direct from my ebook publisher, ebookit, in which case you don't support the big tech companies and I get a bigger cut much sooner. Note that the price for the ebook, $3.99, goes up to $5.99 on September 1, 2022.
Autographed printed copies are also available at discount directly from me (hardback $24.95; paperback $14.95). Just email me at zimmerman @ nasw dot org.