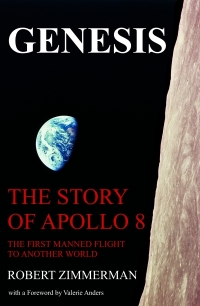 On Christmas Eve 1968 three Americans became the first humans to visit another world. What they did to celebrate was unexpected and profound, and will be remembered throughout all human history. Genesis: the Story of Apollo 8, Robert Zimmerman's classic history of humanity's first journey to another world, tells that story, and it is now available as both an ebook and an audiobook, both with a foreword by Valerie Anders and a new introduction by Robert Zimmerman.
The ebook is available everywhere for $5.99 (before discount) at
amazon
, or direct from my ebook publisher,
ebookit
.
The audiobook is also available at all these vendors, and is also
free with a 30-day trial membership to Audible.
"Not simply about one mission, [Genesis] is also the history of America's quest for the moon... Zimmerman has done a masterful job of tying disparate events together into a solid account of one of America's greatest human triumphs." --San Antonio Express-News
The scientist famous for identifying drowning polar bears in the Arctic has been reprimanded for leaking emails and following "inappropriate" procurement procedures at his job at the Department of Interior.
The investigation also criticized the scientist, Charles Monnett, for fudging his data in reporting the death of the polar bears, a report that the global warming movement used extensively to falsely prove that global warming was causing the destruction of the polar bear population.
The Nature story above tries to make light of Monnett's misconduct, especially in connection with his polar bear report as well as his work in awarding contracts. The report itself [pdf] is far more harsh.
In connection with Monnett's contract work, it appears he actually helped one contractor write his proposal, then sat on the board that awarded the contract to that contractor.

[D]uring the course of the investigation we identified several apparent irregularities in the procurement process regarding Monnett's handling of a MMS sole-source contract. After reviewing the contract file and interviewing procurement staff responsible for administering the contract, we determined that Monnett's overall handling of the contract did not comply with Federal procurement policy. Some of Monnett's actions related to the development of the contract were condoned by the procurement personnel who were in place at MMS during that time. Current procurement personnel interviewed by OIG as part of this investigation, however, considered Monnett's communications with the sole-source vendor following the issuance of the Request for Proposal as entirely inappropriate. [emphasis mine]
The investigation took this inappropriate conduct so seriously it presented its evidence to the U.S. Attorney for the District of Alaska.
In connection with his polar bear report, it appears Monnett intentionally distorted his data in order to bolster his case that global warming was causing the increased death of polar bears. For example, he claimed that no dead polar bears had been seen prior to his report, thus suggesting that the 2004 deaths were evidence that global warming was causing more polar bear deaths. This turns out to be false. Dead polar bears had been seen repeatedly by scientists for decades. In addition, his report failed to mention the very serious storms that had occurred just prior to his observations, which could have much more likely accounted for the dead polar bears than global warming.
Finally, the investigation found serious questions about the reported polar bear deaths. There were issues with the photographs and the data logging itself that suggested the four dead polar bears might even have not existed!
Overall, the report is very damning, not only in terms of this particular scientist but for the entire community within which he worked. Repeatedly it appears perfectly acceptable for many people in the climate community to play favorites with data and contractors in order to promote a particular scientific agenda.
Readers!
My July fund-raiser for Behind the Black is now over. The support from my readers was unprecedented, making this July campaign the best ever, twice over. What a marvelous way to celebrate the website's tenth anniversary!

Thank you! The number of donations in July, and continuing now at the beginning of August, is too many for me to thank you all personally. Please forgive me by accepting my thank you here, in public, on the website.

If you did not donate or subscribe in July and still wish to, note that the tip jar remains available year round.
Regular readers can support Behind The Black with a contribution via paypal:
If Paypal doesn't work for you, you can support Behind The Black directly by sending your donation by check, payable to Robert Zimmerman, to

Behind The Black
c/o Robert Zimmerman
P.O.Box 1262
Cortaro, AZ 85652