While common sense, caution, and the human ability to adapt to fluctuating circumstances requires our society to react to the COVID-19 epidemic spreading across the globe, our additional ability to think coolly and rationally requires us to not allow our emotions to run wildly and out-of-control, taking actions that might feel good for a moment but do no good and maybe more harm in the long run.
It also requires to look closely at the actions of our lawmakers, whose motives are now commonly not driven by an interest in the country but by their own interests and an insatiable desire for power. Two stories this past weekend were quite revealing in this context.
First we have the incredible request by the Justice Department for new special powers so that it can supposedly react to the epidemic properly.

The Justice Department has quietly asked Congress for the ability to ask chief judges to detain people indefinitely without trial during emergencies — part of a push for new powers that comes as the coronavirus spreads through the United States.

…There are more requests on the list, including the ability for the chief judge of any district court to "pause court proceedings" when the court is impacted by civil disobedience or other emergency situations. Such a "pause" could be put into effect for pre-arrest, post-arrest, pre-trial, trial, and post-trial procedures. In other words, this would effectively throw habeas corpus out the window for the duration of the pandemic. You could, in theory at least, be arrested and tossed in a cell and left there indefinitely without getting the chance to appear before a judge and ask to be released, have bail set or anything else.
Remember, this is essentially the same Justice Department that for the past three years has worked hard to misuse the FISA court in an effort to overthrow the legal election of a president they don't like, even as they abused their power to put several people in prison and ruin the lives of others for relatively minor process crimes that would not have even existed without their fake investigation.
You think they won't misuse these new powers, should Congress give such to them? And in what way do any of these totalitarian and unconstitutional powers contribute in any way to overcoming COVID-19?
Next we have the $2 trillion stimulus bill that Congress failed to pass this weekend. It failed because the Democrats insisted on adding a list of additional items that had nothing to do with the dealing with the epidemic.
According to a source close to the process on Capitol Hill, in order to move forward with any kind of relief package, Pelosi and her far-left Democrat caucus will demand the following be included:

Publication of corporate pay statistics by race and race statistics for all corporate boards
A bail out on all current debt at the Postal Service
Required early voting
Required same day voter registration
Provisions on official time for union collective bargaining
Full offset of airline emissions by 2025
Publication and reporting of greenhouse gas statistics for individual flights
Retirement plans for community newspaper employees
Federal $15 minimum wage
Permanent paid leave

The provisions will apply to the companies and business rescued by bill.
These demands by the Democrats would further cement their political hold and social control over society, while doing nothing to control the virus's spread or help the economy being badly damaged by the government's unfocused and uncontrolled response to it.
Nor are the Republicans in Congress innocent. Remember, their so-called stimulus bill is estimated to cost the government $2 trillion, and would have included handing every taxpayer a big check, what I consider a pay-off in the hope it would get them to vote Republican in the next election. Meanwhile, the package would put the already bankrupt federal government further in debt, and provide relatively little aid where it is needed.
Unlike many conservatives who have been condemning the Democrats for torpedoing the stimulus package with their additional demands, I celebrate them! Their action prevented the bill from passing. From what I could tell, it would have done more harm than good. Better off without it.
Sadly, I still expect some out-of-control stimulus package to pass Congress and be signed by Trump. It will contain many irrelevant provisions that will strengthen government power, for both the left and the right, and will do little to solve the economic crash caused because of the imposition martial law in numerous states in an overreaction to an epidemic that so far appears much less worrisome than the annual flu that has occurred every single winter for centuries.
Moreover, though it initially has been Democratic governors in blue states like California, New York, and Washington who have begun these lockdowns, Trump has backed them up by activating the National Guard to enforce their martial law. Though his administration has made it clear it has no intention of imposing a national lockdown as some liberal news outlets have falsely implied, it must also be noted that he cannot legally do it anyway. To do it, he first needs the governors to do what these liberal governors have done in these states. He then can activate the National Guard and a state of emergency, and lo and below, we have martial law.
And more states are joining in, in Michigan, in Maryland, in Pennsylvania, to name just a handful. Give it time, and soon the bulk of the country will be under martial law.
Even more appalling, as far as I can tell, this imposition of martial rule appears permanent. No criteria has been set forth for ending it. Plus, consider how minor so far the deaths and infections have been from COVID-19 (about 500 killed so far in the U.S.) compared with the flu. In 2017-2018, the U.S. experienced its worst flu epidemic in decades, with an estimated 80,000 Americans dying. Yet the idea of imposing some sort of martial law never even came up.
Can you imagine removing these restrictions next year, when the flu returns (as it always does) and causes even half those deaths? And if the lockdowns have been removed this summer because the Wuhan virus has subsided, I will not be surprised if they are re-imposed next fall, due to the annual much more serious flu season. A precedent will have been set, a precedent that every single one of our power-hungry and very corrupt politicians will wish to use, as often as possible.
Fortunately, we do have an election coming in November. If these thugs in power continue their effort to make themselves our dictators, we will have a chance to tell them otherwise.
The big question however is: Will we? I wish I knew.
Meanwhile, what should our government really be doing? Rather than giving cash to every citizen and shutting down businesses willy-nilly across the nation and causing an economic crash equivalent to the 1930s depression, our local and national politicians should be focusing their efforts in simply helping the medical community handle the disease, where they find it. More medicine, more testing, more treatment facilities all make sense, but remember again, the numbers for the Wuhan virus are still less than that of the flu, an annual epidemic that the medical community has been able to handle for decades.
If we remain calm and address the problem directly, without panic, we will find that COVID-19 is not the terrifying bogey-man that politicians and classless media people have called it. It is a problem, but not a world-ending one.
Our common sense, caution, and human ability to adapt to fluctuating circumstances can easily handle this situation. We simply have to think coolly and rationally, and not allow our emotions to run wildly and out-of-control.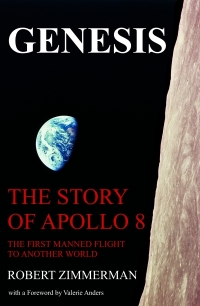 On Christmas Eve 1968 three Americans became the first humans to visit another world. What they did to celebrate was unexpected and profound, and will be remembered throughout all human history. Genesis: the Story of Apollo 8, Robert Zimmerman's classic history of humanity's first journey to another world, tells that story, and it is now available as both an ebook and an audiobook, both with a foreword by Valerie Anders and a new introduction by Robert Zimmerman.
The ebook is available everywhere for $5.99 (before discount) at
amazon
, or direct from my ebook publisher,
ebookit
. If you buy it from
ebookit
you don't support the big tech companies and the author gets a bigger cut much sooner.
The audiobook is also available at all these vendors, and is also
free with a 30-day trial membership to Audible.
"Not simply about one mission, [Genesis] is also the history of America's quest for the moon... Zimmerman has done a masterful job of tying disparate events together into a solid account of one of America's greatest human triumphs."--San Antonio Express-News