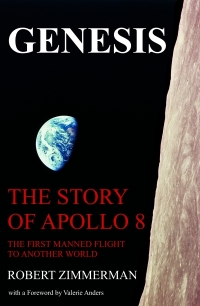 On Christmas Eve 1968 three Americans became the first humans to visit another world. What they did to celebrate was unexpected and profound, and will be remembered throughout all human history. Genesis: the Story of Apollo 8, Robert Zimmerman's classic history of humanity's first journey to another world, tells that story, and it is now available as both an ebook and an audiobook, both with a foreword by Valerie Anders and a new introduction by Robert Zimmerman.
The ebook is available everywhere for $5.99 (before discount) at
amazon
, or direct from my ebook publisher,
ebookit
.
The audiobook is also available at all these vendors, and is also
free with a 30-day trial membership to Audible.
"Not simply about one mission, [Genesis] is also the history of America's quest for the moon... Zimmerman has done a masterful job of tying disparate events together into a solid account of one of America's greatest human triumphs." --San Antonio Express-News
For the past three days there has been a very lively debate by readers of Behind the Black, attempting to figure out the actual cost of launching payload to low Earth orbit by various rockets, including SpaceX, the space shuttle, and the NASA-built Space Launch System.
Three stories published today add some new information to this debate.

First there is this article from Space News: "SES launch order adds to SpaceX backlog." Though the story has a lot of good information about the increasing competition of the launch industry, this quote is especially telling, coming as it does from one of SpaceX's chief competitors:
Frank McKenna, president of International Launch Services (ILS) of Reston, Va. — a veteran launch service provider and a principal SpaceX competitor — said he has calculated that SpaceX is, on average, just under 50 percent less expensive than ILS, Arianespace of France and other established launch service providers.
So, we can argue till the cows come home, but the President of ILS has admitted that SpaceX is able to put payloads into orbit for half the price of anyone else. No wonder satellite companies like SES are flocking to SpaceX.
Then there is this quote:
A half-dozen industry officials interviewed here during the World Satellite Business Week conference organized by Euroconsult said they have never seen the commercial market book so much business on a rocket with so little flight heritage.
What this tells us is that the established launch industry has for decades been sitting on its hands, unwilling to compete to lower prices. Because of this, many customers have been shut out of space, eager to launch their payloads but unable to do so because they couldn't afford it. Then SpaceX comes along, offering the services at a much lower price. It is not surprising that a lot of new and old customers immediately jump at the chance. They couldn't get into orbit before because of price. Now they can at least afford to buy a ticket from SpaceX, even if that means they are taking a chance on a new rocket.
In fact, this is exactly what Elon Musk expected when he started SpaceX. Back in the early 2000s I attended a COMSTAC conference in Washington in which Elon Musk was one of the speakers. (I can't find my notes so I don't know the exact date. It was after Musk had announced the Falcon 1 but before any launches.) There he explained how it came to be that he was now a rocket builder.
After he had sold Paypal he had lots of cash and could do whatever he wanted. And what he wanted to do was launch a private unmanned science mission to Mars. After much research, however, he found he could build the spacecraft but could not get it into space. The launch costs were too high.
Then a light bulb went off in his brain. He looked at the launch industry and realized that there was plenty of room to lower costs. He could build that rocket himself, easily charge less than everyone else, and still make a profit.
And that is where we are today. SpaceX is on the verge of doing exactly what the space shuttle had been especially designed to do but was a miserable failure at doing: lowering the cost of getting payload into orbit. And Musk is doing it by following the simple laws of economics and capitalism, competing on the open market and beating his competitors at their game.
Meanwhile, the two other stories today, both from Aviation Week, illustrate why the space shuttle failed at its task, even though these stories have nothing to do with the shuttle itself. Instead, the stories are about the government-built Space Launch System (SLS).
Both stories describe comments this week by NASA contractors and officials. Both illustrate how a government agency tries to manipulate Congress and the public to keep the money flowing for as long as possible, even if they aren't building anything.
The first story describes how NASA contractors can't meet the schedule set for building SLS's rocket. There appears to be a shortage of radiation-hardened electronics. (They don't say why, but my guess is that demand has gone way up (see above).) It thus acts to prepare Congress and everyone else to the expected delays in the construction of SLS.
The second story is part of this charade, as it contradicts the first story entirely. In an interview with Aviation Week NASA manager Bill Gerstenmaier explains that NASA is now thinking of accelerating the flight test program of Orion and its rocket.
If the first story is true, however, then the second is impossible. So why did Gerstenmaier give this interview at this time? He did it to distract attention from the first story, to keep people excited about SLS, and to convince Congress and the public that the program is serious and is going to accomplish its goals. Pay no attention to the projected delays, we plan to do great things any minute!
In the past, the second story, because of its cool nature, would have overridden any interest in the first, and Congress would have kept the money spigots open. This is what happened with the space shuttle and many other past NASA projects. The costs rose, the schedule got delayed, but because there was no competition and NASA was the only way we could accomplish these cool things, the money got allocated.
Today however there is competition to NASA, and that private competition — unlike a government agency — has incentives to keep costs down. Moreover, we have an ungodly federal debt, and a shortage of cash. The money spigots are running dry. As a result, Gerstenmaier's sales job doesn't carry the pr impact it once did. If SLS gets delayed and the costs continue to rise, this program will get shut down. Congress will simply buy the product from someone else, for less money.
One final thought. We can argue endlessly about whether SpaceX's fees are really less than the space shuttle or SLS, but that really is beside the point. Even if SpaceX is right now more expensive than SLS, it is still the right way to go. A government-built rocket has no incentive to lower cost. Whatever price they predict now is certainly not going to shrink with time.
A private company, competing on the open market, however, has to work to lower costs. If it doesn't it loses customers and goes out of business. Thus, if we focus our energies on having as many competing private companies as possible, the costs will drop, and will eventually be far cheaper than any government-built system.
That is how the U.S. did it in the past. And that is how it will be done in the future, regardless of whether it is the U.S. that does it. Freedom, capitalism, and competition always work. We just have to have faith in them.
Readers!
My July fund-raiser for Behind the Black is now over. The support from my readers was unprecedented, making this July campaign the best ever, twice over. What a marvelous way to celebrate the website's tenth anniversary!

Thank you! The number of donations in July, and continuing now at the beginning of August, is too many for me to thank you all personally. Please forgive me by accepting my thank you here, in public, on the website.

If you did not donate or subscribe in July and still wish to, note that the tip jar remains available year round.
Regular readers can support Behind The Black with a contribution via paypal:
If Paypal doesn't work for you, you can support Behind The Black directly by sending your donation by check, payable to Robert Zimmerman, to

Behind The Black
c/o Robert Zimmerman
P.O.Box 1262
Cortaro, AZ 85652