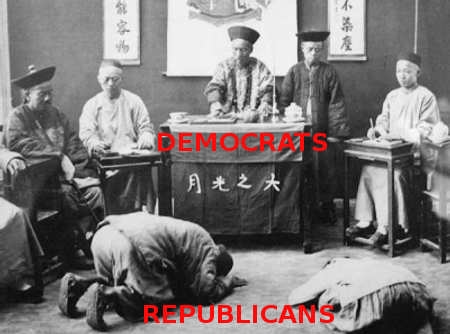 The way it has been for decades
All around us the oppressive leftists of the Democratic Party are in control. They dominate the mainstream media, the education and science communities, the bureaucracy, the major social media companies, and the entertainment industry. That monolith of top-down rule now imposes its will everywhere, blacklisting and destroying anyone who dares dissent from its agenda.
For decades these intolerant socialists and communists and hate-filled bigots have steadily gained more and more control and power because no one would truly resist them. Time after time they would do something egregious and never face any consequences. For example, in 1999 a DC bureaucrat was forced to resign because he used the word "niggardly," properly describing how the political world was sometimes cheap and miserly for the wrong reasons. Several ignorant co-workers accused him falsely of using a racial slur, and DC mayor, Democrat Anthony Williams, quickly forced the man to resign. Shortly thereafter Williams realized his error and arranged for the man's rehiring, but never did anything to discipline the illiterate fools who caused the furor.
Republicans in this matter are far worse. For decades they never punished Democrats for bad behavior, even when the Republicans had gained power. For example, for a half century they have promised if elected to cut off funding for the Corporation for Public Broadcasting and National Public Radio because of the decidedly pro-Democrat biases of both. Yet, when the Republicans win, these promises have never been kept. Instead, the Republicans accept weak statements that no more bias would occur, even as these government-funded media outlets continued and even increased their anti-conservative broadcasting.
An even better example was Republican President Donald Trump. Despite the impression he gave that he was a fighter, he never cleaned house in the FBI, the Justice Department, and all of the intelligence agencies, even when it became clear they were aggressively working with the Democratic Party to spy on him and get him removed from office. To do so would be crass and partisan!
Yet I have no doubt the Democrats would have fired everyone, if not on the day they took power then soon thereafter. And the Democrats wouldn't have done it to stop misbehavior, but to stack the new bureaucracy with partisan allies, all willing to commit misbehavior that would help the Democratic Party — as happened with the FBI and Justice Department during the Trump administration.
I could cite thousands of other examples of Republican weakness in the past half century. The result has been that the Democrats and their intolerant minions have steadily since the 1960s become more and more dominant within the government, to the point that today they are blatantly using their power to squelch dissent and suppress anyone who opposes them.
This week however we finally had a Republican who showed us the right way to fight the left. On the very day that Republican Jason Miyares was sworn in as the new attorney general for the state of Virginia, he announced that he was firing thirty staffers, seventeen of which were attorneys. The firings also included two from the AG's Office of Civil Rights, a department that nationwide has become a tool of the Democratic Party to attack conservatives repeatedly.
Following the mass firing, Miyares spokeswoman Victoria LaCivita said that the new Attorney General was "restructuring the office, as every incoming AG has done in the past." [emphasis mine]
I emphasize the last phrase because it is not true. Since Bill Clinton the Democrats have routinely fired everyone appointed by Republicans when they take power, but the Republicans routinely have not. Prior to Clinton and for most of the last half of the 20th century, the tradition was to ask for resignation letters from everyone, but to not fire seasoned attorneys regardless of their political affiliations. The thinking had been that the caseloads of these attorneys were not political, but criminal, and to remove them would be harmful.
The Republicans, once again showing their weakness and unwillingness to truly fight the agenda of the left, have continued to follow this policy, while the Democrats, beginning with Clinton, abandoned it decades ago.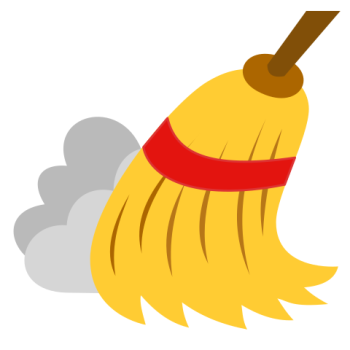 The new broom must sweep clean.
Miyares' actions this week showed to Republicans the only right way to do things today. He immediately cleaned house, getting rid of staffers and attorneys whom he could not trust. He now starts out with a strong team, and is unlikely to be sabotaged, as Trump was, by fifth columnists he allowed to remain out of the goodness of his heart.
The nation needs more of this. Every new administration — both Democrat and Republican — needs to wipe the slate clean when they take office. By doing so the amount of political undermining within each new administration will be significantly reduced. Each administration will be able to cleanly get done what it wants to do, and thus the voters will then know without doubt if that administration had done a good job when the next election rolls around.
For conservatives this policy is even more critical, because the Democrats spent the last four decades seeding the administrative state with anti-American Marxist bigots, whose only real goal is power and the destruction of the American dream. These people need to be removed from power, as quickly as possible, before they can succeed in their effort.
And right now, they are very close to doing so.
Readers!
In order to remain completely independent and honest in my writing, I accept no sponsorships from big space companies or any political organizations. Nor do I depend on ads.
Instead, I rely entirely on the generosity of readers to keep Behind the Black running. You can either make a one time donation for whatever amount you wish, or you sign up for a monthly subscription ranging from $2 to $15 through Paypal, or $3 to $50 through Patreon, or any amount through Zelle.
The best method to donate or subscribe is by using Zelle through your internet bank account, since it charges no fees to you or I. You will need to give my name and email address (found at the bottom of the "About" page). What you donate is what I get.
To use Patreon, go to my website there and pick one of five monthly subscription amounts, or by making a one-time donation.

For PayPal click one of the following buttons:

If these electronic payment methods don't work for you, you can support Behind The Black directly by sending your donation by check, payable to Robert Zimmerman, to


Behind The Black
c/o Robert Zimmerman
P.O.Box 1262
Cortaro, AZ 85652