Boris Badenov: The school administrators at
Southern Illinois University
Today's blacklist story came and went so quickly that no one in the press really ever had a chance to cover it. I however want to highlight it today because it tells us a great deal about today's bankrupt academic culture, and its paper tiger nature if challenged.
On February 10, 2022, Jamie Ball, the director for Equal Opportunity, Access and Title IX Coordination at Southern Illinois University in Edwardsville, sent notices to Maggie DeJong, a student in the school's Art Therapy Counseling Program, telling DeJong that she was forthwith forbidden to interact in any way with three other students.
Because DeJong attended classes and also worked at the same facility as these three students, the orders essentially blacklisted her from school through the end of the '22 semester.
Ball provided no facts or reasons for the "no-contact" orders, other than saying that any contact between DeJong and these three students "would not be welcome or appropriate at this time." Ball's order also admitted that no harassment or violation of school policy had occurred. Her order was simply "to prevent interactions that could be perceived by either party as unwelcome, retaliatory, intimidating, or harassing."
In other words, Ball was punishing DeJong for something that might happen, likely based on secret accusations made by those three students.
On February 23rd, less than two weeks later, lawyers from the Alliance Defending Freedom (ADF) sent the school's Chancellor, Randy Penbrook, a letter [pdf] outlining the illegality of this action, and demanding the no-contact orders be immediately rescinded.

Based on the above, we demand that you immediately rescind the three no-contact orders issued on February 10 and assure us in writing that the University will either (a) stop interpreting and enforcing its policies in this manner or (b) revise its policies to adequately safeguard students' constitutional rights.

If you fail to comply with these demands by close of business on February 25, 2022, our client will have no option but to consider other avenues for vindicating her rights.
The university rescinded the no-contact orders immediately, but only ended a witch hunt investigation of DeJong when ADF lawyers demanded all correspondence and documents related to the investigation.
So, what does this quickly resolved story tell us?
First, this school's "Equal Opportunity" director appears typical of too many such officials. She clear didn't know the first thing about law, individual rights, or the first amendment. Instead, it appears she was running her department as a enforcement bureau for any gossip told her by leftist students, designed to squelch opposing opinions.
Second, the actions of those students suggests they too know nothing of basic American law. We don't really know what happened between them and DeJong, but it doesn't matter. DeJong has the right to her opinions, and more important, the right to express them publicly. If those opinions offend you then you better get a thicker skin, because freedom of speech allows people to offend you.
Taken together, points one and two tell us how bankrupt our public school system is. It is producing college teachers, administrators, and students who are not only ignorant, they are willingly intolerant and authoritarian.
Third, the quick surrender by the school demonstrates the importance of fighting back, hard. DeJong did not take her blacklisting lying down. She immediately sought counsel, and its actions quickly brought the school to heel. Had the university decided to fight, it knew it would have lost so badly that DeJong might have even won part ownership in it.
The same applies to many of my other blacklisting stories. The legal basis for the blacklisting is almost always indefensible. Fight it and you will win. Victory might happen quickly, as in this case, or take years, but inevitable win you will. In either case, the fact that you are willing to fight will strike terror into the hearts of these bullies.
Remember, freedom doesn't exist without bravery. These petty dictators rely on your timidity. Show them you are brave, and they will run whimpering. More important, the proof that people are quite willing to fight them will act as a deterrent, preventing more such blacklisting.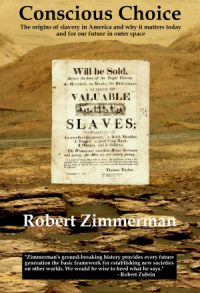 Now available in hardback and paperback as well as ebook!
From the press release: In this ground-breaking new history of early America, historian Robert Zimmerman not only exposes the lie behind The New York Times 1619 Project that falsely claims slavery is central to the history of the United States, he also provides profound lessons about the nature of human societies, lessons important for Americans today as well as for all future settlers on Mars and elsewhere in space.
Conscious Choice: The origins of slavery in America and why it matters today and for our future in outer space
, is a riveting page-turning story that documents how slavery slowly became pervasive in the southern British colonies of North America, colonies founded by a people and culture that not only did not allow slavery but in every way were hostile to the practice.
Conscious Choice
does more however. In telling the tragic history of the Virginia colony and the rise of slavery there, Zimmerman lays out the proper path for creating healthy societies in places like the Moon and Mars.
"Zimmerman's ground-breaking history provides every future generation the basic framework for establishing new societies on other worlds. We would be wise to heed what he says." —Robert Zubrin, founder of founder of the Mars Society.
All editions are available at Amazon, Barnes & Noble, and all book vendors, with the ebook priced at $5.99 before discount. The ebook can also be purchased direct from my ebook publisher, ebookit, in which case you don't support the big tech companies and I get a bigger cut much sooner.
Autographed printed copies are also available at discount directly from me (hardback $24.95; paperback $14.95; Shipping cost for either: $5.00). Just email me at zimmerman @ nasw dot org.