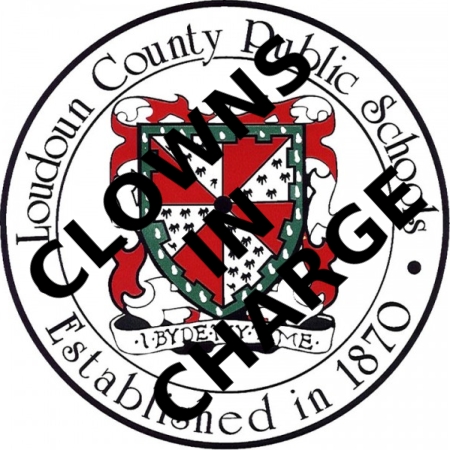 And the clowns must be fired, now!
In the past week the conservative press heralded two big legal victories against the administrative thugs running the schools in Loudoun County in Virginia who, despite no evidence that masks did anything but harm children, insisted the little kids under their supervision be muzzled eight hours a day.
First, despite an executive order by the new Republican governor, Glenn Youngkin, outlawing mask mandates in the schools, Loudoun County administrators refused to go along, even threatening to arrest children for trespass should they show up without masks. A local judge however on February 16th issued an injunction against the county's mask mandate, preventing it from going into effect.
Second, the state's legislature, controlled by the Republicans but with additional votes from Democrats, had quickly passed a law banning further school mask mandates, which Youngkin signed into law on February 18th.
Hallellujah! the conservative press declared. A victory against tyrants.
I say bah! If I was a parent in Loudoun County, I would not care one iota that this mask mandate has been voided. Instead, I would be terrified of putting my children under the control of these tyrants, with or without a mask mandate. The vicious and dishonest behavior in the past two years by the administrators and teachers in these schools against little children is beyond the pale. All of them still work there. None have been fired or replaced.
So what the kids will no longer have to wear masks? These same administrators, teachers, and faculty will still be controlling their lives for eight hours a day. Now that in-class teaching has resumed, who knows what child abuse these bullies will come up with once they have the kids in the class, out of sight of parents? If I was a parent who had been particularly vocal against the mask mandates I would especially fear these thugs might take their anger against me by my abusing my children.
Parents in New York City, subjected to the same goonish and bullying behavior by people running their schools, have come to the same conclusion I have, and are pulling their kids from the school system now in gigantic numbers.
Families in some of the city's top school districts are leaving the Department of Education at an alarming clip, according to state data. Mayor Eric Adams speculated this week that parents who've ditched the city and its public schools are likely to return as soon as Gotham gathers itself.

But that ongoing flight — which is hammering school budgets — is hitting traditionally popular districts especially hard.

Elementary school enrollment in Manhattan's District 2, which encompasses affluent areas like Greenwich Village and Soho, is down 10 percent this year and 17 percent over the last two.

According to state figures, the district went from roughly 16,040 kids in 2020 to over 13,333 this year — a loss of more than 2,500 students over that span.

A concerned district source noted that that would equate to the closure of up to seven district elementary schools.
The article goes on to list the steep enrollment drops in district after district, averaging about 25% to 33%.
It appears parents in New York, especially those from the higher income brackets, have decided this government school system is a terrible place to send their kids, and are taking them out, either to teach at home or to send to better private schools. And I suspect the only reason poorer parents haven't done the same is because they don't have the same resources to do so.
Nor is this trend only seen in New York. Across the nation the data shows parents pulling their children from the public schools in large numbers.
Loudoun County parents in Virginia should do the same. The people running those schools demonstrated in the past few months that they couldn't care less about the kids under their care. Get your kids out now, before they do them even more harm.
Furthermore, don't let Youngkin and the Republicans in the state legislature off the hook, just because they have cancelled Loudoun County's mask mandate. Will the Republicans do anything to fire or replace them? Will any effort be made to reform the administration of this county's schools?
If the Republicans do nothing, then we will know that everything they are doing is just show, done merely to placate the public while allowing the status quo to remain unchanged. Virginia parents must not let the Republicans get away with this. Parents must pushback, hard, and force the politicians take real action, cleaning house so that the child abusers who run Loudoun County schools are never let anywhere near a public school or its children ever again.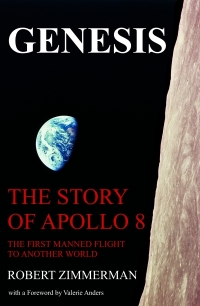 On Christmas Eve 1968 three Americans became the first humans to visit another world. What they did to celebrate was unexpected and profound, and will be remembered throughout all human history. Genesis: the Story of Apollo 8, Robert Zimmerman's classic history of humanity's first journey to another world, tells that story, and it is now available as both an ebook and an audiobook, both with a foreword by Valerie Anders and a new introduction by Robert Zimmerman.
The ebook is available everywhere for $5.99 (before discount) at
amazon
, or direct from my ebook publisher,
ebookit
. If you buy it from
ebookit
you don't support the big tech companies and the author gets a bigger cut much sooner.
The audiobook is also available at all these vendors, and is also
free with a 30-day trial membership to Audible.
"Not simply about one mission, [Genesis] is also the history of America's quest for the moon... Zimmerman has done a masterful job of tying disparate events together into a solid account of one of America's greatest human triumphs."--San Antonio Express-News