Yesterday, despite the government shutdown, NOAA posted its monthly update of the solar cycle, and as I do every month, I am posting it here, below the fold, with annotations.
My interpretation of this data tells me that almost certainly the solar maximum has ended. We might see some later fluctuations whereby the sunspot number jumps, but the Sun is clearly beginning its ramp down to solar minimum.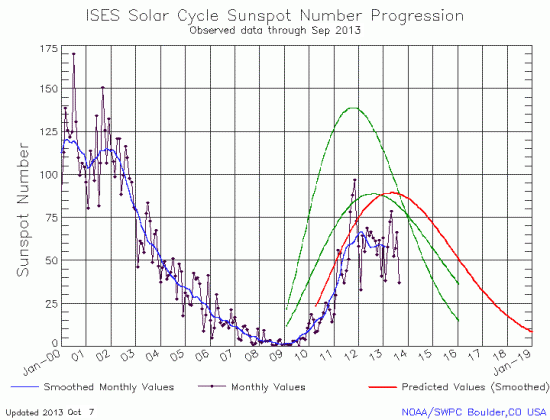 The graph above has been modified to show the predictions of the solar science community. The green curves show the community's two original predictions from April 2007, with half the scientists predicting a very strong maximum and half predicting a weak one. The red curve is their revised May 2009 prediction.
After two months of wimpy increases in sunspots, the sunspot count has now dropped to its lowest number since early 2012. See also this story from the solar physics research department of the Royal Observatory of Belgium., describing the quietness of the Sun during September.
As I said, it appears the solar maximum has ended. The only question now is how long and deep the upcoming solar minimum will be.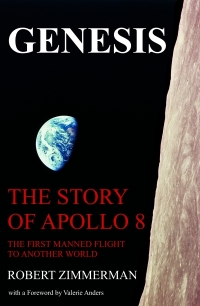 On Christmas Eve 1968 three Americans became the first humans to visit another world. What they did to celebrate was unexpected and profound, and will be remembered throughout all human history. Genesis: the Story of Apollo 8, Robert Zimmerman's classic history of humanity's first journey to another world, tells that story, and it is now available as both an ebook and an audiobook, both with a foreword by Valerie Anders and a new introduction by Robert Zimmerman.
The ebook is available everywhere for $5.99 (before discount) at
amazon
, or direct from my ebook publisher,
ebookit
. If you buy it from
ebookit
you don't support the big tech companies and the author gets a bigger cut much sooner.
The audiobook is also available at all these vendors, and is also
free with a 30-day trial membership to Audible.
"Not simply about one mission, [Genesis] is also the history of America's quest for the moon... Zimmerman has done a masterful job of tying disparate events together into a solid account of one of America's greatest human triumphs."--San Antonio Express-News