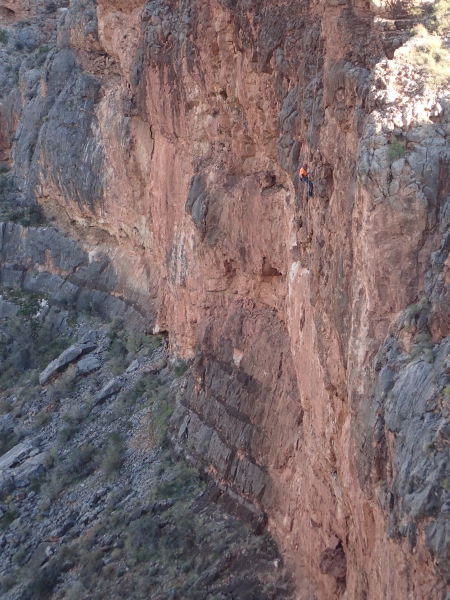 This past weekend I was completely out of touch with the rest of the world as I led a group of eight cavers hunting for new caves within the Grand Canyon. This was the fourth trip we've done to this part of the canyon, and on previous trips we were either mapping known caves, or scouting with binoculars the cliffs on the mesa's walls, looking for potential openings. This trip we focused on rappelling down to the most likely candidate openings.
Overall we checked about a dozen potential caves, all of which turned out to be dead ends, mere alcoves. Oh well. Though this might sound disappointing, when you have to rappel off a cliff in the Grand Canyon, dropping out into nothing at heights ranging from 100 to 200 feet, who can complain? The image on the right, taken by Jeff Watkins, shows me (in the orange shirt) in the midst of one of these journeys. I am rappelling about 160 feet down to the top of the alluvial fill that you can see on the left that slopes down another few hundred feet to the canyon floor. In this image I am about a third of the way down, and am about to reach the spot where I will be hanging completely free of the wall.
Yowza! Though you can't see it in this picture, behind me and opposite the cliff face the canyon extends out several miles to its opposite rim, with the Inner Gorge of the Colorado River cutting across in between. Once I reached the bottom I then rearranged my gear, using it to climb the rope back up 160 feet.
Nor was I the only one to do this. During the weekend we each got to do at least one rappel, each of which was as stunning and as breath-taking in its own right.
To say the experience was exhilarating is for sure a significant understatement. I used to do rappels this deep routinely when I was caving back east, but then the drop was underground, in the dark, with cave walls relatively nearby. Though that had a majesty of its own, doing this in the outdoors, in the Grand Canyon, is a far different thing.
Readers!
Please consider donating to Behind the Black, by giving either a one-time contribution or a regular subscription, as outlined in the tip jar below. Your support will allow me to continue covering science and culture as I have for the past twenty years, independent and free from any outside influence.
Your support is even more essential to me because I keep this site free from advertisements and do not participate in corrupt social media companies like Google, Twitter, and Facebook. I depend wholly on the direct support of my readers.
You can provide that support to Behind The Black with a contribution via Patreon or PayPal. To use Patreon, go to my website there and pick one of five monthly subscription amounts, or by making a one-time donation. For PayPal click one of the following buttons:

If Patreon or Paypal don't work for you, you can support Behind The Black directly by sending your donation by check, payable to Robert Zimmerman, to


Behind The Black
c/o Robert Zimmerman
P.O.Box 1262
Cortaro, AZ 85652