Elon Musk's talk yesterday at the National Press Club revealed several interesting things, about SpaceX's rocket effort, about the state of the American commercial space industry, and about Elon Musk himself.
First, the company's rocket design effort. Musk centered his talk on SpaceX's new effort to make its Falcon 9 rocket completely reusable. Though he produced little specific details, and the moderator at the event asked no questions about it, it seems the engineering centers around these three concepts:




The first stage: They will add thrusters and landing legs so that after separation it could guide itself back to Earth and then land vertically, using those rockets to slow itself down.


The second stage: Thrusters and landing legs would also be added, as well as a heat shield at the bow. During descent the shield would protect the stage. Then the thrusters and landing legs would allow it to land vertically.


The Dragon capsule: They hope to use the launch abort thrusters, being designed now to make Dragon man-rated, as retro rockets to allow the capsule to land softly on land.


All three of these concepts are very smart and cost effective. Rather than completely redesign the first and second stages, Musk is proposing the simplest and easiest engineering fixes to make it possible to recover the first and second stages and reuse them. His idea to incorporate the launch abort thrusters into Dragon so they can be used for landing is also very smart, as this will improve the vehicles performance while also making it safer for humans.
At the same time, these are concepts only. None of the hard engineering design work has obviously been done to prove whether they can work or not. You could see this by looking at the video animation SpaceX created to illustrate the concepts. Not only did it leave out entirely the use for parachutes on both stages and Dragon — which will certainly be required even with landing thrusters — the animation incorrectly showed Dragon docking itself to ISS, when in truth the capsule only maneuvers itself close enough so that the station's robot arm can reach out, grab it, and berth it.
What I took from this announcement by Musk is his recognition at last that the first stage of his rockets cannot be recovered and reused as presently designed. From the beginning Musk has claimed that they had designed their lower stages to parachute back to Earth so they could be recovered, refurbished, and reused. For example, there's this quote from a September 8, 2006 press release:
The Falcon 9 first stage, Falcon 9 second stage and Dragon are all designed to land via parachute in water, although we could always add airbags later for a land landing, if that turned out to be lower cost. If the recovery and reuse is successful, the Falcon 9/Dragon vehicle will be the world's first fully reusable system (the Shuttle system loses the large orange tank every flight, so is considered partially reusable).
Yesterday Musk essentially admitted that this hasn't worked, and probably never will. More aggressive engineering is required to bring those stages back to Earth safely. And this work has not yet been done, as Musk himself noted, "Now we need to make sure that those simulations and reality agree, because generally when they don't reality wins."
Second, Musk revealed two things about the aerospace industry that are not generally discussed.


Musk noted how the military wants to maintain its launch capability, but is doing so, not by opening up its bidding process to as many bidders as possible, but freezing out companies like SpaceX and maintaining the launch monopoly presently owned by Boeing and Lockheed. And as he commented, "If this decision is made based on lobbying power, we are screwed."
When asked about foreign competition, he discounted Russia as irrelevant in the long run, saying that their space industry has shown little innovation in decades. Meanwhile, its space engineering workforce is aging. Instead, he considers China his number one competitor.


Finally, Musk gave us his view of the world and why he got into the space industry. When he was a teenager in South Africa, he wanted to do things that would help improve and change the world, and saw three commercial areas where he believed he would be able to do this in his lifetime: the internet, sustainable and recyclable industries, and space exploration.
In his mind, creating sustainable products (such as solar power and electric cars) will help make the Earth a more liveable place, while also reducing the risk of damage to the Earth by lowering the increase in carbon dioxide in the atmosphere. Building rockets, meanwhile, will provide humanity with an interplanetary "insurance policy." On the chance that the Earth might be destroyed, either by human action or natural disaster, Musk wants to make the human race "multi-planetary." That way, we will no longer be dependent on only one world, but instead live on many.
Fortunately for him, and us, his success in the internet gave him the capital to enter the other two areas.
To me, Musk's talk showed him to be an very realistic and well-grounded visionary. Though he is always willing and able to think outside the box, he also doesn't attempt to build castles in the air. All of his businesses are aimed at making a profit, and all of them appear to be doing so, to a greater or lesser degree.
The more visionaries like this we can get, the better off all of us will be.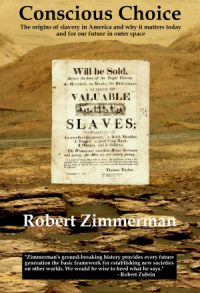 Now available in hardback and paperback as well as ebook!
From the press release: In this ground-breaking new history of early America, historian Robert Zimmerman not only exposes the lie behind The New York Times 1619 Project that falsely claims slavery is central to the history of the United States, he also provides profound lessons about the nature of human societies, lessons important for Americans today as well as for all future settlers on Mars and elsewhere in space.
Conscious Choice: The origins of slavery in America and why it matters today and for our future in outer space
, is a riveting page-turning story that documents how slavery slowly became pervasive in the southern British colonies of North America, colonies founded by a people and culture that not only did not allow slavery but in every way were hostile to the practice.
Conscious Choice
does more however. In telling the tragic history of the Virginia colony and the rise of slavery there, Zimmerman lays out the proper path for creating healthy societies in places like the Moon and Mars.
"Zimmerman's ground-breaking history provides every future generation the basic framework for establishing new societies on other worlds. We would be wise to heed what he says." —Robert Zubrin, founder of founder of the Mars Society.
All editions are available at Amazon, Barnes & Noble, and all book vendors, with the ebook priced at $5.99 before discount. The ebook can also be purchased direct from my ebook publisher, ebookit, in which case you don't support the big tech companies and I get a bigger cut much sooner.
Autographed printed copies are also available at discount directly from me (hardback $24.95; paperback $14.95). Just email me at zimmerman @ nasw dot org.