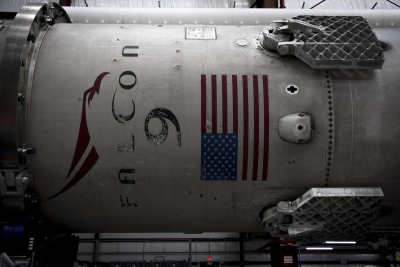 The competition heats up: In an Instagram post, Elon Musk has revealed that the Falcon 9 first stage that successfully landed vertically after launch is in its hanger and is essentially undamaged.
Elon Musk: "Falcon 9 back in the hangar at Cape Canaveral. No damage found, ready to fire again."
Musk's post included a higher resolution version of the picture on the right, showing a close-up of the stage near its top. This image reveals that, despite some minor paint damage and dirt, this section of the stage does appear whole and ready to go. Even the landing fins are folded and appear undamaged.
Musk's post also suggests that the stage is ready for its first post-launch test firing, which underlines how unique this opportunity is. No one has ever had a functioning first stage available for testing after it had been launched and returned to Earth. Past assumptions (an important word) have always said that the stress of launch would damage it enough that it wouldn't be cost effect to reuse it. SpaceX's engineers now will have an opportunity to find out if that assumption was true or false. I strongly suspect they will find that this assumption was false, that it was used as a bugaboo by the small-minded to discourage just this kind of effort by SpaceX.
This article notes that Musk has previously said it costs $60 million to build the first stage, but only $200K to refuel it. Since SpaceX says it charges about $70 million per launch, that first stage is most of SpaceX's cost for each launch. If the stage can reused later, the cost of later launches will thus plummet incredibly. Assume they can only reuse the stage once. Amortized over only two launches the cost is still cut by almost half. More importantly, the ability to reuse will be an incentive for them to build the stage right the first time, so that it can be reused multiple times.
I repeat: The importance of this breakthrough has not yet sunk in. It is going to change the entire aerospace industry and everything we do in space.
Update: I have corrected the post above, which originally incorrectly stated that the picture showed the stage near its base.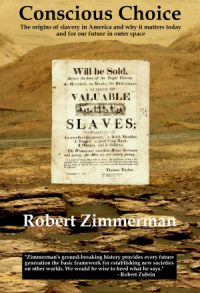 Now available in hardback and paperback as well as ebook!
From the press release: In this ground-breaking new history of early America, historian Robert Zimmerman not only exposes the lie behind The New York Times 1619 Project that falsely claims slavery is central to the history of the United States, he also provides profound lessons about the nature of human societies, lessons important for Americans today as well as for all future settlers on Mars and elsewhere in space.
Conscious Choice: The origins of slavery in America and why it matters today and for our future in outer space
, is a riveting page-turning story that documents how slavery slowly became pervasive in the southern British colonies of North America, colonies founded by a people and culture that not only did not allow slavery but in every way were hostile to the practice.
Conscious Choice
does more however. In telling the tragic history of the Virginia colony and the rise of slavery there, Zimmerman lays out the proper path for creating healthy societies in places like the Moon and Mars.
"Zimmerman's ground-breaking history provides every future generation the basic framework for establishing new societies on other worlds. We would be wise to heed what he says." —Robert Zubrin, founder of founder of the Mars Society.
All editions are available at Amazon, Barnes & Noble, and all book vendors, with the ebook priced at $5.99 before discount. The ebook can also be purchased direct from my ebook publisher, ebookit, in which case you don't support the big tech companies and I get a bigger cut much sooner.
Autographed printed copies are also available at discount directly from me (hardback $24.95; paperback $14.95; Shipping cost for either: $5.00). Just email me at zimmerman @ nasw dot org.