A monument to Boris Yeltsin was unveiled today in his hometown on the 80th anniversary of his birth.
In this week of memorials to American space tragedies, this event in Russia brings to mind the far more important and significant events, affecting millions of people worldwide, that unfolded in the Soviet Union during the late 1980s and mid-1990s. The communist superpower was collapsing, and there was the real possibility that that collapse could lead to worldwide war and violence.
Yeltsin, far more than any other man, helped shepherd the former Soviet Union out of that chaos, and he did it as a civilized man, with relatively little bloodshed. As he shouted defiantly as he stood on a tank in front of the Russian parliament building on the day of the August coup, "Terror and dictatorship . . . must not be allowed to bring eternal night!"
Unlike many former communist leaders, Yeltsin had the openness of mind to recognize that the state-run centralized command society that he had grown up in and had helped run for years simply did not work. "We have oppressed the human spirit," he noted sadly during a press conference shortly after the coup. More importantly, he also had the courage to take action on this realization, and force the painful changes that were necessary to save his country.
Yeltsin was no saint, and the Russian transition from dictatorship to freedom was far from perfect. No one even knows if that transition is going to hold, today, twenty years later. Nonetheless, the world should remember Yeltsin for his success, and honor that memory.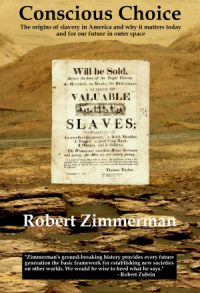 Now available in hardback and paperback as well as ebook!
From the press release: In this ground-breaking new history of early America, historian Robert Zimmerman not only exposes the lie behind The New York Times 1619 Project that falsely claims slavery is central to the history of the United States, he also provides profound lessons about the nature of human societies, lessons important for Americans today as well as for all future settlers on Mars and elsewhere in space.
Conscious Choice: The origins of slavery in America and why it matters today and for our future in outer space
, is a riveting page-turning story that documents how slavery slowly became pervasive in the southern British colonies of North America, colonies founded by a people and culture that not only did not allow slavery but in every way were hostile to the practice.
Conscious Choice
does more however. In telling the tragic history of the Virginia colony and the rise of slavery there, Zimmerman lays out the proper path for creating healthy societies in places like the Moon and Mars.
"Zimmerman's ground-breaking history provides every future generation the basic framework for establishing new societies on other worlds. We would be wise to heed what he says." —Robert Zubrin, founder of founder of the Mars Society.
All editions are available at Amazon, Barnes & Noble, and all book vendors, with the ebook priced at $5.99 before discount. The ebook can also be purchased direct from my ebook publisher, ebookit, in which case you don't support the big tech companies and I get a bigger cut much sooner.
Autographed printed copies are also available at discount directly from me (hardback $24.95; paperback $14.95; Shipping cost for either: $5.00). Just email me at zimmerman @ nasw dot org.