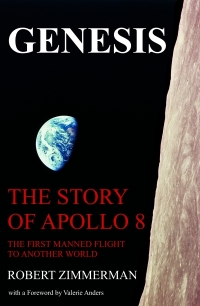 On Christmas Eve 1968 three Americans became the first humans to visit another world. What they did to celebrate was unexpected and profound, and will be remembered throughout all human history. Genesis: the Story of Apollo 8, Robert Zimmerman's classic history of humanity's first journey to another world, tells that story, and it is now available as both an ebook and an audiobook, both with a foreword by Valerie Anders and a new introduction by Robert Zimmerman.
The ebook is available everywhere for $5.99 (before discount) at
amazon
, or direct from my ebook publisher,
ebookit
.
The audiobook is also available at all these vendors, and is also
free with a 30-day trial membership to Audible.
"Not simply about one mission, [Genesis] is also the history of America's quest for the moon... Zimmerman has done a masterful job of tying disparate events together into a solid account of one of America's greatest human triumphs." --San Antonio Express-News
Two stories today from Richard Branson of Virgin Galactic:
The quote from the first story is especially entertaining:

"I'm pretty convinced that by this summer a large, new spacecraft will go into space," the Virgin Galactic owner said in an interview with Fusion.net, adding, "and then I think by September, myself and my family will go into space. I'm 90 percent convinced that will happen."
This article, however, was written by a local New Mexico news source, which is understandably very skeptical of Branson considering that he has made this exact same promise now three years in a row. Not only has Branson and his family not flown in space as promised previously, almost no powered test flights of SpaceShipTwo have occurred as promised.
Eventually, you have got to produce. Branson's failure to fulfill his previous promises makes this new promise sound very hollow. I think he would be far better served right now if he told us precisely what is going on and why there have been so few test flights. This is cutting edge technology. Everyone expects there to be problems, challenges, and delays. Filling us in on them will not embarrass Branson or Virgin Galactic, unless we find out he has been lying to us.
I should also note that Branson's effort here to manipulate the press is apparently far less successful than past efforts. Previously, promises of an upcoming SpaceShipTwo suborbital flight would have gotten wide starry-eyed coverage from major news sources. Space geeks like I would have talked about it as well with great enthusiasm.
Now, however, the story is reported first by a non-space source, and subsequent reports, like the one above, are skeptical.
Time is running out on Virgin Galactic. They have got to start delivering.
Readers!
My July fund-raiser for Behind the Black is now over. The support from my readers was unprecedented, making this July campaign the best ever, twice over. What a marvelous way to celebrate the website's tenth anniversary!

Thank you! The number of donations in July, and continuing now at the beginning of August, is too many for me to thank you all personally. Please forgive me by accepting my thank you here, in public, on the website.

If you did not donate or subscribe in July and still wish to, note that the tip jar remains available year round.
Regular readers can support Behind The Black with a contribution via paypal:
If Paypal doesn't work for you, you can support Behind The Black directly by sending your donation by check, payable to Robert Zimmerman, to

Behind The Black
c/o Robert Zimmerman
P.O.Box 1262
Cortaro, AZ 85652