Two stories today from Richard Branson of Virgin Galactic:
The quote from the first story is especially entertaining:

"I'm pretty convinced that by this summer a large, new spacecraft will go into space," the Virgin Galactic owner said in an interview with Fusion.net, adding, "and then I think by September, myself and my family will go into space. I'm 90 percent convinced that will happen."
This article, however, was written by a local New Mexico news source, which is understandably very skeptical of Branson considering that he has made this exact same promise now three years in a row. Not only has Branson and his family not flown in space as promised previously, almost no powered test flights of SpaceShipTwo have occurred as promised.
Eventually, you have got to produce. Branson's failure to fulfill his previous promises makes this new promise sound very hollow. I think he would be far better served right now if he told us precisely what is going on and why there have been so few test flights. This is cutting edge technology. Everyone expects there to be problems, challenges, and delays. Filling us in on them will not embarrass Branson or Virgin Galactic, unless we find out he has been lying to us.
I should also note that Branson's effort here to manipulate the press is apparently far less successful than past efforts. Previously, promises of an upcoming SpaceShipTwo suborbital flight would have gotten wide starry-eyed coverage from major news sources. Space geeks like I would have talked about it as well with great enthusiasm.
Now, however, the story is reported first by a non-space source, and subsequent reports, like the one above, are skeptical.
Time is running out on Virgin Galactic. They have got to start delivering.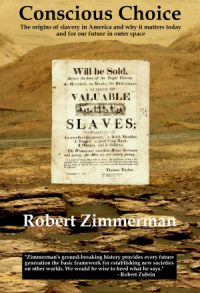 Now available in hardback and paperback as well as ebook!
From the press release: In this ground-breaking new history of early America, historian Robert Zimmerman not only exposes the lie behind The New York Times 1619 Project that falsely claims slavery is central to the history of the United States, he also provides profound lessons about the nature of human societies, lessons important for Americans today as well as for all future settlers on Mars and elsewhere in space.
Conscious Choice: The origins of slavery in America and why it matters today and for our future in outer space
, is a riveting page-turning story that documents how slavery slowly became pervasive in the southern British colonies of North America, colonies founded by a people and culture that not only did not allow slavery but in every way were hostile to the practice.
Conscious Choice
does more however. In telling the tragic history of the Virginia colony and the rise of slavery there, Zimmerman lays out the proper path for creating healthy societies in places like the Moon and Mars.
"Zimmerman's ground-breaking history provides every future generation the basic framework for establishing new societies on other worlds. We would be wise to heed what he says." —Robert Zubrin, founder of founder of the Mars Society.
All editions are available at Amazon, Barnes & Noble, and all book vendors, with the ebook priced at $5.99 before discount. The ebook can also be purchased direct from my ebook publisher, ebookit, in which case you don't support the big tech companies and I get a bigger cut much sooner.
Autographed printed copies are also available at discount directly from me (hardback $24.95; paperback $14.95; Shipping cost for either: $5.00). Just email me at zimmerman @ nasw dot org.