Numerous pundits have commented in great detail and with far greater expertise than I on the indictments (pdf) last week issued by Special Counsel Robert Mueller against thirteen Russians for wire and bank fraud, identity theft, and conspiracy to defraud the United States. (See here and here for two thoughtful conservative takes.)
As an American who cares about our democracy, however, I decided it was essential I read the indictment myself to form my own opinion about it. I advise every American to do the same, using the first link above to download it. My own personal take-aways are as follows:
1. It is a very good thing that Mueller indicted these Russians. Based on the evidence summarized by the indictment, they clearly committed crimes against Americans and the U.S. government. Moreover, those crimes were committed with the intent by foreigners to interfere with our political process, something we must never allow if at all possible, and punish if we can.
2. Still, I am very curious to learn how Mueller's team obtained the evidence in these indictments. Reading the document suggests that they must have either had extensive wiretaps, or inside information. Unfortunately, as it is very unlikely that any of these Russians will ever go to trial (having apparently all fled back to Russia long before the indictment was announced), this is information we are likely never to get.
I am therefore also very puzzled by the timing of the indictment. Wouldn't it have made more sense to issue it as soon as possible, and in a way that might have allowed the authorities to detain these individuals so they might be put on trial? Instead, the slow timing seems almost intended to allow them to escape, and thus prevent an actual trial from ever occurring. I wonder why, though I have my suspicions.
3. Despite the correctness of and the need for these indictments, Mueller's indictment is first and foremost a political document. If you read it, it is quite obvious that its purpose was not to bring these Russians to justice, but to imply that Russia was working with Trump to get him elected, even though a careful analysis of everything the Russians did shows that this is not the case.
Why do I say this? The indictment spends numerous pages describing in incredible detail every single pro-Trump action taken by these Russians, from organizing social media campaigns to anti-Clinton protests to pro-Trump rallies, while providing only one or two very short summaries of the anti-Trump actions they took, thus giving the impression if you do not read the indictment closely that they were essentially a Trump operation. This however is false. Not only does the indictment lack any evidence of any links between the Russians and the Trump campaign, the details indicate strongly the non-partisan nature of the Russian strategy. While prior to the election it appears they favored Trump, once he was the candidate they shifted tactics to attack both him and Clinton. The goal was not so much to get Trump elected but to cause the most negative disruption to the American election process as possible. The indictment itself admits this, though almost as an aside. The first paragraph quote below shows the Russian strategy before Trump is the candidate, with the second showing their strategy afterward.

"By 2016, Defendants and their co-conspirators used their fictitious online personas to interfere with the 2016 U.S. presidential election. They engaged in operations primarily intended to communicate derogatory information about Hillary Clinton, to denigrate other candidates such as Ted Cruz and Marco Rubio, and to support Bernie Sanders and then-candidate Donald Trump.

…After the election of Donald Trump in or around November 2016, Defendants and their co-conspirators used false U.S. personas to organize and coordinate U.S. political rallies in support of then president-elect Trump, while simultaneously using other false U.S. personas to organize and coordinate U.S. political rallies protesting the results of the 2016 U.S. presidential election. For example, in or around November 2016, Defendants and their co-conspirators organized a rally in New York through one ORGANIZATION-controlled group designed to "show your support for President-Elect Donald Trump" held on or about November 12, 2016. At the same time, Defendants and their co-conspirators, through another ORGANIZATION-controlled group, organized a rally in New York called "Trump is NOT my President" held on or about November 12, 2016. Similarly, Defendants and their co-conspirators organized a rally entitled "Charlotte Against Trump" in Charlotte, North Carolina, held on or about November 19, 2016.
Mueller's apparent effort to imply a false Russian-Trump alliance is why I consider this document political. Mueller had good cause to indict these Russians, but his manner for doing so reveals that his real goal was to taint the Trump presidency, not protect the American election process from foreign interference.
This is my impression. It is partly formed because I have a very low opinion of Mueller's objectivity. Not only is his entire investigative team comprised of Democrats, including many who have given campaign donations to many Democratic politicians, but because of his clearly biased and corrupt actions as head of the FBI in connection with the IRS scandal. This was clearly illustrated when he was questioned about it during congressional hearings. Click on the link, and watch again his testimony, as it starkly reveals the dishonest and partisan nature of Robert Mueller.
Others can obviously form their own opinion. Read the indictment. Decide for yourself.
One last bit of irony. Mueller's whole investigation was prompted by the repeated insistence by Democrats and the mainstream media (I repeat myself) that Trump was colluding with the Russians to get elected. Yet, when these Russians organized their pro- and anti-Trump rallies after Trump was elected, it appears the ones who colluded with them the most to attack Trump's legitimate election were mainstream media sources like CNN and MSNBC.
A check of their November 12 coverage showed both CNN and MSNBC gave enthusiastic coverage to the Russian-organized anti-Trump rally that day, with live reports every hour. Correspondents celebrated the idea that it was "a love rally," and repeated the marchers' anti-Trump mantras, such as: "We reject the President-elect."
These leftwing news sources might not have known the Russians had organized the rallies, but while they practically ignored the Russian-organized pro-Trump rally, they made sure to favor, highlight, and publicize the anti-Trump rally, Since Trump had already been elected, this choice did just what the Russians hoped, sowing the most disruption to the American election process. One must therefore ask: Who were the real Russian colluders?
Posted over the Atlantic Ocean on my way home from Israel.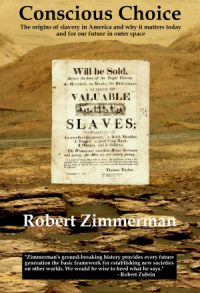 Now available in hardback and paperback as well as ebook!
From the press release: In this ground-breaking new history of early America, historian Robert Zimmerman not only exposes the lie behind The New York Times 1619 Project that falsely claims slavery is central to the history of the United States, he also provides profound lessons about the nature of human societies, lessons important for Americans today as well as for all future settlers on Mars and elsewhere in space.
Conscious Choice: The origins of slavery in America and why it matters today and for our future in outer space
, is a riveting page-turning story that documents how slavery slowly became pervasive in the southern British colonies of North America, colonies founded by a people and culture that not only did not allow slavery but in every way were hostile to the practice.
Conscious Choice
does more however. In telling the tragic history of the Virginia colony and the rise of slavery there, Zimmerman lays out the proper path for creating healthy societies in places like the Moon and Mars.
"Zimmerman's ground-breaking history provides every future generation the basic framework for establishing new societies on other worlds. We would be wise to heed what he says." —Robert Zubrin, founder of founder of the Mars Society.
All editions are available at Amazon, Barnes & Noble, and all book vendors, with the ebook priced at $5.99 before discount. The ebook can also be purchased direct from my ebook publisher, ebookit, in which case you don't support the big tech companies and I get a bigger cut much sooner.
Autographed printed copies are also available at discount directly from me (hardback $24.95; paperback $14.95; Shipping cost for either: $5.00). Just email me at zimmerman @ nasw dot org.