The Republican Party, as part of their national convention taking place in Florida this week, yesterday released their party platform for the upcoming election campaign.
Normally, I don't waste my time with party platforms. No one really reads it, and no president ever follows it. Granted, it can give you a general sense of where a party and candidate is headed philosophically, but this is politics. If you think philosophy is their number one priority then I have a bridge in Brooklyn I want to sell you.
However, this document is helpful to us, at least when it comes to the nation's space effort, as it actually devotes one entire (though short) section on the subject. Considering how vague Mitt Romney has been on what he will do with NASA and space, and how schizophrenic the Republicans in Congress have been, any hint on how they might approach this particular program should they win the election is helpful.
Here is the entire statement of the Republican party platform on the subject of space exploration:

America's Future in Space: Continuing this Quest

The exploration of space has been a key part of U.S. global leadership and has supported innovation and ownership of technology. Over the last half-century, in partnership with our aerospace industry, the work of NASA has helped define and strengthen our nation's technological prowess. From building the world's most powerful rockets to landing men on the Moon, sending robotic spacecraft throughout our solar system and beyond, building the International Space Station, and launching space-based telescopes that allow scientists to better understand our universe, NASA science and engineering have produced spectacular results. The technologies that emerged from those programs propelled our aerospace industrial base and directly benefit our national security, safety, economy, and quality of life. Through its achievements, NASA has inspired generations of Americans to study science, technology, engineering, and mathematics, leading to careers that drive our country's technological and economic engines.

Today, America's leadership in space is challenged by countries eager to emulate — and surpass — NASA's accomplishments. To preserve our national security interests and foster innovation and competitiveness, we must sustain our preeminence in space, launching more science missions, guaranteeing unfettered access, and maintaining a source of high-value American jobs.
Notice anything? This platform says literally nothing about what the Republicans want to do in the future in space. Do they want to focus on the NASA-built Space Launch System? Do they instead want to encourage private enterprise and the new commercial companies like SpaceX and Sierra Nevada? Or do they want to do both?
The platform doesn't tell us, and by not saying I think it reveals a great deal about the politics of space exploration within the Republican Party. There is a battle going on in the background, and because the outcome remains in doubt the party cannot yet announce what it wants to do.
On one side are the pork politicians like Kay Bailey Hutchison and Ralph Hall, who in past years worked very hard to get NASA money for its in-house projects. These politicians definitely like space exploration and everything it stood for, but wanted it designed, built, and run by NASA, so that the jobs it produced would exist in their state and district.
On the other side are the new tea party politicians, who favor the free market, private enterprise, and small government. Spending a lot of money on pork is not their idea of building a space industry. Instead, they want to see private enterprise do it, and are willing to let NASA die if necessary to make it happen. These include men like Newt Gingrich and Dana Rohrabacher, both of whom have even been willing to cross party lines and compliment the Obama administration's efforts to encourage private enterprise in space.
The platform's vagueness illustrates this battle. It also illustrates in microcosm the political battle going on in the Republican Party on all issues relating to federal spending and the federal debt.
It also suggests that Mitt Romney also remains undecided. It also suggests that he has remained undecided since his speech in January partly because he has seen the success of Dragon and SpaceX. He — and the party — are no doubt increasingly realizing that NASA-built is not necessarily the only option. Moreover, the federal debt weighs heavily on the mind of this party, which makes proposing any grand space effort impractical and impolitic at this time.
Thus, the most important factor in deciding this battle will be the success or failure in the next few months of the SpaceX and Orbital Science launches to ISS. If their private effort continues to succeed, they will give clout to the tea party politicians. "Let private space do it! They will get it done faster and cheaper, and we will be able to better balance the federal budget."
If either fails, however, political power will shift to the pork politicians. They will continue to fund the boondoggles, but little will get built, and we will end up having to wait another few more decades before anything really happens in space.
We stand on a knife edge. I wish I knew which way we will fall.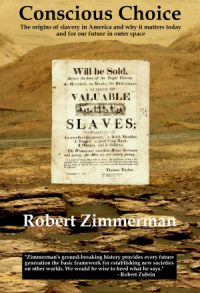 Now available in hardback and paperback as well as ebook!
From the press release: In this ground-breaking new history of early America, historian Robert Zimmerman not only exposes the lie behind The New York Times 1619 Project that falsely claims slavery is central to the history of the United States, he also provides profound lessons about the nature of human societies, lessons important for Americans today as well as for all future settlers on Mars and elsewhere in space.
Conscious Choice: The origins of slavery in America and why it matters today and for our future in outer space
, is a riveting page-turning story that documents how slavery slowly became pervasive in the southern British colonies of North America, colonies founded by a people and culture that not only did not allow slavery but in every way were hostile to the practice.
Conscious Choice
does more however. In telling the tragic history of the Virginia colony and the rise of slavery there, Zimmerman lays out the proper path for creating healthy societies in places like the Moon and Mars.
"Zimmerman's ground-breaking history provides every future generation the basic framework for establishing new societies on other worlds. We would be wise to heed what he says." —Robert Zubrin, founder of founder of the Mars Society.
All editions are available at Amazon, Barnes & Noble, and all book vendors, with the ebook priced at $5.99 before discount. The ebook can also be purchased direct from my ebook publisher, ebookit, in which case you don't support the big tech companies and I get a bigger cut much sooner.
Autographed printed copies are also available at discount directly from me (hardback $24.95; paperback $14.95; Shipping cost for either: $5.00). Just email me at zimmerman @ nasw dot org.