The Dawn scientists have released another spectacular image of the south polar mountain on Vesta whose relative size is three times that of Mount Everest. More information about the image can be found here. From the caption:
The peak of Vesta's south pole mountain, seen in the center of the image, rises about 13 miles (22 kilometers) above the average height of the surrounding terrain. Another impressive structure is a large scarp, a cliff with a steep slope, on the right side of this image. The scarp bounds part of the south polar depression, and the Dawn team's scientists believe features around its base are probably the result of landslides.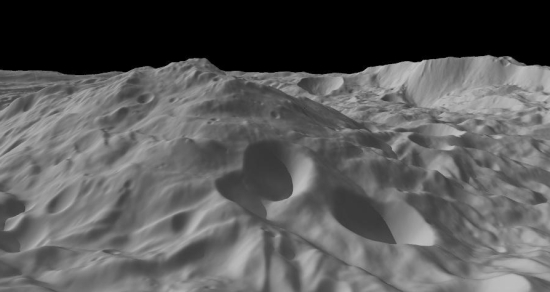 It appears the light gravity on Vesta allows for the formation of extreme topology.
Please consider donating to Behind the Black, by giving either a one-time contribution or a regular subscription, as outlined in the tip jar below. Your support will allow me to continue covering science and culture as I have for the past twenty years, independent and free from any outside influence.
Regular readers can support Behind The Black with a contribution via paypal:
If Paypal doesn't work for you, you can support Behind The Black directly by sending your donation by check, payable to Robert Zimmerman, to

Behind The Black
c/o Robert Zimmerman
P.O.Box 1262
Cortaro, AZ 85652