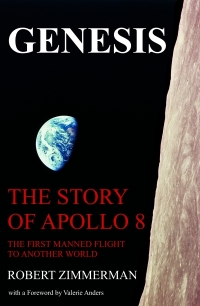 On Christmas Eve 1968 three Americans became the first humans to visit another world. What they did to celebrate was unexpected and profound, and will be remembered throughout all human history. Genesis: the Story of Apollo 8, Robert Zimmerman's classic history of humanity's first journey to another world, tells that story, and it is now available as both an ebook and an audiobook, both with a foreword by Valerie Anders and a new introduction by Robert Zimmerman.
The ebook is available everywhere for $5.99 (before discount) at
amazon
, or direct from my ebook publisher,
ebookit
.
The audiobook is also available at all these vendors, and is also
free with a 30-day trial membership to Audible.
"Not simply about one mission, [Genesis] is also the history of America's quest for the moon... Zimmerman has done a masterful job of tying disparate events together into a solid account of one of America's greatest human triumphs." --San Antonio Express-News
If you depend on the conservative commentary about Paul Ryan's acceptance speech yesterday at the Republican convention to find out how he did, you would have no doubt that this was the greatest and most effective speech since Genesis. To quote just one report:
Paul Ryan's speech, in two words? Nailed it. Everything that I like (and surmise that others will like as he becomes more and more familiar to them) about Paul Ryan was on perfect display during his half hour-ish on stage. He was intelligent without being intimidating; he was stern and serious but still optimistic and even funny; and he hinted at his wonkiness without getting into jargon and maintained his approachability. But the most beautiful thing about Paul Ryan as the potential vice president of the United States is his uncanny knack for breaking through populist myths and shrill leftist attacks and instead communicating the merits of free-market economics and small government, all without being shrill or polarizing.
Because I'm not spending a lot of time watching these conventions, mostly because they really are nothing more than public relations events staged by both parties, I didn't see the speech live. After reading reports like the one above, however, I decided late last night to go to youtube and dig up Ryan's speech and see this amazing performance for myself.

I wish I hadn't. Sadly, I found it to be the most boring and tedious speech I've heard in a long time. The words were good and definitely worth reading, but Ryan's delivery was so slow, pausing after almost every single line for applause, that it made it impossible for him to tell his story with any effect.
No speaker can hit the right notes all the times. I have heard Ryan speak in other circumstances, and found him to be a good speaker. He just flubbed it this time, letting his audience dictate his pace, a mistake I hope he recognizes and does not repeat.
However, there was one section of his speech that was particularly telling, in that it honestly described our fundamental problem and Barack Obama's inability to address that problem.
In this generation, a defining responsibility of government is to steer our nation clear of a debt crisis while there is still time. Back in 2008, candidate Obama called a $10 trillion national debt "unpatriotic"- serious talk from what looked to be a serious reformer. Yet by his own decisions, President Obama has added more debt than any other president before him, and more than all the troubled governments of Europe combined. One president, one term, $5 trillion in new debt.

He created a bipartisan debt commission. They came back with an urgent report. He thanked them, sent them on their way, and then did exactly nothing. Republicans stepped up with good-faith reforms and solutions equal to the problems. How did the president respond? By doing nothing- nothing except to dodge and demagogue the issue. So here we are, $16 trillion in debt and still he does nothing. In Europe, massive debts have put entire governments at risk of collapse, and still he does nothing. And all we have heard from this president and his team are attacks on anyone who dares to point out the obvious.

They have no answer to this simple reality: We need to stop spending money we don't have.
The point is simple. The only thing Barack Obama has done in connection with the federal debt has been to increase it wildly. And in this sense Barack Obama has been the man of his times. The American people have not wanted to face this problem, and have wanted to spend money wildly for their own benefit. Obama, as well as almost all the Presidents and Congresses before him — from both parties — fulfilled that desire quite ably.
Unfortunately, the day of reckoning looms, and Ryan happens to be one of the few politicians in elected office willing to bluntly face the reality that we are going bankrupt. In fact, on this subject the contrast between the two men could not be more evident.
The real question, however, remains: Are the American people ready to face this reality, as it appears Ryan is? I hope and pray they are. For if they aren't, reality will still come back to haunt us, and it will do so in a very painful way. As Ryan added next:
My dad used to say to me: "Son. You have a choice: You can be part of the problem, or you can be part of the solution." The present administration has made its choices. And Mitt Romney and I have made ours: Before the math and the momentum overwhelm us all, we are going to solve this nation's economic problems.

And I'm going to level with you: We don't have that much time. [emphasis mine]
Ryan's speech might have been a dud, but the ideas behind it remain valid. Attention should be paid.
Readers!
My July fund-raiser for Behind the Black is now over. The support from my readers was unprecedented, making this July campaign the best ever, twice over. What a marvelous way to celebrate the website's tenth anniversary!

Thank you! The number of donations in July, and continuing now at the beginning of August, is too many for me to thank you all personally. Please forgive me by accepting my thank you here, in public, on the website.

If you did not donate or subscribe in July and still wish to, note that the tip jar remains available year round.
Regular readers can support Behind The Black with a contribution via paypal:
If Paypal doesn't work for you, you can support Behind The Black directly by sending your donation by check, payable to Robert Zimmerman, to

Behind The Black
c/o Robert Zimmerman
P.O.Box 1262
Cortaro, AZ 85652