On March 21, the House accepted the continuing resolution proposed by the Senate for the year 2013. This continuing resolution will fund everything in the federal government though September of this year, and includes the cuts imposed on March 1 by sequestration.
As it always does, the journal Science did a specific analysis of the science portion of this budget bill. As usual, they looked only at the trees, not the forest, comparing the budget changes up or down for the 2012 and 2013 years only, noting how those changes will impact each agency's programs. As usual, Science also took the side for more federal spending, assuming that in each case any cut was sure to cause significant harm to the nation's ability to do cutting edge science.
I like to take a wider and deeper view. Below is a chart showing how the budgets for these agencies have changed since 2008. They give a much clearer perspective of the consequences of sequestration and the cuts, if any, imposed by Congress on these science agencies.


Unfortunately, I do not have complete numbers for the Science Office at the Department of Energy. Nonetheless, you can see that the 2013 budget for all these agencies is not significantly different from the budgets they received in 2008. In fact, except for NASA, they have all received an increase compared to 2008. In NASA's case, the 2013 continuing resolution instead brought the agency back to numbers it received back in 2006, when it got $16.5 billion.
None of these numbers are a disaster for any of these science agencies. In 2008 American science was not starved for cash. If anything, in 2008 it was apparent that there was an enormous amount of waste in all these agencies, and that much of the money being spent then was being poorly spent, producing little of great value.
In the case of NASA specifically I can tell you that most of the increase in the agency's budget since 2006 was a complete waste. In 2006 the agency's budget was $16.5. The next year Congress gave the agency a budget boost of $1 billion to $17.5 billion, which established a much higher baseline for NASA's budget until this year. That extra billion-plus per year had been added in order to help fund and build the Ares 1 and Ares 5 rockets as part of the Bush-proposed Constellation program.
And what have we gotten for that extra $1 billion or more per year? Nothing. Constellation was cancelled unceremoniously by the Obama administration in 2009, before anything was built and after more than $9 billion total had been spent. Though the Space Launch System (SLS) — mandated by Congress since 2010 — includes many of Constellation's designs, it really is a completely new rocket system, requiring completely new funding to get designed from scratch.
Overall, what these budget numbers really tell us is that federal spending continues to run out-of-control, and that there is very little desire in Congress to rein it in. Instead, the politicians from both parties are trying to somehow make believe the debt does not exist, that the federal government isn't spending 40% more than it takes in, and that they can maintain the status quo and nothing will go wrong.
They are behaving exactly as NASA did in 1985 and 2002, prior to both the Challenger and Columbia shuttle accidents. In both cases, management in NASA refused to deal with a serious engineering problem. Instead, management made believe the problem wasn't there.
But the problem was there. O-rings in the solid rocket booster were freezing up in cold weather, and foam was falling off the shuttle during launch. By refusing to deal with these engineering facts, NASA management guaranteed that two shuttles and their crews would be lost.
Congress is now doing the same. I fear we will lose a lot more than a mere space shuttle, however, when the federal debt finally brings us all down in flames.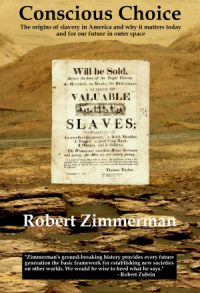 Now available in hardback and paperback as well as ebook!
From the press release: In this ground-breaking new history of early America, historian Robert Zimmerman not only exposes the lie behind The New York Times 1619 Project that falsely claims slavery is central to the history of the United States, he also provides profound lessons about the nature of human societies, lessons important for Americans today as well as for all future settlers on Mars and elsewhere in space.
Conscious Choice: The origins of slavery in America and why it matters today and for our future in outer space
, is a riveting page-turning story that documents how slavery slowly became pervasive in the southern British colonies of North America, colonies founded by a people and culture that not only did not allow slavery but in every way were hostile to the practice.
Conscious Choice
does more however. In telling the tragic history of the Virginia colony and the rise of slavery there, Zimmerman lays out the proper path for creating healthy societies in places like the Moon and Mars.
"Zimmerman's ground-breaking history provides every future generation the basic framework for establishing new societies on other worlds. We would be wise to heed what he says." —Robert Zubrin, founder of founder of the Mars Society.
All editions are available at Amazon, Barnes & Noble, and all book vendors, with the ebook priced at $5.99 before discount. The ebook can also be purchased direct from my ebook publisher, ebookit, in which case you don't support the big tech companies and I get a bigger cut much sooner.
Autographed printed copies are also available at discount directly from me (hardback $24.95; paperback $14.95). Just email me at zimmerman @ nasw dot org.