The anthropologist who led the research into the Kennewick Man skeleton found in the Columbia Valley presented his research to Indian tribal leaders yesterday.
First the science:

While Owsley has said in the past that Kennewick Man is not of Native-American descent, he said here for the first time that he believed the man was not even from this area. Isotopes in the bones told scientists Kennewick Man was a hunter of marine mammals, such as seals, Owsley said. "They are not what you would expect for someone from the Columbia Valley," he said. "You would have to eat salmon 24 hours a day and you would not reach these values. "This is a man from the coast, not a man from here. I think he is a coastal man."
Now the religion:
Tribal members listened for hours to Owsley's highly detailed presentation, but it did not budge their conviction that Kennewick Man is a part of their people's past — and needs to be reburied.
I respect these American Indians for wanting to bury this skeleton properly and with honor. However, there is also a power play going on here. By claiming rights to this skeleton, which the evidence very strongly shows does not come from their past, they work to extend their power and control over all things ancient in North America. The original Native American Graves Protection and Repatriation Act (NAGPRA) was not intended to do this, only to protect those skeletons directly related to past American Indian history.
In many ways, the battle over Kennewick Man illustrates the dangers of passing a law merely for good intentions. With good intentions, NAGPRA was written to return back to the American Indian tribes some control over their ancient past. The unintended consequences however have been to squelch scientific research of that past. For example, when I first visited Chaco Canyon in New Mexico in 1988 there was a great deal of information displayed there about the discoveries of skeletons in the ruins, discoveries that shed a great deal of light on the history and culture of that now lost civilization. When I returned in 2006, all that information was gone, disappearing into the memory hole created by the local tribal councils, which under NAGPRA had reclaimed those skeletons and apparently insisted that all mention of them be removed.
Similarly, with Kennewick Man the northwest tribes have tried to use the law to hinder and even prevent further research.
A respectful burial of Kennewick Man seems perfectly reasonable to me. In fact, in this matter I am in agreement with the Indians. Having the skeleton on display seems coarse and savage. Nonetheless, that respect should not prevent the very important scientific research necessary to learn everything we can about that skeleton. We do autopsies, do we not, when there are important questions relating to the body?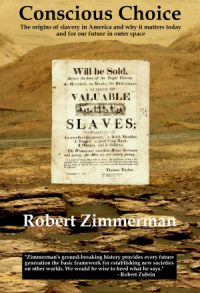 Now available in hardback and paperback as well as ebook!
From the press release: In this ground-breaking new history of early America, historian Robert Zimmerman not only exposes the lie behind The New York Times 1619 Project that falsely claims slavery is central to the history of the United States, he also provides profound lessons about the nature of human societies, lessons important for Americans today as well as for all future settlers on Mars and elsewhere in space.
Conscious Choice: The origins of slavery in America and why it matters today and for our future in outer space
, is a riveting page-turning story that documents how slavery slowly became pervasive in the southern British colonies of North America, colonies founded by a people and culture that not only did not allow slavery but in every way were hostile to the practice.
Conscious Choice
does more however. In telling the tragic history of the Virginia colony and the rise of slavery there, Zimmerman lays out the proper path for creating healthy societies in places like the Moon and Mars.
"Zimmerman's ground-breaking history provides every future generation the basic framework for establishing new societies on other worlds. We would be wise to heed what he says." —Robert Zubrin, founder of founder of the Mars Society.
All editions are available at Amazon, Barnes & Noble, and all book vendors, with the ebook priced at $5.99 before discount. The ebook can also be purchased direct from my ebook publisher, ebookit, in which case you don't support the big tech companies and I get a bigger cut much sooner.
Autographed printed copies are also available at discount directly from me (hardback $24.95; paperback $14.95; Shipping cost for either: $5.00). Just email me at zimmerman @ nasw dot org.