A fourth crack has been found on Discovery's external tank. How this will affect Discovery's November 30 launch remains unknown. There will a briefing on Monday to discuss the status of the schedule. This quote however gives me the willies:
External tank crack repairs are not unusual. Some 29 stringer cracks were found in 18 previous tanks, according to an official familiar with their history. Four have now been found in Discovery's tank, ET-137, and three were found in a tank scheduled for use by the shuttle Atlantis next summer, ET-138. Doublers were used in 23 repairs.
There is a saying that we always fight the last war. After the Challenger accident NASA made great effort to prevent another o-ring failure in the solid rocket boosters, and ignored the foam falling from the external tank. After the Columbia accident, NASA then made great effort to prevent another piece of foam from hitting an orbiter.
Unfortunately, it appears that NASA may now be ignoring this crack problem. Even though they have been able to repair past cracks, for this many cracks to occur this often should cause alarm bells to ring throughout the agency, forcing a look at the problem in toto. Instead, it appears management has been making catch-as-catch-can repairs.
What makes this situation even more difficult is the factory that makes the external tanks has shut down. No new tanks are available. Thus, there are not many options for flying these last few shuttle missions except by using the already existing tanks, and repairing them as needed.
Like I said, this is beginning to give me the willies.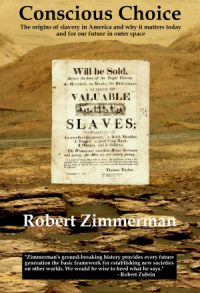 Now available in hardback and paperback as well as ebook!
From the press release: In this ground-breaking new history of early America, historian Robert Zimmerman not only exposes the lie behind The New York Times 1619 Project that falsely claims slavery is central to the history of the United States, he also provides profound lessons about the nature of human societies, lessons important for Americans today as well as for all future settlers on Mars and elsewhere in space.
Conscious Choice: The origins of slavery in America and why it matters today and for our future in outer space
, is a riveting page-turning story that documents how slavery slowly became pervasive in the southern British colonies of North America, colonies founded by a people and culture that not only did not allow slavery but in every way were hostile to the practice.
Conscious Choice
does more however. In telling the tragic history of the Virginia colony and the rise of slavery there, Zimmerman lays out the proper path for creating healthy societies in places like the Moon and Mars.
"Zimmerman's ground-breaking history provides every future generation the basic framework for establishing new societies on other worlds. We would be wise to heed what he says." —Robert Zubrin, founder of founder of the Mars Society.
All editions are available at Amazon, Barnes & Noble, and all book vendors, with the ebook priced at $5.99 before discount. The ebook can also be purchased direct from my ebook publisher, ebookit, in which case you don't support the big tech companies and I get a bigger cut much sooner.
Autographed printed copies are also available at discount directly from me (hardback $24.95; paperback $14.95; Shipping cost for either: $5.00). Just email me at zimmerman @ nasw dot org.