The international development agency Oxfam is screaming disaster..
This year's food shortages and famine are a sign of what's to come if the world doesn't get climate change under control, Oxfam is warning. The international development agency made a call for action the day before the UN kicks off its annual climate change conference in Durban, South Africa. . . .

Oxfam warns that without action, the world will see more food insecurity as well as skyrocketing food prices and unpredictable crop yields. "Our failure to cope with the climate variability and shocks of today presents a daunting outlook for food security tomorrow," Oxfam said in a report released Sunday. "For governments around the world this serves as an urgent call to act at the UN climate talks in Durban if the extreme weather events witnessed in 2010-11 are not to be a grim foretaste of future suffering and hunger."
And the Canadian "journalist" writing this article (or should I say taking dictation from Oxfam's press release) is so eager to help!
Developed countries need to do more to cut their greenhouse gas emissions, the aid group said, pointing out they have collectively committed to cuts that would bring world emissions 12 to 18 per cent lower than 1990 levels by 2020, instead of 40 per cent. They also need to get a $100 billion Green Climate Fund up and running by 2013 and direct half the resources to adapting to climate change, the report said, as well as put a price on carbon for international shipping. [emphasis mine]
Gee, I wonder who will get all that money? Might it be Oxfam itself?
The claims made by Oxfam are simply false. Even if the climate is warming, there is absolutely no evidence yet that this warming will lead to either famine or more extreme weather. If anything, warmer temperatures should increase crop yields, as it will allow for more harvests in some areas and make other areas more fecund. For example, there is evidence that the increase of carbon dioxide in the atmosphere is actually helping to expand the world's forests.
Finally, I think Oxfam owes this journalist, Laura Payton, a commission for acting as their public relations agent. More importantly, I think the CBC should fire her, since she clearly isn't working for the Canadian news bureau.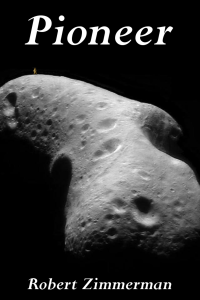 From the press release: From the moment he is handed a possibility of making the first alien contact, Saunders Maxwell decides he will do it, even if doing so takes him through hell and back.
Unfortunately, that is exactly where that journey takes him. The vision that Zimmerman paints of vibrant human colonies on the Moon, Mars, the asteroids, and beyond, indomitably fighting the harsh lifeless environment of space to build new societies, captures perfectly the emerging space race we see today. He also captures in Pioneer the heart of the human spirit, willing to push forward no matter the odds, no matter the cost. It is that spirit that will make the exploration of the heavens possible, forever, into the never-ending future. Available everywhere for $3.99 (before discount) at
amazon
,
Barnes & Noble
, all ebook vendors, or direct from the ebook publisher,
ebookit
. And if you buy it from
ebookit
you don't support the big tech companies and I get a bigger cut much sooner.