Want to find out how polarized our county is? Then wear this shirt (which can be purchased here) and watch the reaction.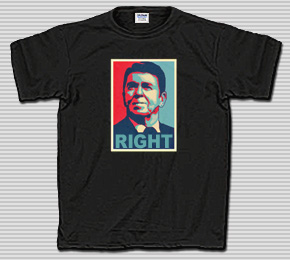 How do I know this? Well, yesterday on my flight home from California after giving a lecture to the Orange County section of the American Institute of Aeronautics and Astronautics, I tried it. Nor was this the first time I've worn this shirt and seen the reactions. People always seem to notice it, often doing a doubletake because at first they think it is the Obama image with the word "Hope" underneath. Then they realize what it really is, and either laugh in amusement or frown in annoyance.
Yesterday was no different. As I stepped out of the elevator and into the lobby of my California hotel, I passed a woman whose eyes immediately widened when she saw the shirt, and then scowled as she walked past. Then, I went into a local Subway to pick up something to eat during the long flight home. The woman who made my sub as well as the clerk who took my cash both looked at my shirt and glowered. Though they did nothing outright rude, I really think they would have preferred to tell me to leave and not sell me my sub.
At the airport things were interestingly different. Two guys in front of me on line to check bags immediately wanted to know where they could buy the shirt. Then, on the airplane, a steward as well as the passenger sitting next to me asked me the same question. When I said I'd forward them the webpage if they'd give me their email addresses, they all complied eagerly. The steward then went out of his way for the rest of the flight to make sure I was happy, to which I remain grateful.
Though I do find these reactions both amusing and intriguing, I also find them disturbing. How can a free nation survive if people get so emotional over something so silly as a t-shirt?
Readers!
I must unfortunately ask you for your financial support because I do not depend on ads and rely entirely on the generosity of readers to keep Behind the Black running. You can either make a one time donation for whatever amount you wish, or you sign up for a monthly subscription ranging from $2 to $15 through Paypal or $3 to $50 through Patreon.
Your support will allow me to continue covering science and culture as I have for the past twenty years, independent and free from any outside influence.
Your support is even more essential to me because I not only keep this site free from advertisements, I do not use the corrupt social media companies like Google, Twitter, and Facebook to promote my work. I depend wholly on the direct support of my readers.
You can provide that support to Behind The Black with a contribution via Patreon or PayPal. To use Patreon, go to my website there and pick one of five monthly subscription amounts, or by making a one-time donation. For PayPal click one of the following buttons:

If Patreon or Paypal don't work for you, you can support Behind The Black directly by sending your donation by check, payable to Robert Zimmerman, to


Behind The Black
c/o Robert Zimmerman
P.O.Box 1262
Cortaro, AZ 85652


Or you can donate by using Zelle through your bank. You will need to give my name and email address (found at the bottom of the "About" page). The best part of this electronic option is that no fees will be deducted! What you donate will be what I receive.