Our government in action: An NIH nationwide study to track hundreds of thousands of children from birth to age 21 is wracked with budget and management problems.
All told, this study has already cost the taxpayers almost a billion dollars for the enrollment of only 4,000 children, not the 100,000 envisioned. That's about $250,000 per child, an amount that seems incredibly high.
In addition to the above problems, it appears there are scientific ones as well:

Separately, turmoil has rocked the study's advisory committee: two members resigned in March, saying that they weren't consulted about changes in sampling strategy that they feel will undermine the study's scientific value.
Because the costs per child are so high, NIH is trying to scale the project back in ways that some scientists are saying will bias the study.
But alas, will the present Congress shut this mess down before more money gets wasted? I doubt it. The article includes soundbites from two Senators, both Democrats, who seem remarkably unconcerned considering the spiraling costs.
Senator Tim Johnson (Democrat, South Dakota) told Nature that he is "disappointed" with the sidelining of the Vanguard centres, including the one in Brookings. He vowed "to ensure the integrity and intent of the study is not compromised". Senator Thomas Harkin (Democrat, Iowa), chairman of the spending subcommittee that funds the NIH, says: "I am concerned that Congress has appropriated a total of nearly $1 billion for this project and we still do not understand exactly how the NIH plans to implement it. We need some clarity."
I say we need some common sense. The federal government is bankrupt. It can't afford this kind of expense right now, especially considering how badly NIH is managing it. Shut it down.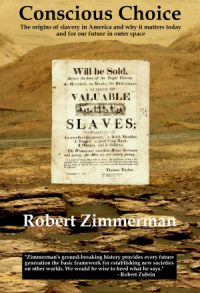 Now available in hardback and paperback as well as ebook!
From the press release: In this ground-breaking new history of early America, historian Robert Zimmerman not only exposes the lie behind The New York Times 1619 Project that falsely claims slavery is central to the history of the United States, he also provides profound lessons about the nature of human societies, lessons important for Americans today as well as for all future settlers on Mars and elsewhere in space.
Conscious Choice: The origins of slavery in America and why it matters today and for our future in outer space
, is a riveting page-turning story that documents how slavery slowly became pervasive in the southern British colonies of North America, colonies founded by a people and culture that not only did not allow slavery but in every way were hostile to the practice.
Conscious Choice
does more however. In telling the tragic history of the Virginia colony and the rise of slavery there, Zimmerman lays out the proper path for creating healthy societies in places like the Moon and Mars.
"Zimmerman's ground-breaking history provides every future generation the basic framework for establishing new societies on other worlds. We would be wise to heed what he says." —Robert Zubrin, founder of founder of the Mars Society.
All editions are available at Amazon, Barnes & Noble, and all book vendors, with the ebook priced at $5.99 before discount. The ebook can also be purchased direct from my ebook publisher, ebookit, in which case you don't support the big tech companies and I get a bigger cut much sooner.
Autographed printed copies are also available at discount directly from me (hardback $24.95; paperback $14.95; Shipping cost for either: $5.00). Just email me at zimmerman @ nasw dot org.