Those who visit this website regularly know that I repeatedly post images from the various Mars orbiters and rovers. I do this not only because the images have scientific interest or that they are cool, but because it is simply fun to sightsee, even if it is done by proxy using a robot many millions of miles away. Here are two more images of the sights of Mars.
The first is a mosiac image of a small crater that the rover Opportunity strolled past on November 9 in its four year journey to Endeavour Crater.

What always amazes me about the images that Opportunity has taken as it travels across the Martian desert is how totally lifeless this desert is. You would be very hard-pressed to find any desert on Earth like this. On Earth, life is everywhere, even in deserts with their harsh environment. Moreover, life on Earth has reshaped the surface drastically. Environmentalists like to whine about the havoc humans wreck on nature, but the truth is that all life does this continually. Plants and trees help soften the terrain. Animals (not just humans) mold the surface to their needs.
On Mars, however, all one sees is wind-strewn sand across barren bedrock. What this suggests is that, if there is life on Mars, it is well buried, not very visible, and possibly quite rare. It will thus be difficult to spot.
The second image is another one of those Martian collapse features, where some form of fluid flow under the surface washed out the supporting material. causing the surface to eventually collapse. In this case, however, the collapse left at least one natural bridge. Based on the scale (25 cm = 1 pixel), this bridge is about 80 feet wide and 100 feet long. (To calculate its height requires more mathematical skills than I have.)
Boy, wouldn't this be a magnificent thing to hike under and across!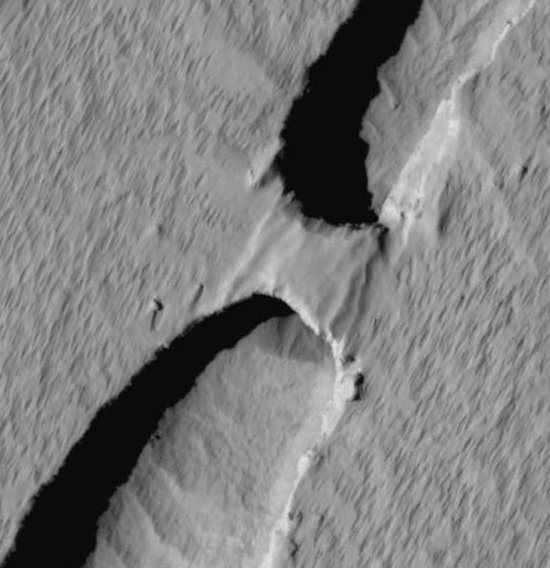 Readers!
I must unfortunately ask you for your financial support because I do not depend on ads and rely entirely on the generosity of readers to keep Behind the Black running. You can either make a one time donation for whatever amount you wish, or you sign up for a monthly subscription ranging from $2 to $15 through Paypal or $3 to $50 through Patreon.
Your support will allow me to continue covering science and culture as I have for the past twenty years, independent and free from any outside influence.
Your support is even more essential to me because I not only keep this site free from advertisements, I do not use the corrupt social media companies like Google, Twitter, and Facebook to promote my work. I depend wholly on the direct support of my readers.
You can provide that support to Behind The Black with a contribution via Patreon or PayPal. To use Patreon, go to my website there and pick one of five monthly subscription amounts, or by making a one-time donation. For PayPal click one of the following buttons:

If Patreon or Paypal don't work for you, you can support Behind The Black directly by sending your donation by check, payable to Robert Zimmerman, to


Behind The Black
c/o Robert Zimmerman
P.O.Box 1262
Cortaro, AZ 85652


Or you can donate by using Zelle through your bank. You will need to give my name and email address (found at the bottom of the "About" page). The best part of this electronic option is that no fees will be deducted! What you donate will be what I receive.