The monthly update by NOAA of the solar cycle is out, showing the sunspot activity for the Sun in October, As I do every month, I am posting it here, with annotations to give it context.
Despite the appearance last month of the largest sunspot in almost a quarter century, the number of sunspots in October dropped significantly, bringing overall activity back to levels seen in 2012, prior to the second peak in the solar maximum. If things go as expected (not something I would bet much money on), the overall ramp down of sunspot activity should now continue over the next few years. There will obviously be jumps periodically, but the general output of sunspots should steadily decline.
I also want to reiterate what I noted last month, that the 2009 prediction of the solar scientist community is looking better and better with time. Other than over-estimating the total activity somewhat while missing the dip between the two peaks, their overall curve, indicated by the red line, is reasonably close to what has actually happened.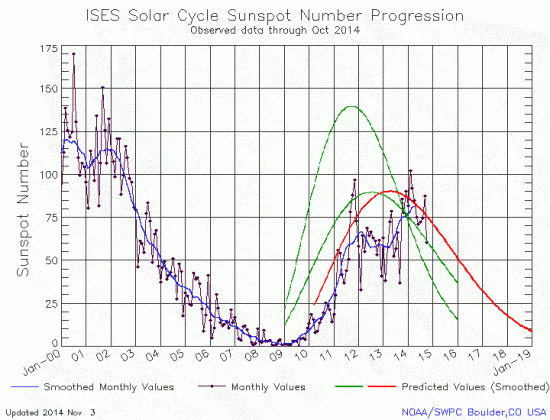 The graph above has been modified to show the predictions of the solar science community. The green curves show the community's two original predictions from April 2007, with half the scientists predicting a very strong maximum and half predicting a weak one. The red curve is their revised May 2009 prediction.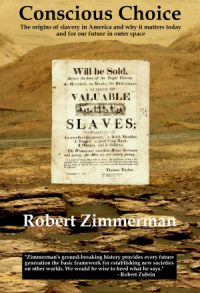 From the press release: In this ground-breaking new history of early America, historian Robert Zimmerman not only exposes the lie behind The New York Times 1619 Project that falsely claims slavery is central to the history of the United States, he also provides profound lessons about the nature of human societies, lessons important for Americans today as well as for all future settlers on Mars and elsewhere in space.
Conscious Choice: The origins of slavery in America and why it matters today and for our future in outer space
, is a riveting page-turning story that documents how slavery slowly became pervasive in the southern British colonies of North America, colonies founded by a people and culture that not only did not allow slavery but in every way were hostile to the practice.
Conscious Choice
does more however. In telling the tragic history of the Virginia colony and the rise of slavery there, Zimmerman lays out the proper path for creating healthy societies in places like the Moon and Mars.
"Zimmerman's ground-breaking history provides every future generation the basic framework for establishing new societies on other worlds. We would be wise to heed what he says." —Robert Zubrin, founder of founder of the Mars Society.
Available everywhere for $3.99 (before discount) at Amazon, Barnes & Noble, and all ebook vendors, or direct from the ebook publisher, ebookit. And if you buy it from ebookit you don't support the big tech companies and I get a bigger cut much sooner.