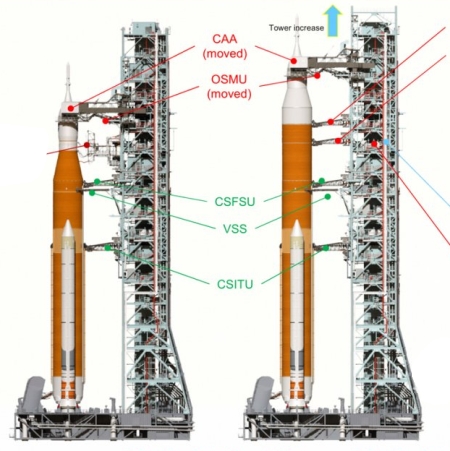 NASA's bloated SLS mobile launchers
According to an inspector general report [pdf] released today, the second mobile launcher being built by the company Bechtel to transport its SLS rocket from the assembly building to the launch site is likely going to cost more than $1.5 billion, three times what was initially budgeted, and will not be completed any earlier than the end of 2027, four years behind schedule.
Compounding Bechtel's projected cost increases and schedule delays, an ML-2 [mobile launcher-2] project analysis provided only a 3.9 percent confidence level that the nearly $1 billion cost [twice the original budget] and October 2025 [2.5 years late] delivery estimates were accurate. NASA requires projects to develop budgets and schedules consistent with a 70 percent joint cost and schedule confidence level (JCL), meaning a 70 percent likelihood the project will finish equal to or less than the planned costs and schedule. In fact, an Independent Review Team analysis determined the project would require an additional $447 million and 27 months, for a total contract value of $1.5 billion and a launcher delivery date of December 2027—a schedule that would enable an Artemis IV launch no earlier than the end of 2028.
The first mobile launcher, shown on the left in the graphic, cost more than $1 billion and will used only three times, at most. The second, on the right, is required for all of the assigned interplanetary tasks being given to the full size version of SLS beyond those first three test flights. Without it that version of SLS cannot launch. And even if the launcher is ready by 2028, as the IG report suggests, that will be more than a decade behind schedule, and six years from now.

By that time, if SpaceX's normal pace of development continues, Starship will be traveling routinely to and from the Moon, with trips to Mars also taking place.
The IG report is blistering in its description of Bechtel, noting that even NASA had considered its work "unsatisfactory", which is defined by the agency as meaning the contractor has failed to meet its overall cost, schedule, and technical performance. The IG report is also blistering in its analysis of NASA's management, which by its actions contributed to Bechtel's failures.
In its conclusion, the report is quite pessimistic. It even recommended NASA consider terminating the contract, which the agency shows no signs of considering. Instead, in response NASA management issued Bechtel "a letter of concern" that requested "an assessment of project risks and impediments; a corrective action plan; and identification of opportunities to reduce cost, mitigate schedule, and improve efficiency in the project implementation."
That's telling 'em, NASA!
To sum up, NASA's SLS program will have spent more than $2.5 billion on two mobile launchers, and have taken almost a decade to build the second. Meanwhile, its equally expensive, over-budget, and behind schedule SLS rocket will be unable to launch.
This story once again shows how much a fantasy SLS is. This rocket will never be operational. Nor will it ever make the exploration of the solar system possible. Its only purpose is to create make-work jobs on Earth in congressional districts so that elected officials can make believe they are doing something.
Meanwhile, for about $7 billion SpaceX's Starship/Superheavy rocket is going to go from a blank sheet of paper to its first orbital flight in only three and a half three years. And it would have flown that orbital flight sooner had not the government stepped in to block it.
Any ordinary person off the street can see which is the better deal. Only our elected officials in Congress and in the White House are too stupid to see it.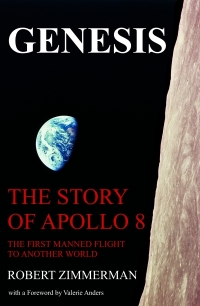 On Christmas Eve 1968 three Americans became the first humans to visit another world. What they did to celebrate was unexpected and profound, and will be remembered throughout all human history. Genesis: the Story of Apollo 8, Robert Zimmerman's classic history of humanity's first journey to another world, tells that story, and it is now available as both an ebook and an audiobook, both with a foreword by Valerie Anders and a new introduction by Robert Zimmerman.
The ebook is available everywhere for $5.99 (before discount) at
amazon
, or direct from my ebook publisher,
ebookit
. If you buy it from
ebookit
you don't support the big tech companies and the author gets a bigger cut much sooner.
The audiobook is also available at all these vendors, and is also
free with a 30-day trial membership to Audible.
"Not simply about one mission, [Genesis] is also the history of America's quest for the moon... Zimmerman has done a masterful job of tying disparate events together into a solid account of one of America's greatest human triumphs."--San Antonio Express-News