The monthly update by NOAA of the solar cycle, showing the sunspot activity for the Sun in November, was released on December 8, just before NOAA completely revamped its website. As I have been doing every month for the past four years, I am posting it here, with annotations to give it context.
As noted in previous months, the 2009 prediction of the solar scientist community is looking better and better with time. Though there was an increase in sunspot activity in November, the overall trend continues downward very close to that prediction, though at levels that have generally been less than predicted.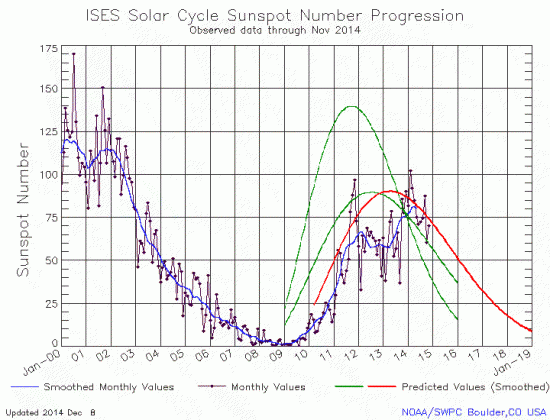 The graph above has been modified to show the predictions of the solar science community. The green curves show the community's two original predictions from April 2007, with half the scientists predicting a very strong maximum and half predicting a weak one. The red curve is their revised May 2009 prediction.
Future updates will depend on whether NOAA continues to track sunspots using these same standards. After much searching I was finally able to locate the graph above at this link, suggesting that at least for now, they are holding to these standards. I note however that the links to the 2007 and the 2009 solar cycle predictions have vanished down the memory hole. Fortunately, I still have this data, and can continue to annotate the graphs to compare prediction with actual data.
That they might have removed these predictions from their webpage however is a shame. I have emailed them to ask them about this and will let you know what I learn.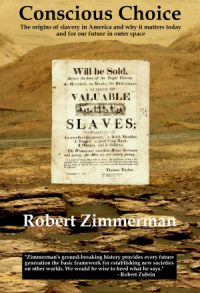 Now available in hardback and paperback as well as ebook!
From the press release: In this ground-breaking new history of early America, historian Robert Zimmerman not only exposes the lie behind The New York Times 1619 Project that falsely claims slavery is central to the history of the United States, he also provides profound lessons about the nature of human societies, lessons important for Americans today as well as for all future settlers on Mars and elsewhere in space.
Conscious Choice: The origins of slavery in America and why it matters today and for our future in outer space
, is a riveting page-turning story that documents how slavery slowly became pervasive in the southern British colonies of North America, colonies founded by a people and culture that not only did not allow slavery but in every way were hostile to the practice.
Conscious Choice
does more however. In telling the tragic history of the Virginia colony and the rise of slavery there, Zimmerman lays out the proper path for creating healthy societies in places like the Moon and Mars.
"Zimmerman's ground-breaking history provides every future generation the basic framework for establishing new societies on other worlds. We would be wise to heed what he says." —Robert Zubrin, founder of founder of the Mars Society.
All editions are available at Amazon, Barnes & Noble, and all book vendors, with the ebook priced at $5.99 before discount. The ebook can also be purchased direct from my ebook publisher, ebookit, in which case you don't support the big tech companies and I get a bigger cut much sooner.
Autographed printed copies are also available at discount directly from me (hardback $24.95; paperback $14.95; Shipping cost for either: $5.00). Just email me at zimmerman @ nasw dot org.