At a press conference today at the 2011 meeting of the Solar Physics Division (SPD) of the American Astronomical Society (AAS) in Las Cruces, New Mexico, solar scientists predicted that not only will the next solar maximum in 2013 be the weakest in centuries, it is very likely that it will be followed by another long Maunder Minimum, a period of decades without sunspots. "The sun may be going into hiatus," says Dr. Frank Hill, associate director of the NSO's Solar Synoptic Network. You can read the press releases for this announcement here and here.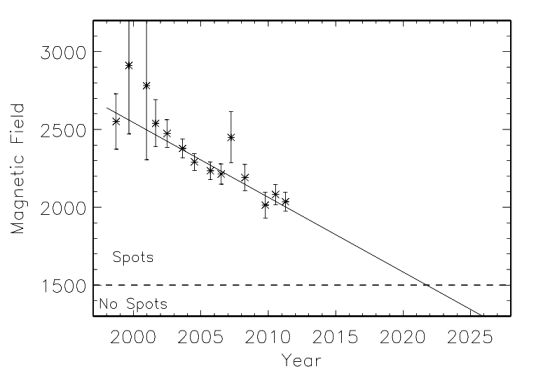 These conclusions are based on three lines of evidence:
There has been a long term weakening in the magnetic strength that produces sunspots themselves. The declining trend suggests that by 2022 it will no longer be strong enough to produce sunspots. The graph above shows this decline.

Past solar cycles were heralded by the migration of an east-west jet stream inside the Sun from mid-latitudes to the poles. Now "we see no sign of it," says Hill. "This indicates that the start of Cycle 25 may be delayed to 2021 or 2022, or may not happen at all."
A magnetic flow in the corona that normally predicts the arrival of the solar maximum has been weak and practically nonexistence during the present cycle. "Cycle 24 started out late and slow and may not be strong enough to create a rush to the poles, indicating we'll see a very weak solar maximum in 2013, if at all," explains Richard Altrock, manager of the Air Force's coronal research program at NSO's Sunspot, NM.
All these factors suggest "that the next cycle will be very weak, or will not happen at all," says Hill.
For two years I have been writing about the just-ended extended and deep solar minimum, and how it suggested the possibility of a new Maunder Minimum. See for example my article in Sky and Telescope, August 2009, as well my posts here, here, here, here, here, here, here, here, here, here, here, and here. I have also complained about the inability of mainstream journalists to see this developing story.
My speculations, however, are not science. It now appears that the scientists themselves have finally gathered enough evidence to conclude that a new long minimum appears likely. Not only is this an exciting opportunity for science, but it will help answer one of the most fundamental uncertainties of climate science, namely: What is the importance of solar variations on climate change? With fewer sunspots the Sun also produces fewer bright areas called faculae, which results in less solar output, which in turn suggests less energy reaching the Earth resulting in colder temperatures.
The problem is that no one knows exactly how much the Sun dimmed during the Maunder Minimum in the 1600s. A little ice age occurred at that time, but the link to the Sun has been largely circumstantial, and was not backed up with the kind of changes seen during normal solar cycles, where the dimming of the Sun during minimum was simply not sufficient for the Sun to have much influence on climate change.
Over the next decade or so we will finally find out. The indications from this most recent solar minimum is that the Sun does have a great deal of influence on climate, as the predicted warming from the increase of carbon dioxide in the atmosphere did not happen, and we instead saw a cooling trend.
The upcoming wimpy maximum, followed by a long period of solar quiescence, will almost certainly answer this question definitively. Stay tuned!
Readers!
Please consider donating to Behind the Black, by giving either a one-time contribution or a regular subscription, as outlined in the tip jar below. Your support will allow me to continue covering science and culture as I have for the past twenty years, independent and free from any outside influence.
Your support is even more essential to me because I keep this site free from advertisements and do not participate in corrupt social media companies like Google, Twitter, and Facebook. I depend wholly on the direct support of my readers.
You can provide that support to Behind The Black with a contribution via Patreon or PayPal. To use Patreon, go to my website there and pick one of five monthly subscription amounts, or by making a one-time donation. For PayPal click one of the following buttons:

If Patreon or Paypal don't work for you, you can support Behind The Black directly by sending your donation by check, payable to Robert Zimmerman, to


Behind The Black
c/o Robert Zimmerman
P.O.Box 1262
Cortaro, AZ 85652