Fake news permeates our modern news sources, but today we have two space-related stories that make me shake my head.
The first comes from Newsweek (which supposedly died years ago): Apollo 11 Astronaut Michael Collins Shares Unseen NASA Photo of Moon Landing Crew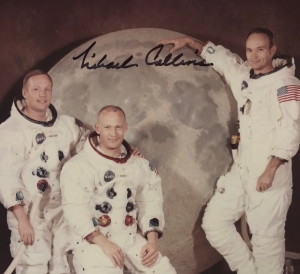 Michael Collins—one of the three crew members of the historic Apollo 11 moon mission—has posted a previously unreleased NASA photo on Twitter of himself, Buzz Aldrin and Neil Armstrong, which he discovered by chance in a box. The photo—taken in 1969—shows the trio, decked out in full astronaut gear, standing next to a moon prop with Aldrin and Armstrong on one side and Collins on the other. The picture also features Collins' autograph scrawled over the top in black ink.

"The crew. Found this at the bottom a box. Don't think it was ever used by @NASA. #TBT @TheRealBuzz," Collins tweeted.

The release of the photo is a fitting tribute to the mission in the year of its 50th anniversary, especially because it has likely not been seen by human eyes for five decades.

Florida news outlet The Orlando Sentinel—which is about to publish a commemorative book on the 1969 mission—reported that no staff members could remember seeing the photo before either in the NASA archives or the paper's own records.
I'm sorry, but that photo is hardly news. Nor has it been lost until now. I know I've seen it myself at least a few times over the years, though not recently. It was one of dozens of standard public relations photographs taken by NASA leading up to the launch.
Collins himself himself should know better than to suggest this was never used. He doesn't know that, and in fact is certainly wrong. Worse, neither Newsweek nor the Orlando Sentinel should not expand upon Collins' statement for the sake of creating clickbait.
The second bit of fake space news today is buried in a news piece from Reuters.

The story, focused mainly on comments by NASA administrator Jim Bridenstine about how the SpaceX Dragon test explosion is certainly going to delay NASA's effort to fly Americans on American spacecraft, also made this bald-faceded inaccurate statement:
Bridenstine also pledged better communication and transparency after the agency and SpaceX were criticized over a reluctance to describe in plain terms what happened to the capsule for days after the incident.

That stance was at odds with NASA's long history of transparency surrounding accidents involving its human spaceflight program.
This is garbage. With previous space accidents where humans died, NASA was no more transparent than SpaceX was here. In fact, maybe less so. Though SpaceX appeared to downplay the explosion by calling it an anomaly, it, like NASA followed the policy to always withhold detailed comments until an investigation has learned what really happened.
Note also that NASA in the past three decades has hardly followed a "history of transparency" when it comes to the failures of its big projects. If it weren't for numerous inspector general reports, we would hardly know anything about the agency's incompetence and its inability to meet both its budgets and its schedules, until there was no longer any way to deny it.
In both cases some might call my complaints here nit-picking. Fine. I just can't stand how so-called major news sources are routinely too lazy to get their facts right.
Readers!
I must unfortunately ask you for your financial support because I do not depend on ads and rely entirely on the generosity of readers to keep Behind the Black running. You can either make a one time donation for whatever amount you wish, or you sign up for a monthly subscription ranging from $2 to $15 through Paypal or $3 to $50 through Patreon.
Your support will allow me to continue covering science and culture as I have for the past twenty years, independent and free from any outside influence.
Your support is even more essential to me because I not only keep this site free from advertisements, I do not use the corrupt social media companies like Google, Twitter, and Facebook to promote my work. I depend wholly on the direct support of my readers.
You can provide that support to Behind The Black with a contribution via Patreon or PayPal. To use Patreon, go to my website there and pick one of five monthly subscription amounts, or by making a one-time donation. For PayPal click one of the following buttons:

If Patreon or Paypal don't work for you, you can support Behind The Black directly by sending your donation by check, payable to Robert Zimmerman, to


Behind The Black
c/o Robert Zimmerman
P.O.Box 1262
Cortaro, AZ 85652


Or you can donate by using Zelle through your bank. You will need to give my name and email address (found at the bottom of the "About" page). The best part of this electronic option is that no fees will be deducted! What you donate will be what I receive.