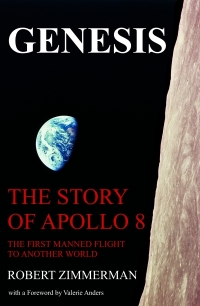 On Christmas Eve 1968 three Americans became the first humans to visit another world. What they did to celebrate was unexpected and profound, and will be remembered throughout all human history. Genesis: the Story of Apollo 8, Robert Zimmerman's classic history of humanity's first journey to another world, tells that story, and it is now available as both an ebook and an audiobook, both with a foreword by Valerie Anders and a new introduction by Robert Zimmerman.
The ebook is available everywhere for $5.99 (before discount) at
amazon
, or direct from my ebook publisher,
ebookit
.
The audiobook is also available at all these vendors, and is also
free with a 30-day trial membership to Audible.
"Not simply about one mission, [Genesis] is also the history of America's quest for the moon... Zimmerman has done a masterful job of tying disparate events together into a solid account of one of America's greatest human triumphs." --San Antonio Express-News
This morning civilized people the world over were greeted with several stories of hate and violence, where the perpetrators attempted to kill large numbers of people, merely because of their race or religion.
The first — and the one that our bankrupt mainstream media will spend all of its time reporting — occurred in Charleston, where a hate-filled racist killed nine black church-goers during a prayer session.
This was an evil act, committed by an evil and sick man. No sane or civilized person on the left or right condones it.
Two other stories, both reported in the Israeli news outlet The Jewish Press, described two attacks in the Middle East, one on a Jewish religious site and the other on a Christian religious site.
Both of these Middle Eastern attacks are as evil as the massacre in Charleston. Both expressed the same mass hatred of a group of people, this time based on religion rather than race. And as in Charleston, no sane or civilized person on the left or right should condone them.
Sadly, I expect America's modern leftwing intellectual class, represented by our mainstream media, to focus entirely on the first, not only condemning the murderous attack in Charleston but to use that act as an excuse to attack all conservatives, essentially repeating the crime by expressing a mass hatred of an entire group of people, this time because of their political beliefs.
The Middle East violence will meanwhile be ignored. In fact, if you dig hard enough, you will likely be able to find examples in the left wing press where these acts are condoned.
In a sense, the reactions of people to these violent evil events provide us a litmus test for hate. They will reveal who is civilized and who is not. Those who are civilized will condemn them all, and will not spend any time trying to assign the act to their political opponents. Those who are not will try to make political points and will try to assign blame in all the wrong places.
Watch and listen. If you pay close attention over the next few days, and keep a clear mind, you will be able to learn a lot.
Readers!
My July fund-raiser for Behind the Black is now over. The support from my readers was unprecedented, making this July campaign the best ever, twice over. What a marvelous way to celebrate the website's tenth anniversary!

Thank you! The number of donations in July, and continuing now at the beginning of August, is too many for me to thank you all personally. Please forgive me by accepting my thank you here, in public, on the website.

If you did not donate or subscribe in July and still wish to, note that the tip jar remains available year round.
Regular readers can support Behind The Black with a contribution via paypal:
If Paypal doesn't work for you, you can support Behind The Black directly by sending your donation by check, payable to Robert Zimmerman, to

Behind The Black
c/o Robert Zimmerman
P.O.Box 1262
Cortaro, AZ 85652