Posting today shall be very quiet, mostly because I am out in West Virginia, exploring a previously unknown upper level in a cave we are mapping. This passage was only discovered last month by Aaron Moses, John Harman, and Pete Johnson, who did a bolt climb of over 70 feet to reach a high lead in the wall of the cave. This weekend we will be pushing and mapping these virgin passages. Below is a picture taken by Brian Masney of Aaron Moses as he worked his way up the wall, with Pete Johnson providing a belay. More of Brian's pictures can be seen on his Flicker webpage.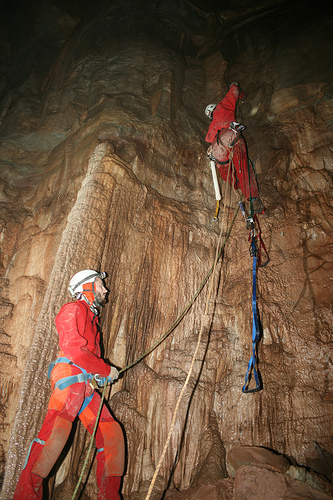 Readers!
I must unfortunately ask you for your financial support because I do not depend on ads and rely entirely on the generosity of readers to keep Behind the Black running. You can either make a one time donation for whatever amount you wish, or you sign up for a monthly subscription ranging from $2 to $15 through Paypal or $3 to $50 through Patreon.
Your support will allow me to continue covering science and culture as I have for the past twenty years, independent and free from any outside influence.
Your support is even more essential to me because I not only keep this site free from advertisements, I do not use the corrupt social media companies like Google, Twitter, and Facebook to promote my work. I depend wholly on the direct support of my readers.
You can provide that support to Behind The Black with a contribution via Patreon or PayPal. To use Patreon, go to my website there and pick one of five monthly subscription amounts, or by making a one-time donation. For PayPal click one of the following buttons:

If Patreon or Paypal don't work for you, you can support Behind The Black directly by sending your donation by check, payable to Robert Zimmerman, to


Behind The Black
c/o Robert Zimmerman
P.O.Box 1262
Cortaro, AZ 85652


Or you can donate by using Zelle through your bank. You will need to give my name and email address (found at the bottom of the "About" page). The best part of this electronic option is that no fees will be deducted! What you donate will be what I receive.