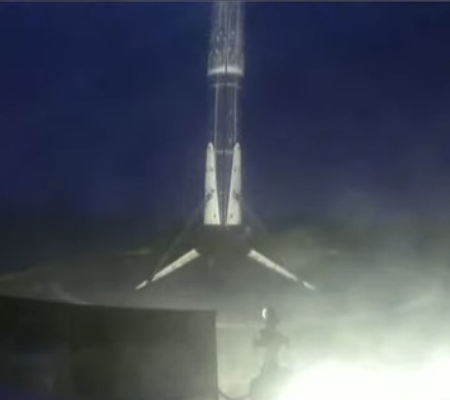 Capitalism in space: SpaceX tonight broke a whole bunch of new launch records in launching another sixty Starlink satellites into orbit using its Falcon 9 rocket.
First, the leaders in the 2020 launch race:
31 China
22 SpaceX
12 Russia
5 ULA
5 Rocket Lab
The US now leads China 35 to 31 in the national rankings.
For SpaceX, this launch established the following landmarks for the company:

A record for the most launches in a single year, 22, also a record for any private company ever.
A record for the most successful reuses and landings of 1st stage booster. The first stage on this launch has now flown a record seven times, and after landing safely (as shown in the image above), is now available for an eighth flight.
SpaceX's Starlink constellation now comprises just under 1,000 satellites, the largest satellite constellation ever launched, even though it is only about two-thirds complete.
Finally, for the U.S., the 35 launches so far this year is the most since the dot-com boom in the late nineties. And if the present launch pace continues through December, it is likely that this year will see the most U.S. launches in one year since 1968. The graph below illustrates this clearly:
You will notice that, since the unusual circumstances of the 1960s space race, the only times the U.S. launch industry has thrived is when freedom, competition, and private enterprise dominated the activity.
In the 1970s, the rocket industry was squelched and almost died because the federal government by law gave NASA and the space shuttle a monopoly on all launches. When that monopoly was lifted by President Reagan in 1986, the industry recovered and boomed during the late nineties, only to slump again when the telephone constellations that fueled that boom (Iridium, Globalstar) collapsed.
The industry however was renewed in the 2010s, when NASA again shifted from being the builder of rockets and spaceships and instead began to hire private companies to do it instead. This new boom was further fueled by the vision of Elon Musk, Peter Beck (of Rocket Lab), and others, who pushed new ideas that the old space industry were too fearful to try.
Ain't freedom and competition and capitalism a wonderful thing? Maybe more Americans should begin trying it.
Readers!
Please consider donating to Behind the Black, by giving either a one-time contribution or a regular subscription, as outlined in the tip jar below. Your support will allow me to continue covering science and culture as I have for the past twenty years, independent and free from any outside influence.
Regular readers can support Behind The Black with a contribution via Patreon or PayPal. To use Patreon, go to my website there and pick one of five monthly subscription amounts, or by making a one-time donation. For PayPal click one of the following buttons:

If Patreon or Paypal don't work for you, you can support Behind The Black directly by sending your donation by check, payable to Robert Zimmerman, to


Behind The Black
c/o Robert Zimmerman
P.O.Box 1262
Cortaro, AZ 85652