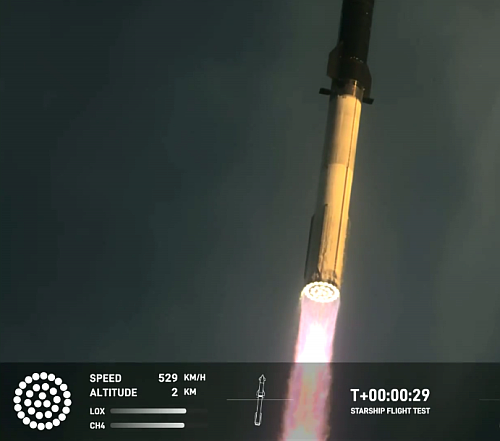 Note how all 33 Superheavy engines are firing.
SpaceX this morning successfully launched its Superheavy/Starship heavy lift rocket into its test orbit.
The test flight achieved far more than the first test in April. First, during the entire flight of Superheavy all 33 Raptor-2 engines fired normally. None cut out prematurely. Then at very risky hot fire stage separation — where the second stage (Starship) ignited prior to separation from Superheavy — the correct number of engines shut down, Starship's engines fired, and Superheavy successfully separated and began its maneuvers for a soft splashdown in the Gulf of Mexico.
At that point mission controllers issued the self-destruct command to destroy Superheavy. Though it appeared that the stage was struggling to flip for its controlled return to Earth, it is also very likely that mission controllers wanted to test that flight termination system after its not perfect performance on the first test flight. Then, the self-destruct command did not activate the instant the command was given, being delayed by about 40 seconds. This time it appeared it worked as planned.


Meanwhile Starship continued what appeared to be a perfect flight, until just prior to when its engines were suppose to shut down in orbit. For reasons not yet explained, at T+8:20 minutes — 13 seconds before that planned engine shut down — mission controllers or the spacecraft itself issued the self-destruct command. The image to the right shows the situation at that self-destruct. Starship was at 148 kilometers altitude traveling at 24124 kilometers per hour, very close to its intended orbit.
It is very possible this was also a test of Starship's self-destruct system, as it would be a very bad thing to have Starship in its low orbit but out-of-control. Such a situation would mean it could crash down in inhabited areas.
Based on what appears to have been a perfect flight, with all engines and operations working as planned until self-destruct, there should be no reason for any long delays before the third Superheavy/Starship test flight. Prototypes are built and ready to go. All SpaceX would need to do would be to carefully review the data from today, institute some upgrades, and fly. If it was up this company and how it normally functions, the next flight would probably take place about a month from now, before the end of the year. SpaceX needs at least a dozen test flights to get this rocket operational. To meet the schedule of both the company and NASA, those flights should happen quickly, all in 2024.
We shall see. I expect the FAA and Fish & Wildlife to demand a more thorough investigation, which will delay the next flight into 2024, likely until the February to April timeframe.
As always, I hope this pessimistic prediction will be wrong. The lack of any serious anomalies during this test will make it more difficult for government paper-pushers to justify any long investigation.
One final note: This rocket was built entirely from private funds. Though SpaceX has a contract with NASA for Starship as a manned lunar lander, SpaceX has spent almost none of that money because its focus is getting the rocket launched, not designed to land on the Moon.
Thus, a rocket more powerful than the Saturn-5 but designed from the get-go to be reuseable is being built by private American citizens, independent of the government. If that isn't a demonstration of the power of freedom, I don't know what is.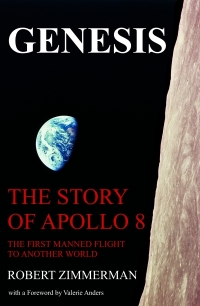 On Christmas Eve 1968 three Americans became the first humans to visit another world. What they did to celebrate was unexpected and profound, and will be remembered throughout all human history. Genesis: the Story of Apollo 8, Robert Zimmerman's classic history of humanity's first journey to another world, tells that story, and it is now available as both an ebook and an audiobook, both with a foreword by Valerie Anders and a new introduction by Robert Zimmerman.
The ebook is available everywhere for $5.99 (before discount) at
amazon
, or direct from my ebook publisher,
ebookit
. If you buy it from
ebookit
you don't support the big tech companies and the author gets a bigger cut much sooner.
The audiobook is also available at all these vendors, and is also
free with a 30-day trial membership to Audible.
"Not simply about one mission, [Genesis] is also the history of America's quest for the moon... Zimmerman has done a masterful job of tying disparate events together into a solid account of one of America's greatest human triumphs."--San Antonio Express-News