UPDATE: I am off on a caving trip on Sunday, May 31st, so I will not be doing any updates to this post. The live feeds however will still be here and, though they are presently showing a replay of the launch today, should be covering Dragon's rendezvous and docking with ISS on Sunday..
UPDATE: Dragon is in orbit. SpaceX has successfully used its Falcon 9 rocket to place to Americans into space, the first American launch from American soil in an American spacecraft on an American rocket in nine years.
The leaders in the 2020 launch race:
9 China
7 Russia
7 SpaceX
3 ULA
The U.S. now leads China 12 to 9 in the national rankings.
UPDATE: I have added NASA's media live feed to the one provided on SpaceX's website. There will be some hype on SpaceX's feed, but the media feed had no commentary. Pick which you prefer.
UPDATE: NASA and SpaceX have decided to attempt a launch today. The weather remains at 50-50 for launch.
Capitalism in space: Below are the live streams of SpaceX's first manned Dragon launch, presently scheduled for launch at 3:22 pm (Eastern) tomorrow, May 30, 2020.
First, the feed from SpaceX's website:
Second, the media feed from NASA, with no narration:
The live coverage will begin at 11 am (Eastern), and because this presentation is a partnership of NASA and SpaceX, will be filled with a lot of hype that one normally does not see during a SpaceX live feed, though I will note that during the live feed of the May 27th scrubbed launch, the NASA hype was kept relatively tame, compared to previous events. It seemed they accepted some guidance from SpaceX on how to do this in a way that seemed less fake or propagandistic.
This time I am embedding the media feed, which might have even less hype.
This post is also set to remain at the top of the page until after the launch, or after the launch is scrubbed, whichever happens. At the moment the weather says there is a 50-50 chance of launching, so we might end up having a scrub again, like on May 27th. In fact, NASA and SpaceX have already said in the evening of May 29th that they will reassess the weather in the AM on May 30th and decide whether to continue with the countdown or scrub. If so, this link and live feed will remain for the Sunday, May 31st, launch attempt.
As I did during the first launch attempt on May 27th, I will also periodically post below the fold images captured from the live feed, with some commentary. Comments from readers are of course welcome, as always.
NOTE: You will need to refresh the post periodically to see new images and commentary.
For other news updates, scroll down.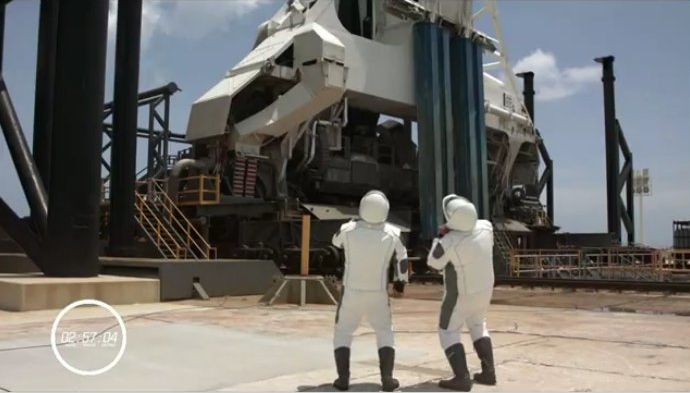 I like this image and moment because I honestly do not remember any previous American launches where the astronauts were able to stop at the base of the rocket and admire it, prior to getting into the elevator to take them up to the capsule. This might have happened during the Mercury, Gemini, and Apollo launches, but it certainly did not happen during the entire shuttle program, as far as I know.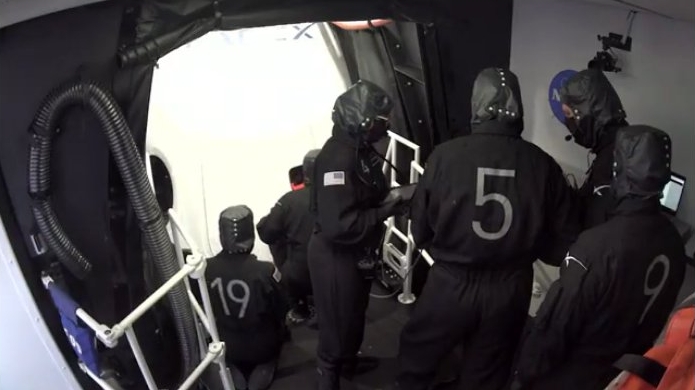 They have now closed the hatch, and the image above shows the ground crew doing the leak check to make sure it is sealed properly.
What strikes me about this are the numbers on the backs of the ground crew. Y'know, in sports they added the names of the players above the numbers many years ago. It is too bad the crew here doesn't get the same public credit.
I must add that these individuals are SpaceX employees, not from NASA. It is important to note that this is not really a NASA mission, it is a commercial SpaceX launch, with NASA merely the customer. While there are certainly NASA representatives scattered throughout operations, the vast majority of everyone you see works for SpaceX. They are running the show.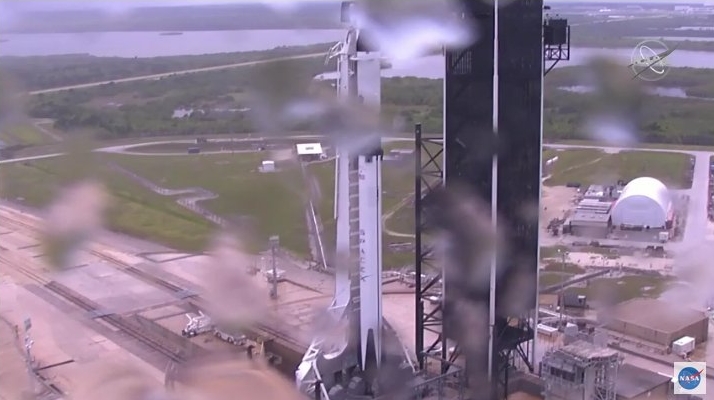 The weather is presently no-go for launch (as indicated by the raindrops on the camera lens in the image above), but they hope things will improve by T-0. They plan to reassess just before they begin fueling the rocket, about thirty minutes before launch.
If you are watching the SpaceX feed, you will be also watching a lot of interviews of NASA people and pre-made videos from NASA extolling the wonders of private commercial space and reuseability. This is good, but I find it amusing, because the people at NASA were the last to finally sign on to the ideas of depending of private commercial space and reuseability. NASA's commercial program began in 2008, and it wasn't until about a year ago that the agency finally accepted it completely. Before then, large sections of NASA's bureaucracy fought tooth and nail to either block it or to slow it down.
However, the proof is in the pudding, and the pudding of private enterprise (freedom and competition) has been amply demonstrated by SpaceX, as it has for almost the entire history of the United States. It is time for modern Americans to embrace it again.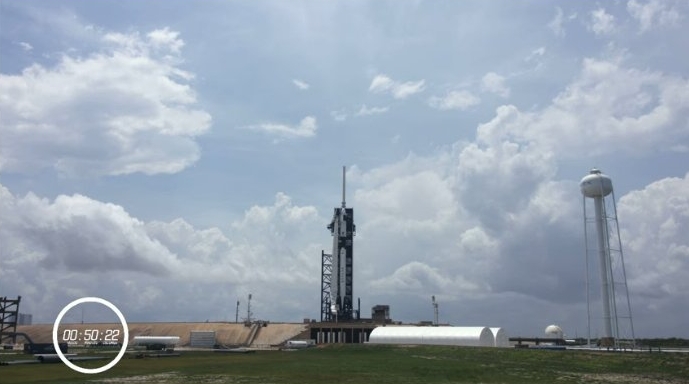 They just had a new weather check, and "the weather is go at this time." The picture above illustrates this, in that it appears the rain has stopped there.
If nothing changes it sounds like the launch is also a go.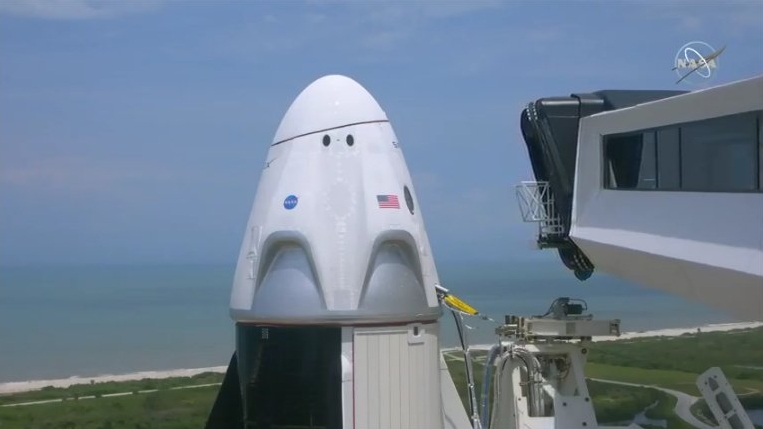 They have begun loading fuel, and have retracted the jetway, or crew access arm. Right now they rank the weather odds for launch to have improved to 70%.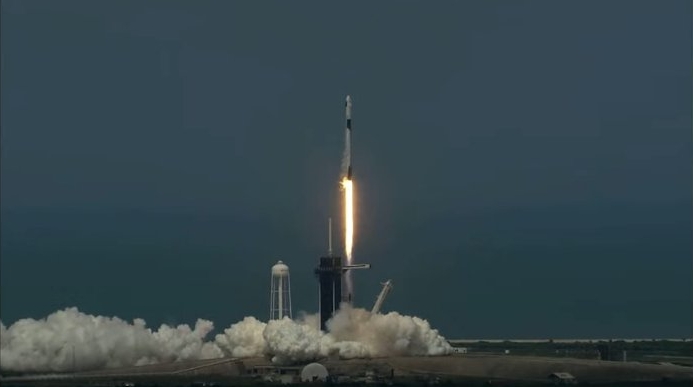 They have launched, and all systems are nominal.
Note: The NASA media feed is showing nothing but the launchpad, so stick with the SpaceX feed.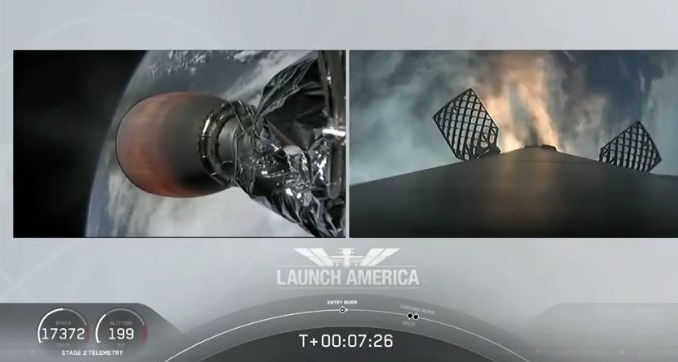 The first stage has completed its entry burn for landing.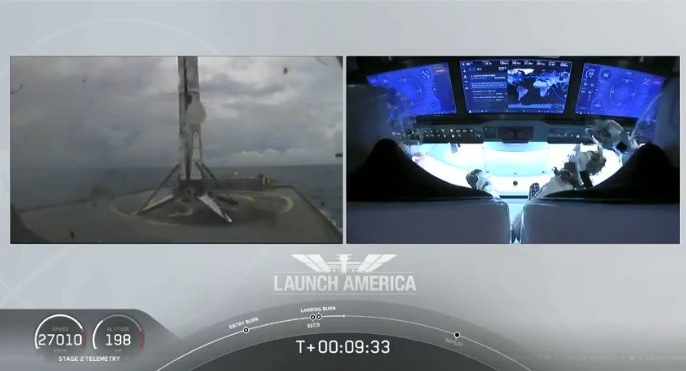 The first stage has landed smoothly. The capsule has been placed into orbit perfectly.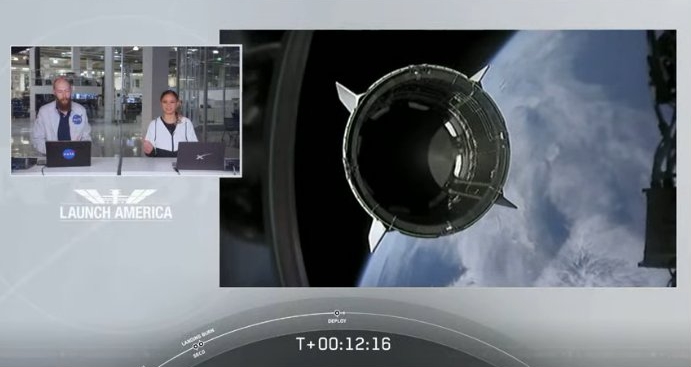 The image above shows Dragon moving away from the upper stage after separation. The capsule is now on its own. It will take nineteen hours to get to ISS and dock there.
The job of Falcon 9 is now over. It did its job perfectly, as it has on almost every launch.
Readers!
I must unfortunately ask you for your financial support because I do not depend on ads and rely entirely on the generosity of readers to keep Behind the Black running. You can either make a one time donation for whatever amount you wish, or you sign up for a monthly subscription ranging from $2 to $15 through Paypal or $3 to $50 through Patreon.
Your support will allow me to continue covering science and culture as I have for the past twenty years, independent and free from any outside influence.
Your support is even more essential to me because I not only keep this site free from advertisements, I do not use the corrupt social media companies like Google, Twitter, and Facebook to promote my work. I depend wholly on the direct support of my readers.
You can provide that support to Behind The Black with a contribution via Patreon or PayPal. To use Patreon, go to my website there and pick one of five monthly subscription amounts, or by making a one-time donation. For PayPal click one of the following buttons:

If Patreon or Paypal don't work for you, you can support Behind The Black directly by sending your donation by check, payable to Robert Zimmerman, to


Behind The Black
c/o Robert Zimmerman
P.O.Box 1262
Cortaro, AZ 85652


Or you can donate by using Zelle through your bank. You will need to give my name and email address (found at the bottom of the "About" page). The best part of this electronic option is that no fees will be deducted! What you donate will be what I receive.