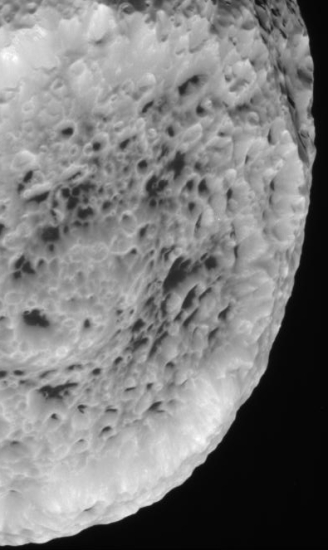 On August 25 Cassini did a close fly-by of the small Saturn moon Hyperion, getting as close as 15,500 miles. The mission has just released images from that fly-by.
Looks like a sponge, doesn't it? This moon is small, only 168 miles across, which makes it about half the size of the asteroid Vesta that Dawn is presently orbiting. Why it is so peppered with craters is of course the big science question. I would guess this has something to do with the environment around Saturn, with its rings and the innumerable particles that come from it. Yet, other moons of Saturn are not as crater-filled, so there is obviously more to this than meets the eye.
This fly-by was the second closest of Hyperion that Cassini has done, the first passing over the the moon's surface by only 310 miles. Because the irregularly-shaped moon's rotation is more like a chaotic tumble, scientists could not predict what part of the surface they would see. To their luck the new images captured new territory.
Another fly-by is scheduled in only three weeks, on September 16, 2011. This time, however, the spacecraft won't get as close, passing at a distance of about 36,000 miles.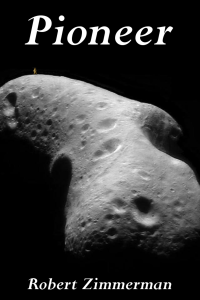 From the press release: From the moment he is handed a possibility of making the first alien contact, Saunders Maxwell decides he will do it, even if doing so takes him through hell and back.
Unfortunately, that is exactly where that journey takes him. The vision that Zimmerman paints of vibrant human colonies on the Moon, Mars, the asteroids, and beyond, indomitably fighting the harsh lifeless environment of space to build new societies, captures perfectly the emerging space race we see today. He also captures in Pioneer the heart of the human spirit, willing to push forward no matter the odds, no matter the cost. It is that spirit that will make the exploration of the heavens possible, forever, into the never-ending future. Available everywhere for $3.99 (before discount) at
amazon
,
Barnes & Noble
, all ebook vendors, or direct from the ebook publisher,
ebookit
. And if you buy it from
ebookit
you don't support the big tech companies and I get a bigger cut much sooner.