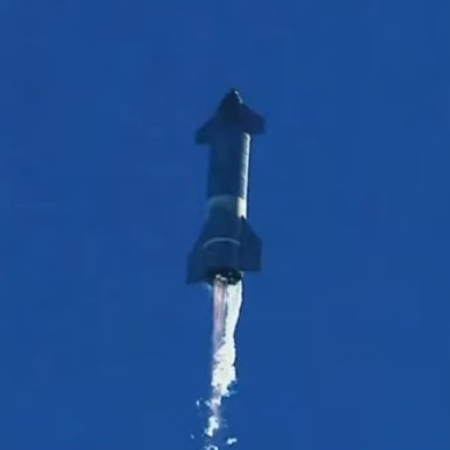 Yesterday's truly epic first flight of SpaceX's giant Starship rocket illustrated several truths that bear repeating, in clear and forceful language.
SpaceX succeeded because its company philosophy is open-minded, fearless, and thus free.
The open-mindedness culture comes from Elon Musk's insistence that they never settle on any design if they can find a better way to do it. It is this approach that drives the company's developmental process. The first Falcon 1 rocket made orbit, but despite that triumph Musk quickly abandoned it for the Falcon 9 when it was clear that it wasn't powerful enough to garner enough satellite business.
The Falcon 9 that first launched in 2008 was a very different rocket from the Falcon 9 that launches today, as shown by the two pictures below. In the 2008 Falcon 9 the engines were configured differently and it had no legs. The modern Falcon 9 has landing legs, a different engine arrangement, and much of the innards have been redesigned to give the rocket more oomph.



We can see the same on-going evolution with SpaceX's Dragon capsule. The first capsules were vastly different than the modern manned version, with many fundamental changes that have increased the spacecraft's capability while making it more reliable and reusable.
In order to build things better it is essential you don't become married to any single idea. You keep an open-mind, you innovate, and you rethink instantly if you see an idea that makes better sense. This has been SpaceX's approach from the beginning.
The company's fearlessness is illustrated wonderfully by yesterday's flight. The company admitted that there was a 1 in 3 chance of failure, including a crash upon landing. Yet, rather than cower in their basements redesigning and redesigning in a vain effort to design out the risk, they went ahead anyway because they understand that a failure now was still the fastest way to get that redesign improved. Rather than run from their fear of failure, they pushed past it.
In fact, they put aside their fear so much the company was willing to fly this risky test flight in plain sight, live streaming it to the world so that everyone could watch.
To achieve great things you have to take risks. You can't be afraid. SpaceX exemplified that fearlessness yesterday.
Finally, the Starship flight yesterday epitomized the importance of freedom. No one told SpaceX what to do. The company isn't building this rocket to fulfill some grand government space program. It is doing it to fulfill the dreams of Elon Musk, and the financial hopes of his investors. Thus, the goals, designs, and effort are independent of government dictate. And because of that the effort is creative, innovative, inspiring, and breath-taking.
Freedom does that to you. You might take risks, but the success makes those risks infinitely worthwhile.
The consequences of being open-minded, fearless, and free are profound. They result in a level of competence that is awe-inspiring. As they say, the hangman's noose tends to focus the mind. If you take risks that could produce catastrophic failure you work very hard to make sure you do the best you can, even as you drive forward risking catastrophic failure.
In his memoirs of World War II, Eisenhower tells a story that illustrates how common this attitude once was in Americans. The Allies needed an airfield during the invasion of Sicily on the island of Gozo, located near Malta.
[The island] was so ill favored in the matter of terrain that British field engineers … had given up any hope of producing a field there in time for use in the Sicilian campaign. Happily, just at the critical moment Air Marshal Park, in command of the air forces of the island, had as a visitor an American engineer who specialized in the construction of airfields. Park told the engineer of this particular problem and after showing him the projected site asked for an estimate on the time it would take to construct an operational strip.

The answer was a nonchalant "Ten days."

This struck Park–who is a human dynamo himself–as so preposterous that he thought himself the victim of a joke. However, upon noting the thoughtful way in which the engineer was considering the problem, he asked, "When can you start?"

"As soon as my equipment can get here, which should take several days."

The upshot was that messages began to fly through the air, and thirteen days from the time the first American construction unit stepped on the island the first fighter plane was taking off form the strip.

…This story was told to me over and over again by British officers on the island whose admiration for the American engineers was scarcely short of awe.
As Eisenhower's story shows, Americans were once known worldwide for having incredible competence. If something needed to be done you knew that if you asked an American to do it it would happen, and fast. Americans were open-minded. They were fearless. They were free. Thus, they were also competent and very skilled.
This reputation even had a name. People called it good, old-fashioned American know-how.
That SpaceX demonstrates these same attributes makes it the archetypal American company.
Sadly, these attitudes are no longer as common as they once were among Americans. Too many now live in fear, close-minded to new ideas or facts. Freedom does not attract them, because the risks involved terrify them. They'd rather huddle in their caves, wearing masks and fearing the lightning and thunder and viruses that might kill them.
SpaceX however yesterday provided today's fear-driven, generally close-minded Americans a glimpse into that past American culture, the culture I grew up in as a child in the 1960s when Americans went to the Moon. It was then expected you kept an open-mind, at all times. It was expected that you did things right. And above all, it was expected you did them fearlessly.
We were free. This is what freedom demands.
My deep hope is that the spectacular success of SpaceX in doing truly astonishing things will inspire young Americans to once again be open-minded, fearless, and free. The America that accomplished greatness almost routinely is not yet entirely dead, and can still return in all its glory. We need only embrace it, bravely, and with open-minds.
Readers!
I must unfortunately ask you for your financial support because I do not depend on ads and rely entirely on the generosity of readers to keep Behind the Black running. You can either make a one time donation for whatever amount you wish, or you sign up for a monthly subscription ranging from $2 to $15 through Paypal or $3 to $50 through Patreon.
Your support will allow me to continue covering science and culture as I have for the past twenty years, independent and free from any outside influence.
Your support is even more essential to me because I not only keep this site free from advertisements, I do not use the corrupt social media companies like Google, Twitter, and Facebook to promote my work. I depend wholly on the direct support of my readers.
You can provide that support to Behind The Black with a contribution via Patreon or PayPal. To use Patreon, go to my website there and pick one of five monthly subscription amounts, or by making a one-time donation. For PayPal click one of the following buttons:

If Patreon or Paypal don't work for you, you can support Behind The Black directly by sending your donation by check, payable to Robert Zimmerman, to


Behind The Black
c/o Robert Zimmerman
P.O.Box 1262
Cortaro, AZ 85652


Or you can donate by using Zelle through your bank. You will need to give my name and email address (found at the bottom of the "About" page). The best part of this electronic option is that no fees will be deducted! What you donate will be what I receive.