This is my second visit to Israel and the second time I have stayed in a residence in the West Bank. Both times the experience has been quite different than what anyone who reads the modern press would expect. It is nothing like what you think.
Also, I have been delving into the background of both settlements, from this visit as well as my last visit back in 2003. Not surprisingly, the facts have little to do with what the press generally reports. And even when they do report honestly, they simply do not provide the important information that would provide some proper context. I myself have been astonished today with some of what I learned, as it was completely unexpected. For example, do you know that many of the land records for here in the West Bank are still kept in Istanbul, Turkey?
As I mentioned previously, however, it is difficult to post here in Israel. Though the internet service is fine, my laptop is beginning to show its age and to function too slowly for this work. Also, I want to include pictures, and I won't be able to add them easily probably until I get home.
So stay tuned. It will be worthwhile reading.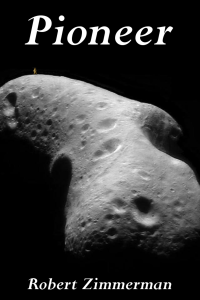 From the press release: From the moment he is handed a possibility of making the first alien contact, Saunders Maxwell decides he will do it, even if doing so takes him through hell and back.
Unfortunately, that is exactly where that journey takes him. The vision that Zimmerman paints of vibrant human colonies on the Moon, Mars, the asteroids, and beyond, indomitably fighting the harsh lifeless environment of space to build new societies, captures perfectly the emerging space race we see today. He also captures in Pioneer the heart of the human spirit, willing to push forward no matter the odds, no matter the cost. It is that spirit that will make the exploration of the heavens possible, forever, into the never-ending future. Available everywhere for $3.99 (before discount) at
amazon
,
Barnes & Noble
, all ebook vendors, or direct from the ebook publisher,
ebookit
. And if you buy it from
ebookit
you don't support the big tech companies and I get a bigger cut much sooner.