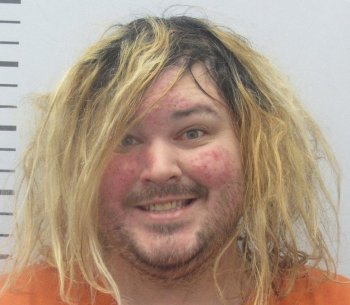 "Lily" Mestemacher
In a perfect example of the modern madness of our time, when a bearded heavy-set man using the name "Lily" Mestemacher was arrested in Arkansas for making bomb threats against a location in Mississippi, the local news organization reporting the story in Mississippi used female pronouns to describe him because he claimed he was a woman. To quote that February 13, 2023 news report:
On February 10th, Mestemacher was transported to Oxford where she was booked on the aforementioned warrant. She was taken before a Lafayette County Justice Court judge for her initial bond hearing and issued a $50,000 bond. [emphasis mine]
His arrest mugshot is to the right. This is a man. Just because he is somewhat deranged and wants to make believe he is a woman does not require that local news organization, called The Local Voice, to participate in that derangement.

In fact, by agreeing to use his fake pronouns this news organization is agreeing to lie to its readers, while distorting its reporting. How can anyone trust anything else this garbage news outlet reports, considering it is so willing to participate in the absurd fantasies demanded by the unbalanced?
What makes this story even more appalling is that The Local Voice is not the exception but the rule. Almost all mainstream news sources now require their reporters in all stories to use these fake pronouns when demanded by anyone who is mentioned in any story. It is also now common practice for government authorities and almost everyone else — including even a number of conservative news outlets — to quickly accede to these crazy demands and join the insane person's desire to make believe he is a woman, or she is a man, when neither is anything of the sort.
I not only say no, I say hell no! Just because a person wants to make believe something does not a require me to obey. There is no such thing as a "transgender" person. If you are a man and like to dress in woman's clothing, that is your prerogative. You are still a man. If you are a woman and want to cut your hair short, bind your breasts, and wear man's clothing, that is also your prerogative. You are still a woman.
If such people wish to lie to themselves, that is their business. I don't have to join in and lie to myself as well. As a journalist and historian I have an even greater responsibility to refuse to play this game. It is my job to report the facts accurately, and the second I stop doing so I am no longer trustworthy as a source of information. You would think most mainstream news sources today would understand this, but then, these bankrupt news outlets have long ago put aside reliable news reporting so that they can promote their leftist political "narratives" above all else.
These news outlets, and the activists with whom they are allied, are also terrified that everyone else will suddenly discover that the best weapon for defeating them is to refuse to participate in these lies of language. One of the reasons that Matt Walsh's testimony in the Tennessee legislature on February 8, 2023 was so devastatingly effective was because of his own refusal to play this game. Watch these two clips:
In the second clip he asks the congressman questioning him the simple question, in plain language "Do you think a 16-year-old can meaningfully consent to having their body parts removed?" He doesn't couch this with the fake terms "transgender" or "gender affirmation". He describes precisely what is happening. And because the question is so honest and true, state legislator Caleb Hemmer (D-Nashville) cannot respond. If he agrees with Walsh and gives the obvious answer, he undercuts his queer supporters who now make-up the Democratic Party's most ardent backers. If he disagrees with Walsh, he exposes himself as supporting the castration and mutilation of little kids, a position that will certainly not work in his next election campaign.
Every normal person in this nation must do the same. Stop using fake terms like "transgender" or "gender affirmation surgery" or "LGBTQ-inclusive" or "BIPOC". The first hides the cross-dressing behavior of the individual. The second hides the ugly nature of such medical procedures. And the last two hide the fundamental bigoted nature of these alphabet soup terms, which focus everything on race, sexual behavior, and group rights, rather than treating each person as an individual with a uniqueness precious and miraculous.
If we all do this, with courage and without compromise, the balloon holding up these false political movements will very quickly burst, because they will be exposed for the evil they are truly promoting.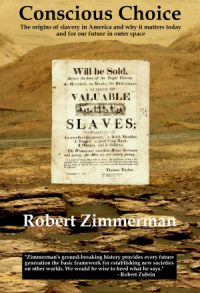 Now available in hardback and paperback as well as ebook!
From the press release: In this ground-breaking new history of early America, historian Robert Zimmerman not only exposes the lie behind The New York Times 1619 Project that falsely claims slavery is central to the history of the United States, he also provides profound lessons about the nature of human societies, lessons important for Americans today as well as for all future settlers on Mars and elsewhere in space.
Conscious Choice: The origins of slavery in America and why it matters today and for our future in outer space
, is a riveting page-turning story that documents how slavery slowly became pervasive in the southern British colonies of North America, colonies founded by a people and culture that not only did not allow slavery but in every way were hostile to the practice.
Conscious Choice
does more however. In telling the tragic history of the Virginia colony and the rise of slavery there, Zimmerman lays out the proper path for creating healthy societies in places like the Moon and Mars.
"Zimmerman's ground-breaking history provides every future generation the basic framework for establishing new societies on other worlds. We would be wise to heed what he says." —Robert Zubrin, founder of founder of the Mars Society.
All editions are available at Amazon, Barnes & Noble, and all book vendors, with the ebook priced at $5.99 before discount. The ebook can also be purchased direct from my ebook publisher, ebookit, in which case you don't support the big tech companies and I get a bigger cut much sooner.
Autographed printed copies are also available at discount directly from me (hardback $24.95; paperback $14.95; Shipping cost for either: $5.00). Just email me at zimmerman @ nasw dot org.