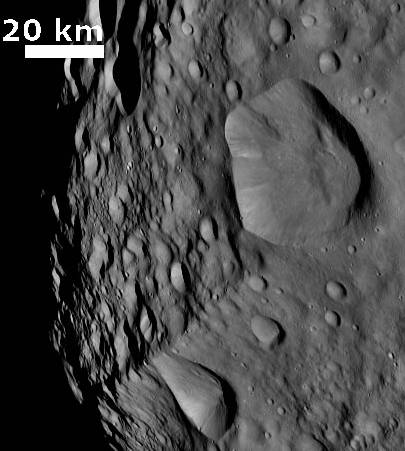 The images from Dawn keep rolling in. The picture on the right, released two days ago, shows the asteroid's terminator. What makes it intriguing is the weird looking crater near the bottom of the image. It appears to have formed at impact on the wall of a cliff, something that at first glance seems impossible.
This is what I think happened: The impactor sliced down the wall of the cliff, but because of Vesta's low gravitational field the impact scar never collapsed downward, filling in.
I once wrote an article about asteroids for Astronomy where I described these objects as having the consistency of mashed potatoes and ice cream sundaes. This image illustrates this nicely. The asteroid's weak gravitational field limits the density of its material, so that puffy strange formations such as this crater can form.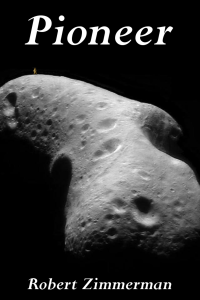 From the press release: From the moment he is handed a possibility of making the first alien contact, Saunders Maxwell decides he will do it, even if doing so takes him through hell and back.
Unfortunately, that is exactly where that journey takes him. The vision that Zimmerman paints of vibrant human colonies on the Moon, Mars, the asteroids, and beyond, indomitably fighting the harsh lifeless environment of space to build new societies, captures perfectly the emerging space race we see today. He also captures in Pioneer the heart of the human spirit, willing to push forward no matter the odds, no matter the cost. It is that spirit that will make the exploration of the heavens possible, forever, into the never-ending future. Available everywhere for $3.99 (before discount) at
amazon
,
Barnes & Noble
, all ebook vendors, or direct from the ebook publisher,
ebookit
. And if you buy it from
ebookit
you don't support the big tech companies and I get a bigger cut much sooner.