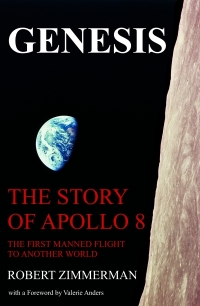 On Christmas Eve 1968 three Americans became the first humans to visit another world. What they did to celebrate was unexpected and profound, and will be remembered throughout all human history. Genesis: the Story of Apollo 8, Robert Zimmerman's classic history of humanity's first journey to another world, tells that story, and it is now available as both an ebook and an audiobook, both with a foreword by Valerie Anders and a new introduction by Robert Zimmerman.
The ebook is available everywhere for $5.99 (before discount) at
amazon
, or direct from my ebook publisher,
ebookit
.
The audiobook is also available at all these vendors, and is also
free with a 30-day trial membership to Audible.
"Not simply about one mission, [Genesis] is also the history of America's quest for the moon... Zimmerman has done a masterful job of tying disparate events together into a solid account of one of America's greatest human triumphs." --San Antonio Express-News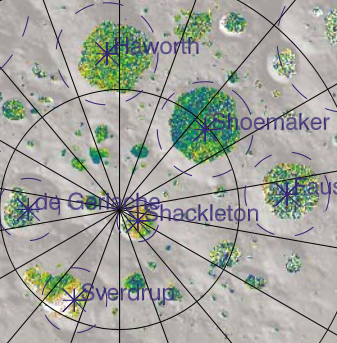 In a paper published today in the Journal for Geophysical Research, Planets, the science team for Lunar Reconnaissance Orbiter describe how they have used starlight to peer into the permanently shadowed craters of the Moon's north and south poles. Looking only during the lunar night, they measured the dim albedo of the Moon from reflected starlight. From this very weak signal they were able to cull two interesting facts about these very cold and very dark places.
The ground at the bottom of these craters is more porous than the surrounding unshadowed terrain.
There is evidence in the spectroscopy of 1 to 2% water frost in these craters.
The first discovery is consistent with other Lunar Reconnaissance Orbiter data that mapped the Moon's surface using lasers. That data had suggested that the floors of these craters had a very rough terrain. This new data further suggests the existence of what the scientists dub "fairy-castle structures" due to "charging effects." Since the scientists also note that even if there is water-ice on the floors of these craters it would still be subject to melting and evaporation over the eons due to the harsh conditions, I also wonder if this rough terrain is the result of that melting. Think of what a block of ice looks like after you spray warm water on it. As it melts it leaves behind wild and surreal shapes.
The second discovery is consistent with other data that has suggested there is remnant frozen water hidden in these permanently dark regions. Once again, the value of this "beachfront" property on the Moon has gone up!
In reading this paper, however, I myself can't help marveling at what these engineers and scientists have managed to do. They have used the practically invisible reflection of starlight from these dark regions to analyze the surface topography and makeup. And they have done it from Earth, using a robot in orbit around the Moon almost a quarter of a million miles away.
Readers!
My July fund-raiser for Behind the Black is now over. The support from my readers was unprecedented, making this July campaign the best ever, twice over. What a marvelous way to celebrate the website's tenth anniversary!

Thank you! The number of donations in July, and continuing now at the beginning of August, is too many for me to thank you all personally. Please forgive me by accepting my thank you here, in public, on the website.

If you did not donate or subscribe in July and still wish to, note that the tip jar remains available year round.
Regular readers can support Behind The Black with a contribution via paypal:
If Paypal doesn't work for you, you can support Behind The Black directly by sending your donation by check, payable to Robert Zimmerman, to

Behind The Black
c/o Robert Zimmerman
P.O.Box 1262
Cortaro, AZ 85652