In hearings Wednesday, several members of Congress suggested that NASA force the new competing commercial space companies to combine their efforts in order to save money.
Rep. Frank Wolf (R-Va.) asked NASA Administrator Charles Bolden during a March 21 hearing on the agency's 2013 budget the same question he asked of the White House's chief science adviser last month: would NASA's partnership with commercial companies to develop astronaut transports be cheaper if the companies competing for NASA funds combined their efforts into a single "all for one and one for all" project?
Similarly, Senator Kay Bailey Hutchison (R-Texas) made the same stupid argument in her continuing effort to keep the funding of the Space Launch System, the rocket-formerly-called-Constellation, as high as possible, at the cost of cutting everything else in NASA if necessary.
If you needed any evidence that members of Congress are ignorant idiots, you only need read the comments of these elected officials at these hearings to get your proof. Wolf or Hutchison as well as several others from both parties very clearly haven't the slightest idea what these various space companies are building. Nor do they have the faintest notion of the difficulties entailed in building these manned space vessels.

First of all, the rockets and capsules being built by all of the commercial companies are fundamentally different from each other. Dream Chaser is a space plane like the shuttle. Boeing's CST-100 and SpaceX's Dragon are capsules more like Apollo, though neither is much like the other. And Orbital Sciences' Cygnus capsule is not even designed to carry humans, just cargo. It can't return to Earth.
So, how the hell does Frank Wolf imagine it would save anyone any money to combine the efforts of these companies? The only way he could even make this suggestion is if he has never even glanced at any news story anywhere, describing these rockets and capsules.
Hutchison is even more shameful. She has become the queen of heavy-lift, not because it will get the U.S. manned program back into space (which it will not), but because it brings jobs and pork to her state. And she has been willing to let the budgets of any other NASA program die in her effort to further that pork.
Many of these elected officials have indicated that they want to cut commercial space in order to put funds back into the Mars program. And in this area, NASA administrator Charles Bolden displayed his own stupidity.
Bolden said during the hearing that the Mars program was targeted for budget cuts because "when we took a look at the portfolio, the area that seemed to be in the best shape was our Mars exploration."

That explanation did not sit well with members of the House Appropriations commerce, justice, science subcommittee. "That's an answer that says, 'in order to make budget cuts, we savage the most successful program we have,'" said Rep. Adam Schiff, the California Democrat whose Pasadena-area district includes the Jet Propulsion Laboratory.
Yup. Bolden actually made the argument that because the Mars program was so successful, they decided it deserved to be cut.
Meanwhile, these same elected officials continue to campaign for the one program at NASA that truly is a waste of money, the heavy-lift Space Launch System imposed on NASA by Congress. Costing about $3 billion a year, SLS will only produce its first manned launch about nine years from now. (Wanna bet that will never happen?) Yet, despite its high cost and unlikely payoff, Hutchison and other elected officials somehow think the program is getting short-changed, and want to cut commercial space in order to pour more money down that garbage drain.
As I wrote last November, NASA should focus its spending on its most successful programs, the planetary and astronomy programs and its relatively inexpensive competing commercial manned space program, and dump SLS entirely. Should they do that, we not only would get some really spectacular planetary missions to Mars and elsewhere, the astronomy program could be revived, the manned program might function more effectively for far less cost, and the overall NASA budget could even be cut.
Sadly, no one in either the Obama administration or Congress seems interested in doing this, which makes me very depressed. If SpaceX's first launch of Dragon to ISS, presently scheduled for April 30, does not succeed, I can see the entire American space program dying for want of brains in Congress.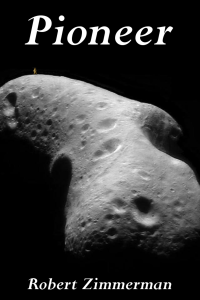 From the press release: From the moment he is handed a possibility of making the first alien contact, Saunders Maxwell decides he will do it, even if doing so takes him through hell and back.
Unfortunately, that is exactly where that journey takes him. The vision that Zimmerman paints of vibrant human colonies on the Moon, Mars, the asteroids, and beyond, indomitably fighting the harsh lifeless environment of space to build new societies, captures perfectly the emerging space race we see today. He also captures in Pioneer the heart of the human spirit, willing to push forward no matter the odds, no matter the cost. It is that spirit that will make the exploration of the heavens possible, forever, into the never-ending future. Available everywhere for $3.99 (before discount) at
amazon
,
Barnes & Noble
, all ebook vendors, or direct from the ebook publisher,
ebookit
. And if you buy it from
ebookit
you don't support the big tech companies and I get a bigger cut much sooner.