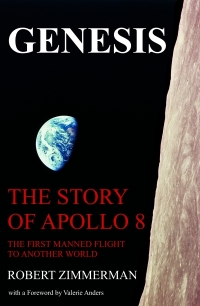 On Christmas Eve 1968 three Americans became the first humans to visit another world. What they did to celebrate was unexpected and profound, and will be remembered throughout all human history. Genesis: the Story of Apollo 8, Robert Zimmerman's classic history of humanity's first journey to another world, tells that story, and it is now available as both an ebook and an audiobook, both with a foreword by Valerie Anders and a new introduction by Robert Zimmerman.
The ebook is available everywhere for $5.99 (before discount) at
amazon
, or direct from my ebook publisher,
ebookit
.
The audiobook is also available at all these vendors, and is also
free with a 30-day trial membership to Audible.
"Not simply about one mission, [Genesis] is also the history of America's quest for the moon... Zimmerman has done a masterful job of tying disparate events together into a solid account of one of America's greatest human triumphs." --San Antonio Express-News
NOAA's monthly update of the solar cycle, showing the Sun's sunspot activity in December, was posted earlier this week, and I am posting it here, as I do every month, with annotations to give it context.
The decline in sunspots continues, tracking closely the rate of decline predicted by the 2007 and 2009 predictions (the lower green curve and the red curve) but the overall solar maximum has been far shorter and less powerful than predicted.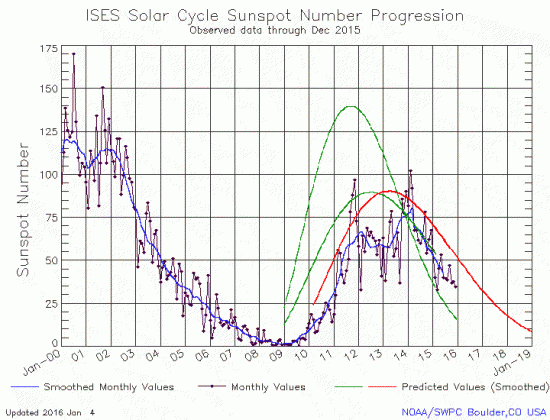 The graph above has been modified to show the predictions of the solar science community. The green curves show the community's two original predictions from April 2007, with half the scientists predicting a very strong maximum and half predicting a weak one. The red curve is their revised May 2009 prediction.
At this stage in the solar cycle there really isn't much else to say. We will have to watch the cycle ramp down over the next few years to get a full sense of this solar maximum's length and overall strength. Should the next solar minimum get extended beyond 2019, however, it will be a strong sign that the next solar maximum will also be delayed and very weak, or not happen at all as we move into a decades-long Grand Minimum.
Past data suggests a link between an inactive Sun, with low sunspot counts, and colder weather on Earth. If this is true and the Sun continues to be inactive in the coming decade, we should continue to see a lack of any warming in the climate. We might even see the global temperatures drop (assuming the corrupt climate scientists at NASA and NOAA don't tamper with the data to hide this fact).
Only time will tell.
Readers!
My July fund-raiser for Behind the Black is now over. The support from my readers was unprecedented, making this July campaign the best ever, twice over. What a marvelous way to celebrate the website's tenth anniversary!

Thank you! The number of donations in July, and continuing now at the beginning of August, is too many for me to thank you all personally. Please forgive me by accepting my thank you here, in public, on the website.

If you did not donate or subscribe in July and still wish to, note that the tip jar remains available year round.
Regular readers can support Behind The Black with a contribution via paypal:
If Paypal doesn't work for you, you can support Behind The Black directly by sending your donation by check, payable to Robert Zimmerman, to

Behind The Black
c/o Robert Zimmerman
P.O.Box 1262
Cortaro, AZ 85652