Readers!
For many reasons,
mostly political but partly ethical
, I do not use Google, Facebook, Twitter. They practice corrupt business policies, while targeting conservative websites for censoring, facts repeatedly
confirmed
by news stories and by my sense that Facebook has taken action to prevent my readers from recommending Behind the Black to their friends.
Thus, I must have your direct support to keep this webpage alive. Not only does the money pay the bills, it gives me the freedom to speak honestly about science and culture,
instead of being forced to write it as others demand.
Please consider donating by giving either a one-time contribution or a regular subscription, as outlined in the tip jar below.
Regular readers can support Behind The Black with a contribution via paypal:
If Paypal doesn't work for you, you can support Behind The Black directly by sending your donation by check, payable to Robert Zimmerman, to

Behind The Black
c/o Robert Zimmerman
P.O.Box 1262
Cortaro, AZ 85652

You can also support me by buying one of my books, as noted in the boxes interspersed throughout the webpage. And if you buy the books through the ebookit links, I get a larger cut and I get it sooner.
On Monday NOAA posted its monthly update of the solar cycle. I am posting it here, as I do every month, with annotations to give it context.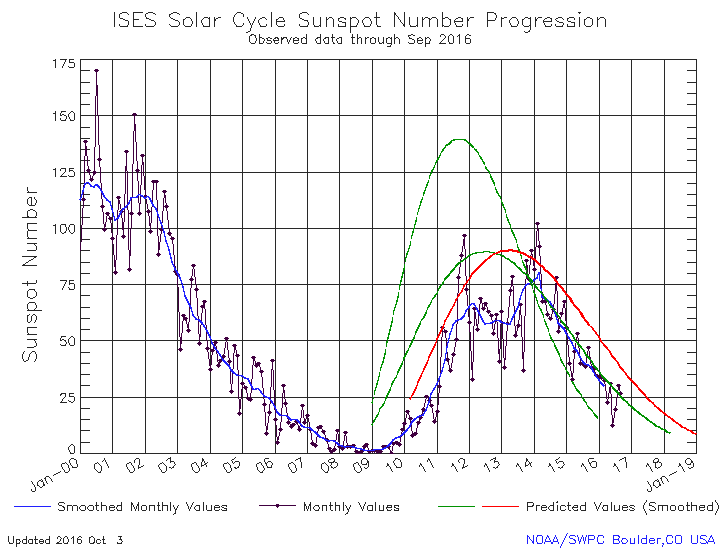 The graph above has been modified to show the predictions of the solar science community. The green curves show the community's two original predictions from April 2007, with half the scientists predicting a very strong maximum and half predicting a weak one. The red curve is their revised May 2009 prediction.
After two months of increased sunspot activity, the decline in sunspots resumed in September, though activity did not drop significantly. Overall though, the ramp down towards the next solar minimum continues to track quite closely the ramp down predicted by weak prediction made by half the solar science community back in 2007 (the lower green curve above). These scientists however do not have much to brag about. Their same prediction completely missed the ramp up, which happened a year later than predicted, as well as the activity peak, which was far weaker than predicted.
In fact, the ramp down now continues to point to the possibility that this very weak solar cycle will also be a very short one, something that is quite unprecedented, and suggests that we might be seeing the lead in to another Grand Minimum, where there are no sunspots for decades. Since no one understands yet exactly why such grand minimums happen, however, this remains pure speculation. We will only find out by watching what happens, as it happens.